In this Survey Junkie review, you'll learn that Survey Junkie is a legitimate and trustworthy online survey site that allows users to earn cash and rewards by sharing their opinions.
With a user-friendly interface, diverse survey options in technology, travel, and health, and a transparent point-based reward system where 500 points equal $5, Survey Junkie offers a convenient and accessible platform for individuals to participate in surveys.
The platform ensures timely payouts (instant and 2–3 business days for PayPal and wire transfers, respectively) and maintains privacy and data security measures.
While the earning potential varies based on survey availability and eligibility, users can accumulate points and cash out through options like PayPal, gift cards, or direct bank transfers.
With that in mind, you should consider alternatives that may better suit your needs and preferences. One alternative to explore is Fetch Rewards. With Fetch Rewards, you can save on everyday purchases by scanning your receipts—more details in our Fetch Rewards review. Fetch also offers a bonus fo users who sign up with a Fetch referral code or link. If you want to sign up with Fetch and earn your bonus, click below.
In today's rapidly changing economic landscape, where the rising cost of living and global inflation pose challenges, the quest for additional online income has become a common pursuit. One popular way to earn extra cash is by using survey sites and apps like Survey Junkie or Fetch Rewards. But when you want to start making extra cash using online survey sites, the first question that comes to mind is whether or not the site is legit and worth your time.
This Survey Junkie app review will answer your biggest question regarding this service: Is Survey Junkie legit and safe? We'll also review its features, pros and cons, and how well it pays.
What Is Survey Junkey?
Survey Junkie is a market research company that allows individuals to earn rewards by sharing their opinions. It's owned by a company called DISQO and was established in 2013. So far, Survey Junkie has amassed a membership of over 10 million across various countries, including Canada, the United States, Australia, and more.
To thrive in today's business world, brands constantly strive to understand their market performance, consumer opinions, and avenues for improvement. They rely on valuable insights from consumers like you, who possess the power to shape their strategies and outcomes.
That's where survey platforms like Survey Junkie come into play. They connect everyday customers with businesses hungry for feedback. With Survey Junkie, you can share your thoughts and ideas by participating in such surveys and earn cash rewards or gift cards for your valuable time and opinions.
Features Of Survey Junkie
Survey Junkie offers a range of features that make it a popular choice among users looking to earn cash and rewards through online surveys. Here are some key features you can expect to find on Survey Junkie:
#1 Diverse Survey Options
A good survey platform should offer diverse surveys on various topics and industries. This ensures that users have a wide selection of surveys, allowing them to participate in surveys that align with their interests, preferences, and profiles. Survey Junkie provides a substantial pool of surveys catering to different demographics and interests.
#2 User-Friendly Interface
The platform's interface plays a crucial role in the user experience. A good survey platform like Survey Junkie prioritizes a user-friendly interface that's easy to navigate and understand. It provides clear instructions, an intuitive design, and a seamless survey-taking process. Survey Junkie is known for its straightforward and user-friendly interface, ensuring that participants can easily navigate surveys without confusion.
#3 Transparent Reward System
A must-have feature of a good survey platform is a transparent and fair rewarding system. Survey Junkie operates on a points-based system, where users earn points for completing surveys. You can later redeem these points for cash or gift cards. The platform also provides transparency regarding the points-to-cash conversion rate, allowing you to track your progress and understand the value of your participation.
# 4 Timely Payouts
Another essential feature of a good survey platform is ensuring timely and reliable payouts. Survey Junkie has built a reputation for providing prompt payouts to its users. Once you accumulate enough points to meet the minimum redemption threshold, you can request your rewards and expect to receive them instantly when you use PayPal. Bank transfers can take up to 2 or 3 business days.
This prompt payout system enhances user satisfaction and confidence in the platform.
#5 Accessibility and Availability
A good survey platform should be easily accessible to users. Survey Junkie offers its services through its website and also provides a mobile app, allowing you to conveniently access surveys from different devices, such as desktops, smartphones, and tablets. Additionally, Survey Junkie is available to residents of various countries, including Canada, the United States, Australia, and more, expanding its reach to a broader audience as time goes by.
#6 Completely Free To Use
Survey Junkie is a free platform allowing you to earn money without any upfront costs or fees. While the company may promote additional services or offers, it doesn't require users to sign up for paid memberships or pay any money. Ads and promotions are common among legitimate survey sites, and users can easily block unwanted emails if necessary.
In fact, the absence of ads or promotional activities may raise suspicions about the authenticity of a survey site.
#7 Privacy And Data Security
Another significant concern for most users is privacy and overall security. Survey Junkie has measures to protect the personal information you share with them against unauthorized access, data breaches, and other potential risks.
For example, when signing up, they may request certain information such as your PayPal email address, bank account details (holder's name, account number, routing number, and account type), and, if necessary for tax reporting purposes, your Social Security number. They collect this information solely to facilitate payments, match you to suitable surveys and comply with government tax regulations.
They also maintain strict confidentiality and don't sell any personally identifiable information.
As part of its commitment to privacy compliance, Survey Junkie's parent company, DISQO, ensures it packages your data in a privacy-compliant manner for market research purposes.
This means they group your responses with other participants to anonymize them and ensure privacy while offering businesses valuable insights.
#8 Reliable Custome Support
Survey Junkie provides reliable customer support to assist you with any questions or concerns. They offer an online customer support system where you can access frequently asked questions (FAQs) and find more information about surveys, membership, reward options, the SJ Pulse Program, and more.
If you require further assistance, you can contact them by phone at (949) 743-3217 or by email.
Alternatively, you can reach them through their social media handles on Facebook, Twitter, or LinkedIn.
Survey Junkie Pros
Free and easy to join, allowing you to start earning right away.
Offers a wide range of surveys, providing ample opportunities to earn rewards.
A low cashout threshold of 500 points (or $5) makes redeeming your earnings easy.
Provide fast cash payments via popular platforms like PayPal and Dwolla bank transfers.
User-friendly website and mobile app for convenient survey-taking on the go.
It shows time estimates for surveys, helping you plan your time effectively.
Offers a browser extension for seamless integration and easy access to surveys.
A simple and hassle-free way to earn some extra cash every month.
The more time you spend on the site, the greater your survey opportunities become, enhancing your earning potential.
Reliable custom support is available through email or phone.
Survey Junkie Cons
Possibility of not qualifying for some surveys, which can limit your earning opportunities.
The hourly rate is lower than a regular job, making it more suitable for supplemental income.
Certain surveys may take significant time before disqualifying you, potentially leading to wasted time.
Verification can take a while, delaying cashing out for the first time. However, Survey Junkie has active customer support you can contact regarding this issue.
Pricing
Survey Junkie is a free platform that allows you to earn points for participating in surveys.
No fees or costs are associated with signing up or using the app.
You can start earning points immediately after creating your account.
Survey Junkie Payout
When you sign up for Survey Junkie, you can start earning points immediately. Each point equals one cent ($0.01), meaning 100 points equal $1.
Survey earnings typically range from 40 cents (40 points) to $5 (500 points), with most falling between $0.50–$2 (50 points–200 points).
Even if you don't qualify for a survey, you still receive a few points as a reward.
You need at least 500 points ($5) to cash out your rewards.
Redemptions
Survey Junkie offers flexible redemption options, including:
Cash: You can redeem your earnings through PayPal, providing a straightforward and convenient way to receive your money in cash.
Gift Cards: You can choose gift cards from popular retailers like Amazon, Target, iTunes, Walmart, and Starbucks.
Direct Bank Transfers: You can use the Dwolla payments platform to secure and efficiently transfer funds to your bank account.
Getting Started With Survey Junkie
Getting started with Survey Junkie is easy. Here are the steps:
#1 Sign up by going to its website and clicking the "Join Now" button.
#2 Enter your email address or use your Facebook or Google accounts for a quick signup. You can't double-opt with Survey Junkie, meaning you cannot use the same email twice.
#3 Fill out the initial survey. After signing up, Survey Junkie will prompt you to fill out a short initial survey, which includes providing information like your ZIP code, country, date of birth, gender, name, and choosing a password.
#4 Log in. Once you complete the short survey, click "Log In and Start Earning" to proceed. You will receive 25 points as a sign-up bonus, though the bonus may vary with time.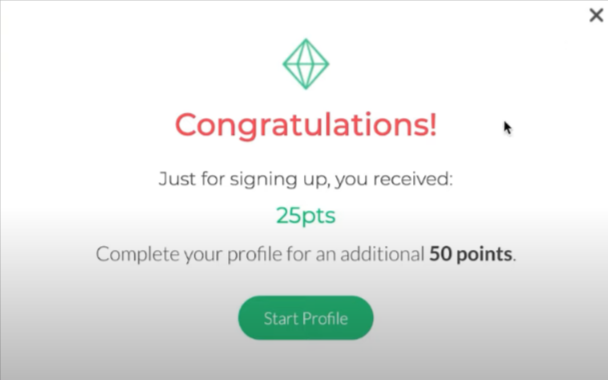 Related: You may also be interested in the RebatesMe signup bonus.
#5 Press "Start Profile" to complete a profile survey that offers 50 points. This survey consists of basic personal questions such as pet ownership, grocery shopping habits, living situation, marital status, education level, and employment status. They're meant to match you with the right surveys as you use the platform.
#6 Start taking surveys. After finishing the profile survey, you can start taking surveys and earning rewards.
Note: To join Survey Junkie, you must be 13 years or older.
Survey Junkie Pulse Program
In addition to taking surveys, Survey Junkie offers the SJ Pulse program, where you can earn bonus points by sharing your online activity with brands. They do this through a browser extension or the Survey Junkie mobile app. The program tracks various activities such as your searches, visited websites, shopping behaviour, viewed ads, and content engagement.
You must enable the extension for 30 days to earn points with Survey Pulse.
The exact number of points you can earn will vary depending on your level of online activity. It's an opportunity to boost your earnings and maximize your rewards.
Note: The information shared through Pulse is anonymized, protecting your privacy.
Survey Junkie Tips To Help You Maximizing Earnings
To help you maximize your earnings with Survey Junkie, here are some straightforward tips to keep in mind:
# 1 Download The Survey Junkie App
The Survey Junkie app has a user-friendly interface and allows you to conveniently complete surveys on your phone whenever you have spare time.
#2 Answer Honestly
Take the time to read the questions carefully and provide honest answers. Survey sites have algorithms that detect rushed or false responses, so paying attention and providing genuine feedback will lead to better survey opportunities.
#3 Keep Realistic Expectations
Survey Junkie is not a get-rich-quick scheme. Approach it to earn a pocket change or gift cards rather than a full-time income source during your free time.
#4 Compare Time Vs. Points
Before starting a survey, consider the estimated time it will take versus the points you'll earn. Look for surveys that offer a higher point-to-time ratio to make the most of your efforts.
#5 Opt-In For Product Trials And Focus Groups
You can take advantage of higher-paying opportunities like product trials and focus groups by opting for such offers.
Making Extra Money With Survey Junkie Vs. Fetch Rewards
While Survey Junkie focuses on paid online surveys, Fetch Rewards offers cash rewards for scanning receipts, making it a different approach to earning extra money. The app accepts receipts from various retailers, both online and in-store, and rewards users with points based on their purchases. Below is a step-by-step guide to how Fetch Reward works.
How Fetch Rewards Works
#1 Download The fetch Rewards App
You can find and download the app from the App Store or Google Play Store.
#2 Create An Account
Sign up for a Fetch Rewards account using your email address or by connecting your social media accounts.
#3 Scan Your Receipts
After purchasing at a participating store, take a photo of your receipt using the Fetch Rewards app. The app uses image recognition technology to detect eligible products and add points to your account.
#4 Earn Points
The app will award you points based on the products you purchased. The number of points you earn can vary depending on the brand and promotions available.
#5 Redeem Points For Rewards
Once you accumulate enough points, you can redeem them for various rewards.
The minimum redemption amount is 3,000 points ( $3)–$1 equals 1,000 points. However, not all gift cards are available in denominations of $3, as shown in the screenshot below.
You can redeem your points through options like:
Free gift cards (for restaurants, shops, online stores, hotels, flights, and more),
Magazine subscriptions,
Charitable donations, or
Sweepstakes entries.
Unfortunately, there is no option for cash withdrawal.
Sweepstakes have the lowest barrier to entry–100 points.
When To Choose Fetch Rewards Over Survey Junkie
You can opt for Fetch Reward over Survey Junkie if:
You Want to Save Time: Fetch Rewards may be the better choice if you're looking for a quick and easy way to earn cash without spending time on lengthy surveys. It does not require extensive questionnaires or qualifying criteria, unlike surveys.
You Shop Often: Fetch Rewards is better if you enjoy shopping and want to earn cash rewards based on your regular shopping habits. By simply scanning your receipts, you can effortlessly earn cash on the purchases you make every day. It integrates seamlessly into your shopping routine and allows you to earn rewards while doing what you love.
That said, if you can try Survey Junkie and Fetch Rewards, it would be a plus for you. Scanning receipts only takes a few minutes, and you can try Survey Junkie whenever you have a few hours to spare.
In Summary
After carefully examining Survey Junkie, we can confidently say it's a legitimate online survey site. It's a reliable platform to earn extra cash, although you must understand that survey sites generally will not make you rich or replace your day job. They provide an opportunity to make some additional income in your spare time.
If you're interested in giving Survey Junkie a try, click on the button below to sign up and start spending a few hours completing surveys to earn cash.
However, if you're not into filling out surveys but want to make extra cash, we recommend Fetch Rewards as an alternative way to earn money. Fetch Rewards is a mobile shopping platform that rewards users for purchasing their favourite brands. The Fetch Rewards app allows you to easily save on everyday purchases by scanning your receipt. It's as simple as that!
If you want to earn a nice bonus and also save money every time you shop online, here's how:
Sign up with TopCashback, a cashback portal currently offering a $15 signup bonus that's extremely easy to get.
The average TopCashback user saves $450/year, with savings of up to 30% on fashion, 40% on cosmetics and beauty, 50% on travel, and much more.
Survey Junkie Review FAQs
Is Survey Junkie worth it?
Yes, Survey Junkie is worth considering as a way to earn extra cash. While it won't make you rich or replace a full-time job, it provides an easy-to-use platform for completing surveys and earning rewards. If you spend just a few hours a day, you can accumulate a couple of hundred dollars a month, which you can use for small indulgences or to cover minor expenses. Other good survey sites include Swagbucks (with a $5 sign-up bonus) and PineCone Research.
Is Survey Junkie legitimate?
Yes, Survey Junkie is a legitimate survey site. It has a long-standing presence in the industry (since 2013) and has gained a positive reputation among users. The company's TrustScore rating of 4.3/5 on Trustpilot is a testament to its legitimacy and user satisfaction.
Survey Junkie is also listed with the Better Busivness Bureau (BBB), holding a "B" rating. This indicates that the company operates trustworthily, fulfills its payment promises, and doesn't engage in spamming practices. By meeting these criteria, Survey Junkie is a legitimate option for earning rewards through surveys.
How much can I make with Survey Junkie?
According to Survey Junkie, you can earn up to $40 monthly if you complete three surveys daily. However, your actual earning potential may vary depending on several factors. The amount you can make from Survey Junkie daily will depend on the number of surveys available, your eligibility, and the time you choose to invest in completing them.
Why won't Survey Junkie let me cash out?
You're experiencing difficulties cashing out on Survey Junkie for several reasons. Here are some possible explanations:
Minimum Threshold Requirement: Survey Junkie has a minimum cash-out threshold of 500 points ($5). Make sure you have accumulated enough points or earnings to meet this threshold.
Verification Process: In some cases, Survey Junkie may require additional verification steps before allowing you to cash out. This could include confirming your identity, providing proof of address, or completing a phone verification process.
Account Issues: Any issues with your Survey Junkie account, such as violations of the terms and conditions, could prevent you from cashing out.
Technical Glitches: Occasionally, technical issues or glitches may arise on the Survey Junkie platform that could impact the cash-out process. If so, try contacting Survey Junkie's customer support to resolve the issue.