After carefully researching the offering and performance of dozens of investment newsletters, we believe Capitalist Exploits is the best option for most investors. It's run by former hedge fund managers with an eye for trends rather than single stocks, and its obsessive focus on spotting asymmetric returns offer great opportunities for both experienced traders and beginners alike.
If you want to take your investment returns to the next level, we can't recommend Capitalist Exploits highly enough.
Investing is one of the best ways to build and grow wealth in the long term. But there's always a risk involved in investing, and things could go south very quickly as well.
So, how do you know what to invest in? This is a question all new investors ask themselves, and the answer is to learn as much as you can before risking your money and making any costly errors.
Remember: successful investing is about minimizing risk! At low risk levels, returns take care of themselves.
Luckily, that's where investment newsletters come in. They offer both new and experienced investors advice that will help them achieve lasting wealth. In this post, we'll be reviewing the top investment newsletters to help you choose those that best suit your individual investing needs.
With all of this in mind, here are the top investment newsletters of 2021.
What Is The Best Investment Newsletter?
Best For Investment Returns
For the past 5+ years, Capitalist Exploits has outperformed the other newsletters in this list by a long shot. It does this by tracking an immense amount of data, identifying unique economic patterns, and determining the best low-risk, high-reward opportunities available in the market.
It offers two main products, Insider and Insider Weekly:
Insider is trading alerts on steroids: rather than just making stock picks, it presents subscribers with full-fledged investment theses that the Capitalist Exploits team have been working on for years. Insider members receive investment alerts via text message or email, as well as regular webinars to stress test the ideas and a community forum where subscribers can talk through their own investment ideas.
Insider Weekly is a weekly newsletter that offers a small slice of what full Insider subscribers get, including the robust macroeconomic analysis Capitalist Exploits has become known for.
Features
Run by former hedge fund managers with proven track records for predicting massive macroeconomic shifts
Focused on emerging markets, alternative investments, and extremely high-reward opportunities
Target a minimum 300% return on every trade
They invest their own money in every deal, so the level of due diligence and stock research is second to none
30,000+ members around the world
Provide clear guidance on how to execute investment recommendations, including ways to adapt their suggestions to different scenarios
Telegram channel where Insider investors can eavesdrop on the principals' chats on global trends, current events, and individual stock picks
Performance
Capitalist Exploits doesn't publicly disclose its entire investment portfolio, so its exact historical performance is unknown. However, here are some recent stocks picks they've made and how those stocks have performed:
| | |
| --- | --- |
| Stock Recommendation | Gain |
| Nel Asa (NEL) | 104% |
| Rex International (5WH.SI) | 145% |
| Avon Products (AVP) | 154% |
| Petropavlovsk (POG) | 154% |
| ITM Power (ITM) | 161% |
| Lynas (LYC) | 161% |
| Ceres Power (CWR) | 242% |
| Powercell Sweden (PCELL) | 261% |
| Gran Columbia (GCM) | 313% |
These are very impressive numbers, though perhaps more impressive is that the longest of them were held for 2.5 years. Many of the stock picks above achieved triple-digit gains in 24 months or less, living up to Capitalist Exploits' mandate of finding companies with potential for gains of 300% or more.
Cost
Capitalist Exploits offers a 30-day no-questions-asked refund policy on Insider, and the first month of Insider Weekly is just $1, making it risk-free, too.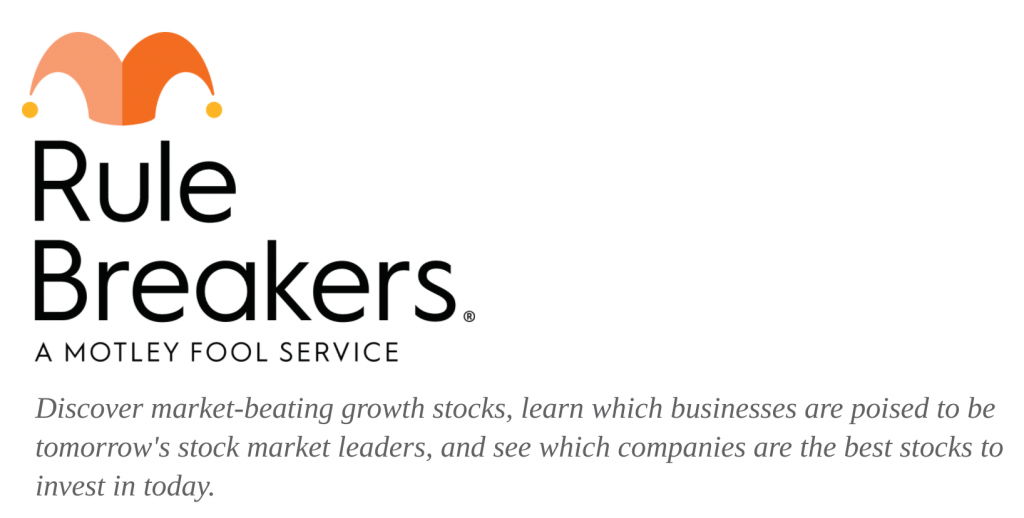 Motley Fool Rule Breakers tries to identify stocks with huge growth potential in fast-growing industries. That's a noble mission, though looking at its performance, t hasn't yet lived up to its name.
While Rule Breakers has outperformed the S&P 500, and therefore may be a good choice for investors with $2,000 or less to invest, its picks haven't yet moved the needle much for its subscribers. After 15+ years in business, I would have expected much more, especially coming from Motley Fool.
Features
Two new stock picks each month, including in-depth analysis of why the stock is recommended
Five "Best Buys Now" stock picks each month
List of "Starter Stocks" when you first subscribe
Performance
Here's how Motley Fool Rule Breakers has performed since its launch back in 2005: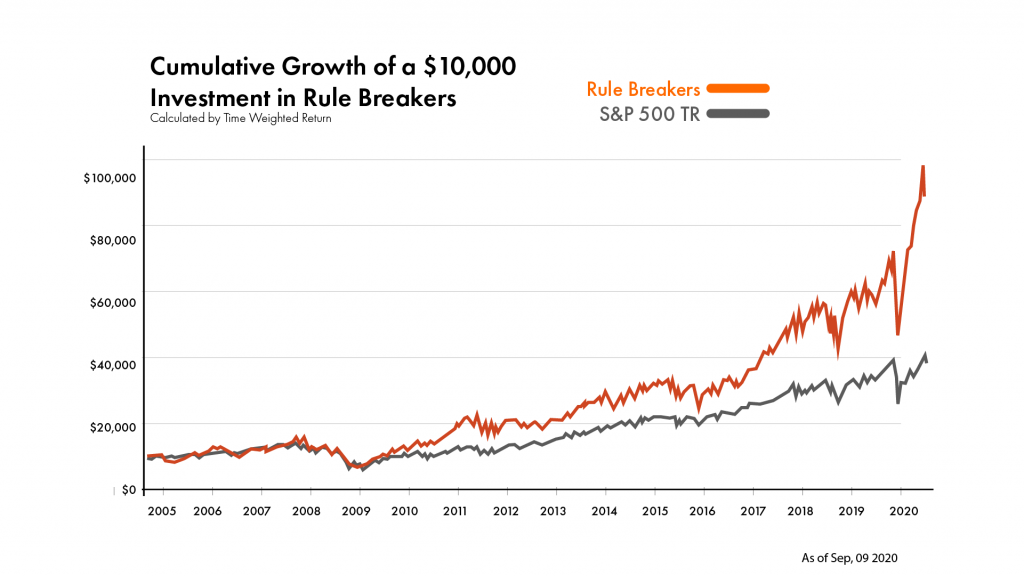 Rule Breakers' annualized return has been 15%, which is certainly better than the S&P 500, though not by a huge margin.
Cost
Motley Fool Rule Breakers costs $99 per year, with a 30-day refund policy.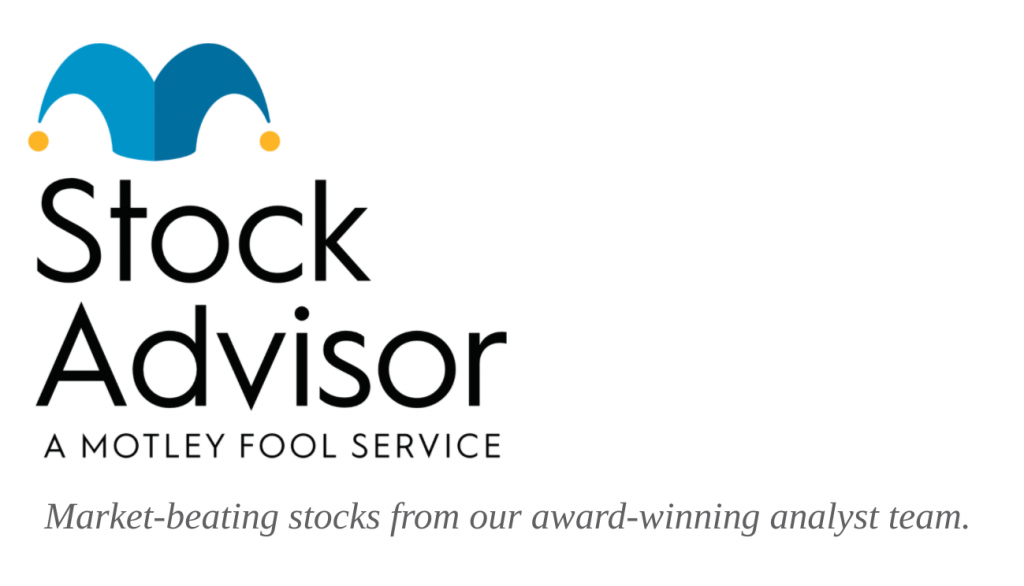 Motley Fool Stock Advisor is a low-cost newsletter with monthly stock picks catered toward investors more interested in preserving their wealth than they are in growing it. They tend to choose well-established companies like Amazon and Costco, and they've been quite effective in doing so.
Features
Two new stock picks each month, including in-depth analysis of why the stock is recommended
Several "Best Of" stocks lists each year
Access to all of their historical stock picks
Message boards for chatting with other investors
Performance
Here's how Motley Fool Stock Advisor has performed since its launch back in 2002: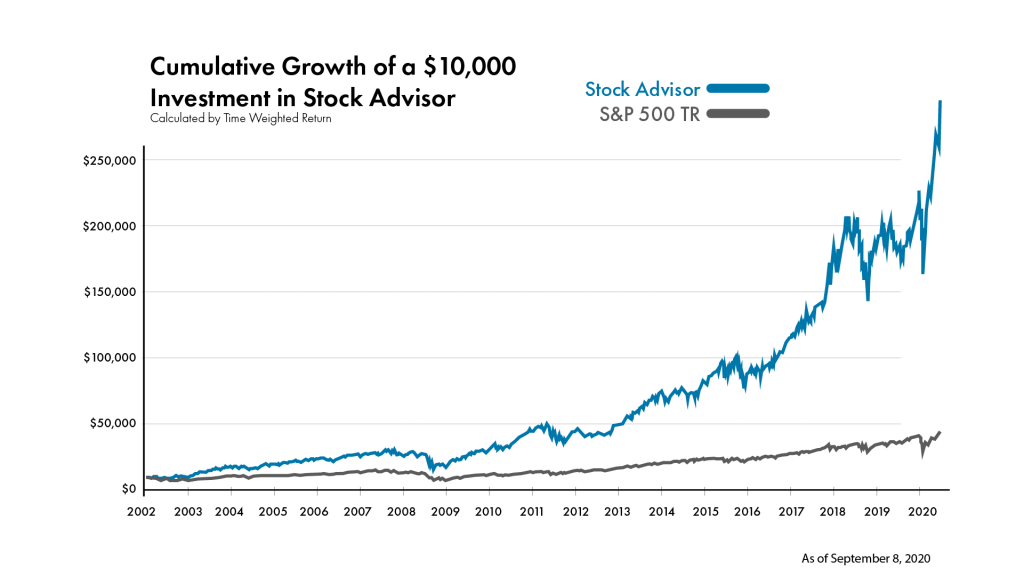 While that graph may look impressive, it means that the Stock Advisor service has actually had just a 19% annualized return. 19% per year for nearly 20 years is nothing to sneeze at, for sure, but Stock Advisor still pales in comparison to the returns offered by the likes of Capitalist Exploits.
Cost
Motley Fool Stock Advisor costs $199 per year with a 30-day refund policy.
Trade Ideas is applying artificial intelligence to stock picking. Its proprietary AI scours through terabytes of data each week to find stocks that may be uniquely positioned for a rapid rise or fall in the upcoming trading sessions.
Features
Trading assistance and analysis powered by artificial intelligence
Five new trade ideas delivered weekly
Trade of the Week newsletter highlighting a particular stock pick
They use a mixture of powerful technology and human curation to surface stocks that many others overlook
Performance
Here's how three of Trade Ideas' stock portfolios have performed over the past 2.5 years:
| | |
| --- | --- |
| Portfolio | Annualized Return |
| Holly Grail | 17% |
| Holly 2.0 | 20% |
| Holly Neo | 23% |
Slippage and trade commissions are not included here, so the real returns are likely a few percentage points lower.
Also, these are only the portfolios that Trade Ideas chose to display. Given that Trade Ideas would choose its best portfolios to portray on its website, it's likely that many of their picks are not doing as well as these are.
Overall, these numbers are good but not great. When you consider that Trade Ideas' best portfolios are only doing slightly better than the market, it's not a very encouraging sign.
Cost
Trade Ideas costs $17/month.
What Is An Investment Newsletter?
Investment newsletters are subscription-based service that consists of periodic emails or newsletters in which a well-known investor or a team of investors share investment ideas or recommendations, trading strategies, stock market news and analysis, and other relevant information designed to help investors make better decisions.
It's a way for weathered investors and traders to capitalize on their deep knowledge and understanding of the financial markets while at the same time helping others learn how to recognize good investment opportunities as they arise.
How Do Investment Newsletters Work?
Investment newsletters work by providing investing recommendations, financial market analysis, and insights into how the markets are performing. All of this information is meant to give the investor a bigger outlook on what's currently going on in the market and/or industry to better understand the trends that the stock market is following to make a more informed decision when it comes to investing their capital.
In short, the best newsletters offer information, and information is power. This information typically includes:
Stock picks and the best industries to invest in.
Insight into shifts within different markets.
Advice based on both short-term market trends and long-term macroeconomic indicators.
Some of these newsletters specialize in particular niches such as commodities, artwork, real estate, natural resources, healthcare, etc. They usually have teams of specialists in those particular fields that not only understand the way financial markets work but also how those specific industries work, which makes them better than most at predicting how they will evolve over time.
How To Choose The Best Investment Newsletter
As with choosing any service, there are a couple of key characteristics you want to look out for when choosing an investment newsletter. Here are the most important ones:
Solid Performance
While it's true that excellent past performance doesn't ensure a good performance in the future, the first thing you want to look at when choosing an investment newsletter is how their recommendations have performed over time. You wouldn't invest in a service that has been proven to give bad recommendations in the hopes that they'll do better next time, would you?
So, make sure to choose one that outperforms similar services over long periods of time. This means that you should choose a newsletter that has chosen investments that earned better returns than the ones other newsletters chose.
Transparency
Another key factor to take into consideration is how transparent a newsletter is about the way they choose its recommendations. A good newsletter should be clear about how and, more importantly, why they choose each individual stock or each sector to invest in. You definitely want to rule out any newsletter that seems to be hiding information or that seems to have secret sponsors, as this shady behaviour could signal that they don't have your best interest at heart and they're likely to have a hidden agenda of their own.
Recommendations Tailored To Your Investing Capabilities
There are investment strategies that are highly profitable but that only the big players in the stock market can take advantage of. If a newsletter offers mostly these types of recommendations on which you, as a small investor, can't act upon, then you should look for another newsletter. Else, you'd just be losing your money by subscribing.
Costs vs. Benefits
Getting recommendations that offer great performance doesn't mean anything if you're going to have to pay all of your potential profits for the recommendations themselves. In order to choose a newsletter for your particular situation, you need to be sure that it'll be worth the price. This means analyzing the costs and the potential returns you're likely to make by paying for the service.
Educational Resources
The best investment newsletters don't just tell you what to buy or sell, but they also teach you why you'll want to make those decisions. In this sense, offering a broad range of educational resources is the hallmark of an excellent newsletter.
You see, they understand that even experienced investors still stand to gain from an investing newsletter simply because they don't have enough time to go over and analyze all the vast amounts of data pumped out of the stock markets every minute of every day.
Strong Community
Having a community of skilled traders discussing new strategies on their forums is likely to generate even better recommendations and improve their overall performance. Therefore, good newsletters don't feel threatened by their subscribers learning how to use their own judgement to choose how to invest. In fact, they encourage it.
Good investment newsletters prefer a community of active, skilled and successful investors than a group of zombies who blindly follow their every advice and who flip out every time a stock goes down when it's not supposed to.
Summary
Whether you're looking for explosive growth or slow, steady gains, these investment newsletters can help you out:
Investment Newsletters FAQs
Are Investment Newsletters Worth It?
Yes, investment newsletters are worth it, though only if you choose the right one. High-performing stock newsletters like Capitalist Exploits can be a great way to stay ahead of the market and make smart investing decisions, though less proven newsletters should be approached with caution.
Are Investment Newsletters Legal?
There are investment newsletters out there that exist solely to defraud their users, so much so that the Securities and Exchange Commission (SEC) has had to warn investors about them. That's why we've personally vetted all of the newsletters in this post to ensure they're legitimate companies run by trustworthy individuals.
How Are Investment Newsletters Regulated?
Investment newsletters are not regulated by the Securities and Exchange Commission (SEC), though the SEC does advise that investors search its website and contact the appropriate state securities regulator to check for any previous enforcement actions against a specific company. If the newsletter in question is written by a registered investment advisers, you can also check their background on the SEC's Investment Adviser Public Disclosure page.
What Is The Most Successful Investment Newsletter?
The most successful investment newsletter is Capitalist Exploits, which has shown impressive returns every year since I subscribed to them back in 2018. This is one of the reasons I've ranked Capitalist Exploits over other stock newsletters like The Motley Fool Stock Advisor as my top-rated investment newsletter for 4 years in a row.
What Is The Best Penny Stock Newsletter?
The best penny stock newsletter is difficult to say, because no penny stock newsletters have performed nearly as well as those we've laid out above. Some investors subscribe to newsletters like Penny Stock Prophet ($97 lifetime), Falcon Stocks ($197 annually), Penny Stock Dream ($450 annually), Penny Pro ($999 annually), and Penny Picks (free), but when it comes to maximizing your ROI, you're better off with a more traditional newsletter.