Robo-advisors are automated investment platforms that use algorithms to create and manage portfolios for investors. Wealthsimple, Questwealth, and Justwealth are among the best robo advisors in Canada. These platforms offer competitive portfolio management fees ranging from 0.2% to 0.5%. They also have low MERs (Management Expense Ratios), making them a cost-effective option for investors. Not to mention a range of investment options and personalized advice to help investors reach their financial goals. If you're looking for an easy, passive way to invest your money, any of these robo advisors is a good choice.
However, if you want to take a more hands-on approach to investing, Capital, our best-rated broker in Canada, is a much better option. It's a no-fee broker with great research and stock-trading tools, as well as advanced technical analysis tools for the more experienced investor.
Robo advisors have revolutionized the way Canadians invest their money. These automated investment platforms use advanced algorithms to manage your portfolio and help you achieve your financial goals. With so many options available, it can be difficult to determine which robo advisor is the best fit for you. In this blog post, we'll review some of the top robo advisors in Canada and provide insights into their features, fees, and performance to help you make an informed decision.
If you're looking for the best passive investment strategy, a robo advisor could be precisely what your portfolio needs. You may be unfamiliar with investing and finance, or you may simply be too busy to spend all day researching speculative investments and prefer the "set it and forget it" approach.
Whichever the case, the best robo advisory services in Canada to get you started are:
Wealthsimple Invest: The Most Popular Robo Advisor In Canada.
Questwealth Portfolios: Best For The Lowest Fees.
Justwealth: Best For RESPs And Custom Portfolios.
CI Direct Investing: Best for Non-Canadian Residents.
BMO SmartFolio: Best For Bank Of Montreal Account Holders.
Let's review each one in turn.
#1 Wealthsimple Invest: The Most Popular Robo Advisor In Canada
Wealthsimple is the most popular robo advisor in Canada. It serves hundreds of thousands of clients and manages more than $15 billion in assets. As the largest and most popular robo advisor in Canada, Wealthsimple is highly user-friendly and makes investing simple (as its name suggests).
To get started, Wealthsimple users must first fill out a short questionnaire about their financial goals and risk tolerance so the robo advisor can determine the best portfolio for them among three alternatives:
Conservative Portfolio
Balanced Portfolio
Growth Portfolio
Wealthsimple also provides Socially Responsible Investing (SRI), which allows investors to fund sustainable businesses. They also offer Halal Investing, which invests in alternatives that adhere to and respect Islamic principles.
Wealthsimple Invest has some of the most competitive robo advisor fees, with a tiered MER (Management Expense Ratio) ranging from 0.40% to 0.50%.
Furthermore, Wealthsimple provides Roundup and Overflow, which provide investors with more opportunities to invest. Roundup takes spare change from debit purchases and rounds it up to the nearest dollar before investing. Overflow automatically withdraws excess funds from a customer's checking account at the investor's discretion.
Features Of Wealthsimple Invest
A customized portfolio tailored to your specific financial needs and comfort level.
Automatic rebalancing of your portfolio when it shifts from its intended asset allocation and the results drift too far away from the expectations.
Support dividend reinvestment: This feature helps you maximize your long-term returns.
Financial advice from a human (self-explanatory).
Supports free tax-loss harvesting to reduce your tax obligation when necessary.
Wealthsimple Roundup: a feature that automatically allows you to invest your spare change in low-cost ETFs (Exchange Traded Funds).
Overflow: a feature that tracks your account balance and helps you save/invest the extra money you're not using.
Pros Of Wealthsimple Invest
You can invest in fractional shares.
No account minimum.
Socially Responsible & Halal Investing Alternatives.
Reasonable fees.
Various registered (TFSA, RRSP, RRIF, LIRS, RESP) and non-registered (personal, joint, and corporate) accounts.
Cons Of Wealthsimple Invest
Slightly higher management fees than other robo advisors.
Limited financial tools.
Wealthsimple Pricing
The financial advisory platform offers three investment tiers: Basic, Black, and Generation, each with its benefits, including healthcare benefits.
Wealthsimple Basic (account balance below $100,000): 0.5% per year.
Wealthsimple Black (account balance between $100,000 and $500,000): 0.4% per year.
Generation (over $500,000): 0.4% per year plus a bunch of additional benefits, such as a customized financial report, tax-loss harvesting, and a discount of 50% on a Medcan comprehensive health plan.
Including the average MER of 0.2%, your annual charge would be approximately 0.6% to 0.7% of your total investment.
Ideal For
Wealthsimple Invest is best for beginner investors because it has a simple-to-use interface and no minimum balance. Besides that, it's suitable for investors who are sensitive about Socially Responsible Investing and Islamic Investors who prefer Halal investing.
#2 Questwealth Portfolios: Best For The Lowest Fees
Questwealth is Questrade's robo advisor division. It was known as Portfolio IQ until 2018, when it was rebranded to Questwealth Portfolios. Even though Questwealth is a pretty new name, Questrade (the mother company) has been in business since 1999, so you can rest assured they have plenty of experience in money management.
Questwealth offers a variety of account types (both registered and non-registered). On top of that, they have five portfolio types, ranging from aggressive (100% stocks for high-risk investors) to conservative (20% stocks, 80% fixed income for low-risk investors). Additionally, there are options for socially responsible investing.
While the above features are appealing, what sets Questwealth apart from other robo advisors in Canada is its lower fees. Questwealth fees are some of the lowest the in the robo advisory industry, giving them a leg-up with savvy investors wanting to save money.
Features Of Questwealth Portfolios
Automatic Rebalancing Of Questwealth Portfolios: The asset mix of your portfolio is continuously monitored and automatically rebalanced as market conditions change.
Dividend Reinvestment: Your Questwealth investment account will automatically reinvest any dividends you receive, increasing your return through the power of compounding.
Tax-loss Harvesting: This feature helps reduce your tax obligation on investment gains when necessary.
Round-up and Cashbacks: Invest your spare change from regular purchases in low-cost ETFs. On top of that, you can earn free cash rewards when you make these purchases from participating retail stores.
Instant Deposits: You can make instant deposits of up to $3,500 per day using Interac or a Visa Debit card.
Active Wealth Management: Questwealth, unlike most of the robo advisors in Canada, employs an active portfolio management approach.
Pros Of Questwealth Portfolios
Proven Returns: Questwealth has portfolios with a 10+ year track record, so you can easily see how they have performed over time.
Offers the lowest fees in the robo advisory industry.
Offers Socially Responsible Investing accounts.
Offers accounts in USD.
Cons Of Questwealth Portfolios
Questwealth has a $1,000 minimum deposit requirement.
They charge fees for electric wire transfers, unlike other advisory services on this list.
Questwealth does not offer Halal investing.
Questwealth Portfolios Pricing
Questwealth fees are the lowest among Canadian robo advisors. Their fees are as follows:
0.25% per year on accounts with balances between $10,000 and $99,999.
0.20% per year on accounts with a balance of $100,000 or more.
These rates apply to all portfolios, including SRI portfolios. But remember that you must also include the MER of the underlying ETFs:
Regular accounts can pay between 0.17% and 0.22%. (depending on equities and bond allocation).
Socially Responsible Investing accounts will pay 0.21%–0.35% extra.
Ideal For
Questwealth is ideal for beginner and savvy investors who wish to save on fees and plan to invest more than the $1,000 minimum deposit.
#3 Justwealth: Best For RESPs And Custom Portfolios
JustWealth stands out among Canadian robo advisors due to its broad portfolio selection and customization options.
Unlike the average robo advisor, Justwealth tries to make the experience more personal and less "internet." This may appeal to investors who are hesitant to switch from mutual funds or an in-person financial advisor to algorithms.
JustWealth provides a relatively standard set of four portfolio types (Starter to Aggressive). However, the difference is they offer 60 customized portfolios made up of ETFs from 9 providers within those categories.
They also have a USD account, and an innovative Educational Target Dates Registered Education Savings Plan (RESP), which is an investment account that can help you save for a child's post-secondary education. The educational target date portfolios are the most appealing because they automatically reduce risk as your child approaches university or college. For example, it may start with a 90%/10% equity/fixed income mix to maximize growth. As your child ages, asset classes will slowly rebalance to minimize the risk of loss and preserve capital. So, when your child is ready to go to college, it may have a 100% fixed-income balance—all done automatically for you. This makes Justwealth an excellent choice if you're looking for a robo advisor for your child's education.
RRSPs, TFSAs, LIFs, LIRAs, RRIFs, and non-registered investment accounts are also available.
Features Of Justwealth
Personal portfolio manager: You have access to experienced Certified Financial Managers.
Educational Target Date Portfolios: Justwwealth's Education Target Date RESP portfolios make it incredibly easy to save for your child's education.
USD investment accounts: They offer investment accounts with U.S. dollar values if that's what you prefer.
Automatic Rebalancing.
Tax-loss harvesting: Justwealth can help you save money on capital gains taxes on non-registered accounts.
Pros Of Justwealth
Free professional portfolio review to determine where you can improve your performance and save money.
Justwealth has one of the most diverse portfolio collections in Canada.
Several funds for socially responsible investing.
There is no account minimum for RESP accounts.
Cons Of Justwealth
A $5,000 minimum investment for non-RESP accounts.
The web platforms are not as user-friendly as those of other robo advisors, and they have no mobile app.
There are no options for Socially Responsible Investing or Halal investing.
Justwealth Pricing
Justwealth's pricing plan is annual and has two tiers as follows:
0.5% for balances under $500,000
0.4% for balances over $500,000
Including the average MER of 0.25%, your annual charge would be approximately 0.65% to 0.75% of your total investment.
For accounts under $12,000, there is an additional flat fee of $4.99/month.
Ideal For
Justwealth is ideal for picky investors with unique investment requirements or parents who want to invest in their child's education.
#4 CI Direct Investing: Best for Non-Canadian Residents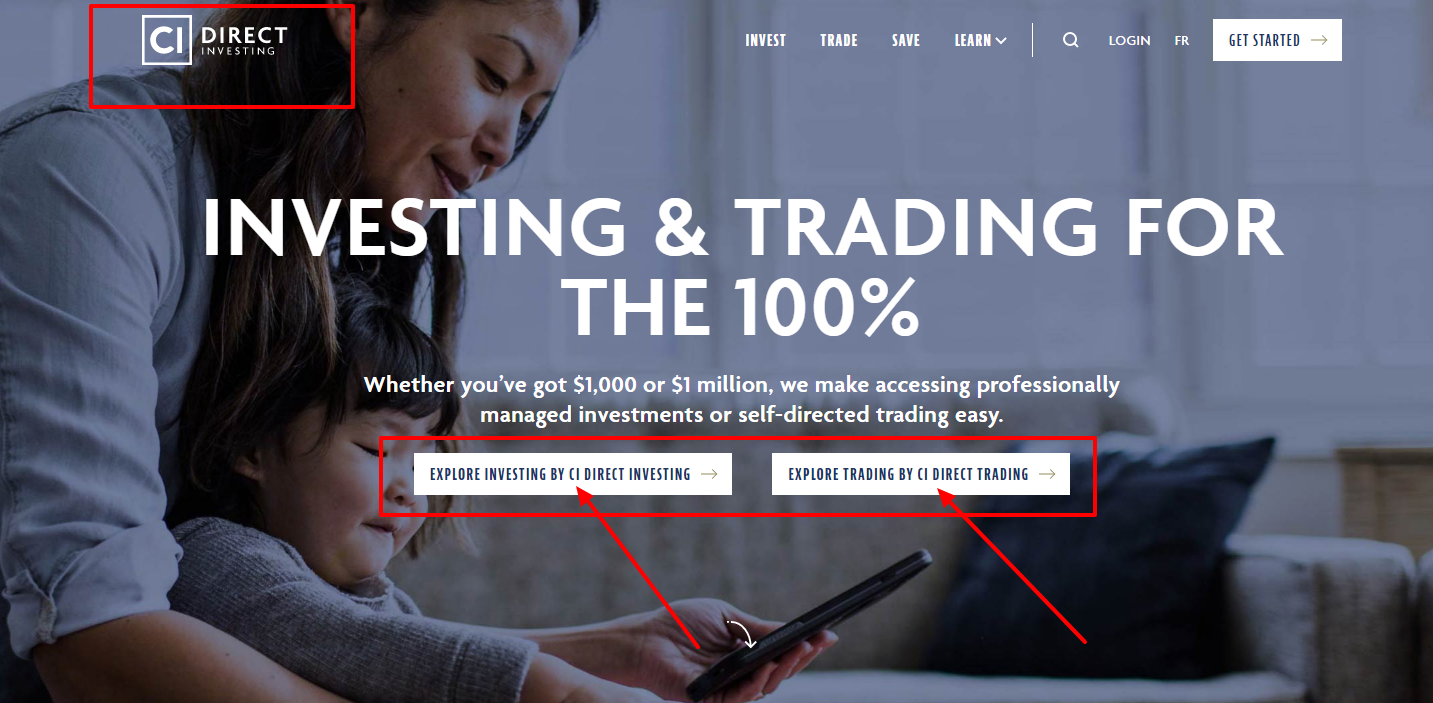 CI Direct Investing (formerly Wealthbar until August 2020) was founded in 2013 and is part of CI Financial—one of Canada's largest investment companies.
CD Direct Investing uses a unique hybrid investment strategy that combines robo advisors' passive investing with unlimited financial advice for each investor.
Besides its regular ETF portfolios, CI Direct Investing also offers Private Investment Portfolios. These portfolios provide larger asset class diversification for investors (including real estate, mortgages, bonds, private equity, and public equity), designed to reduce volatility and boost risk-adjusted returns.
CD Direct Investing is currently Canada's only robo advisor that accommodates non-Canadian residents. However, they require investing a minimum of $25,000.
You can open non-registered accounts (individual and joint), RRSPs (personal, spousal, and group), RESPs, TFSAs, RRIFs, LIRAs, and LIFs.
Features Of CI Direct Investing
They offer financial advice tailored to your needs from a dedicated financial planner.
A diversified portfolio tailored to reduce investment risk while maximizing returns.
A financial planning tool that allows you to create as many financial plans as you want. You can also seek advice from a financial planner.
Automated rebalancing makes investing more convenient for you.
Private investment pools through a partnership with Nicola Wealth Management.
Additional features: Estate planning, tax optimization, and insurance need assessment.
Pros Of CI Direct Investing
You have unlimited access to certified human financial advisors.
Option for socially responsible investing.
Accommodate non-Canadian residents.
Reliable customer support through phone, email, and live chat.
Cons Of CI Direct Investing
No tax-loss harvesting.
Higher fees than competitors.
Require a $1,000 minimum investment for Canadians and $25,000 for non-Canadian residents.
CI Direct Investing Pricing
Although CI Direct Investing is extremely affordable for accounts with at least $150,000, its fee structure is less pleasant for novice investors yet to hit that threshold. Here are their management fees:
An account with a balance between $150,001-$500,000: 0.4% /year.
Account balances of $500,000+: 0.35%/year.
Less than $150,000: 0.6%/year.
They also charge an MER of 0.17% to 0.19% for regular portfolios and 0.85% to 1.55% for private ones.
They do not charge an additional fee for financial advice; it's part of their standard management fees.
Ideal For
CI Direct Investing is ideal for investors who require extra financial planning services and investment advice. It is also an excellent option for non-Canadian residents or Canadians living abroad.
#5 BMO SmartFolio: Best For Bank Of Montreal Account Holders
BMO SmartFolio is the first robo advisor launched by one of Canada's big banks, the Bank of Montreal, or BMO. It operates under the umbrella of BMO Nesbitt Burns and is backed by the huge reputation associated with BMO products.
Due to their big bank status, BMO SmartFolio is slightly more expensive than most robo advisors in Canada. It is, however, an excellent option for existing Bank of Montreal customers who want to keep all of their financial needs under one roof.
You can open TFSA, RRSP, RESP, RRIF, joint accounts, and non-registered investment accounts.
Features Of BMO SmartFolio
Financial advice from experienced financial managers.
Portfolio rebalancing every Quarter.
Professional Portfolio Management: A team of finance and investing experts will construct your investment portfolio.
Goal Monitoring: The platform's goal-tracking system is simple and allows you to track your progress toward your goal in real-time.
Pros Of BMO SmartFolio
Backed by a reputable big bank.
It has lower fees than traditional investing.
Hybrid model powered by real people who work to keep your portfolio balanced so that nothing is left to chance.
Cons Of BMO SmartFolio
There are no options for Socially Responsible or Halal Investing.
$1,000 minimum investment.
Higher fees than most robo advisors.
BMO SmartFolio Pricing
BMO SmartFolio's fees are higher for small accounts, but they are still competitive compared to their mutual fund offerings. Here is how they fair against other robo advisors on our list:
First $100,000: 0.70%/year.
Next $150,000 ($100,001 – $250,000): 0.60%/year.
Next $250,000 ($250,001 – $500,000): 0.50%/year.
Above $500,000: 0.40%/year.
In addition to the management fee, ETFs are subject to an MER of between 0.20% and 0.35%. The MER is built into the ETF pricing, so it won't appear as an expense item on your account statement.
Ideal For
BMO Smartfolio is ideal for investors who want the security associated with the big bank name. Or those that already bank with the Bank of Montreal and want their financial needs (banking and investing) housed under one roof.
What Are Robo Advisors?
Robo Advisors are automated online investment platforms that use algorithms instead of humans to build and manage your investment portfolios.
When you sign up with any robo advisor, you must fill out a questionnaire with personal and financial information to determine your goal and level of risk tolerance when it comes to investing. Depending on your responses and the platform's functionality, the robo advisor may recommend a combination of investments in one of its pre-made portfolios. The robo advisors will then channel your money to ETFs or mutual funds.
Robo advisors charge a fraction of your fees for human professionals to manage your portfolio because the algorithms don't require as much hands-on attention as a financial advisor. On top of that, most of them have low or no minimum investment requirements, which makes them more accessible to all investors.
Related: If you prefer investing on your own and making your own decisions, you'll benefit from subscribing to an investment newsletter so you can keep up with current industry trends.
Benefits Of Robo Advisors
No prior investing experience needed: If you are a beginner investor, you may find robo advisors an excellent option. You can start investing even if you don't have the skills to pick your own stocks.
Saves your time: With robo advisors, you can put your portfolio on autopilot and save a lot of time you would have otherwise spent monitoring and rebalancing it.
Lower fees: The biggest benefit of using robo advisors is that they offer lower costs than traditional investing methods such as mutual funds. Financial managers usually charge a 1-2% rate, while robo advisors typically charge between 0.2% and 0.7%. This is because robo advisors use computer algorithms to choose stocks, eliminating other overhead costs, such as needing a financial advisor.
Easy to get started: It can be difficult to start investing. You may need to save until you meet the minimum balance requirement of your advisor or mutual fund. Alternatively, you may have enough money but are unsure where to put it. Most robo advisors have low (or no) minimums and will make recommendations based on your questionnaire responses, making your investing journey very easy.
Choosing A Robo Advisor
Consider these factors before selecting a robo advisor to invest with.
Fees: When choosing a robo advisor, you should find out the management and MER fees they charge. These fees will affect how much money you have left over and how quickly you can increase your wealth.
Minimum investment requirement: Compared to traditional investment management firms, robo advisors typically have much lower minimum investment requirements. Check out your shortlist's minimum investment requirements for each robo advisor to ensure they match your available budget.
Supported account types: Canadians can invest using different accounts, including TFSAs, RRS, and RESPs (Corporate/Personal/Joint), among others. Always check what the robo advisor offers and ensure it's compatible with your investment plan.
Type of portfolios: Find out how many portfolios the robo advisor provides. Robo Advisors should tailor your investment portfolio to your specific financial needs and risk tolerance. On top of that, more and more robo advisors are combining automated rebalancing and algorithms with human advice. So, a hybrid option may be best if you want human guidance within your automated portfolio.
Tax-loss harvesting: A tax-loss harvesting feature may be appealing if you want to hedge against taxation. This service enables you to sell an ETF that has incurred a loss and then offset your taxes on income and gains by "harvesting" a loss. The sold ETF can then be replaced with another similar security to maintain your asset allocation and expected returns.
Investment destination: You should also consider where you want to invest – in industry-standard ETFs or in-house funds. Some robo advisors also provide socially responsible investing for environmentally conscious investors and Halal to align with Muslim beliefs.
Access: To make things as easy as possible, look for a robo advisor with an app that allows you to monitor your portfolio on the go.
The Bottom Line
Robo-advisors are platforms that use computer programs to build and manage portfolios for investors. Some of the best robo advisors in Canada are Wealthsimple, Questwealth, and Justwealth. They charge low portfolio management fees from 0.2% to 0.5%. They also have low MERs (Management Expense Ratios), which makes them a cheap option for investors. Plus, they offer a variety of investment options and tailored advice to help investors achieve their financial goals. If you want a simple, passive way to invest your money, any of these robo advisors is a good choice.
But, if you prefer a more active way to invest, Capital, our top-rated broker in Canada, is a much better option. It's a free broker with excellent research and stock-trading tools, as well as advanced technical analysis tools for the more skilled investor.
Robo Advisors FAQs
Are robo advisors safe?
Yes, robo advisors are just as safe as traditional investment plans.
That said, it's important to remember that robo advisors are still a tool for investing. No investment is 100% safe and risk-free.
But, regarding security and trustworthiness, robo advisors are safe for investors. They have top-tier security features similar to those found in Canada's banks. Moreover, most of them are members of the Canadian Investor Protection Fund (CIPF) or the Investment Industry Regulatory Organization of Canada (IIROC).
If your robo advisor goes out of business, the CPIF will protect your money up to $1,000,000. IIROC, on the other hand, regulates robo advisors to ensure they are following the industry's best practices.
Are robo advisors worth it?
Yes, robo advisors are worth it, especially to those new to investing or with smaller amounts to invest. However, traditional financial planners might be better for investors with more complex investing needs, although robo advisors constantly evolve and add new services.
How much do robo advisors cost?
Most robo advisors charge a management fee between 0.25% and 0.6%, expressed as a percentage of your annual account balance. For example, if you have a balance of $10,000 and the management fee is 0.25%, you would pay $25 in management fees.
You may also pay MERs in addition to the robo advisor's management fee. MERs are the costs imposed by the companies that provide the fund(s) or ETFs.
So, overall, most Robo Advisors cost less than 1% of your account balance yearly.
What is the cheapest robo advisor in Canada?
The cheapest robo advisor in Canada is Questrade's Questwealth Portfolios, with a management fee of 0.25% for balances between $1,000 and $99,999 and 0.20% for balances over $100,000. Their MERs are also the cheapest ranging from 0.17% and 0.35%.
What is the best free robo advisor?
Unfortunately, there are no free robo advisors. We have yet to find one that doesn't charge a management fee. However, most are highly affordable, with a management fee between 0.2% and 0.6% plus an MER fee depending on the ETFs they offer.