It's imperative that you get yourself one or more business credit cards if you're the owner of a business. Regardless of the size of your business, you'll find that having a business credit card will make your life easier in a multitude of ways. Looking for the right card can be difficult, of course, and we're here to help you make your decision.
While the ideal card for you ultimately depends on your business model, we've selected the American Express Business Edge due to the versatility that it brings to the table. Other cards aren't half bad, of course, and you'll want to look into all of them to form your decision.
Well … it's in the name, really.
If you've got a business, you've got a special kind of credit card that's designed to accommodate you and make conducting your business easier. That's pretty much a godsend for any business owner, and you don't really have to be the owner of a large, successful corporation to acquire one of these credit cards either.
The Size Of Your Company Doesn't Matter In Regards To Business Credit Cards
Let's cut to the chase, then. You might be thinking: "why wouldn't I just use a regular card for my business?" Well, first off, it's a terrible idea to use your personal credit card as your business card. You'll mix up details, and bookkeeping will be a nightmare and a half. Here are some other clear reasons why getting your hands on a business credit card should be your top priority:
Ease of management: you won't have to watch out for mixing your transactions. Everything will be neatly in order for you when you need to get your taxes calculated or file some reports based on your expenditure.
Separate credit scores: perhaps one of the greatest advantages that business credit cards bring alongside themselves is that your personal credit rating will not be affected by the use of your business card, and vice versa. That means that you can leave your work life at the office once the day is over.
Special business rewards: you'll be missing out on a whole lot of offers that'll be available to you only through business cards. They're geared towards providing you and your business as many opportunities to grow as possible. This usually comes in the form of a higher credit limit, along with a bunch of other rewards.
Business Credit Cards Can Be Your Best Friend
Not being held back by credit limits is a major factor to keep in mind, because not being able to pay through a regular credit card could really hold you back while trying to keep clients comfortable and service deliveries in order. With all that said and done, there aren't any strong reasons to stay away from getting credit cards to assist your business in steamrolling the competition and making headway into the future.
The business card that suits you depends on your preference and the type of business you're running. We've gathered 5 of the best business cards in Canada for you to choose from.
American Express Business Edge Card
Do You Need A Smart Way Of Saving Money?
Cashbacks have their own zing, but gaining points by spending money might just be your thing. If that's the case, you might want to consider the Amex Edge card, since they've really come up with a card that's difficult to turn down. If you'd rather take deals on flights, purchases at Amazon and a whole lot of other gift cards, then the Amex Edge card is for you.
Reward points can be difficult to keep track of, however. If you feel the need to work with simple cashback systems, the Amex Edge will only result in a headache. Furthermore, the Amex Edge is rather spread out with its rewards. That is to say, its rewards target all sorts of business aspects like travel, hotels, supplies, etc. If you'd rather focus on a single one of these factors, there are better cards out there.
Gain An Impossible Amount Of Points To Spend
The Edge Card has its – well … edge. It allows you to accumulate a huge amount of points to redeem, especially as part of its welcome offer. You'll be able to uncover 30,000 MR points during your first $5,000 in purchases made. However, this offer is only valid for 3 months after you get that card – although it's very much worth going after and could be the sole reason for acquiring this card in the first place.
More Points Await With This Card
American Express has made sure that you'll never run out of points with this card, and they've fine-tuned the card to thrive in business.
3x the points for office supplies: 3 points per every dollar spent is the flagship offer that the Edge card has to offer. You'll save a lot of money through this deal, since it includes everything you'll need to run your business, including food, supplies, and transportation.
Bonus points for every $3,000 spent per month: Amex just wants you to have more points, it would seem. It's likely that your office would spend at least $3,000 in supplies per month, and if it does, you'll be making bank with a maximum of 12,000 bonus points every year.
Low annual fee: You'll find that you're saving more money for your business with a small fee of $99 per month.
The Downside Is No Other Offers
The only thing that Amex offers with this card is an incredible amount of redeemable points, but there aren't any other features that someone with a specific purpose would want. It's geared towards all businesses but doesn't specialize in a set audience. Be that as it may, it's an amazing card that can easily get your business running much faster and more smoothly. However, you'll be getting 1 point for every dollar spent on purchases not covered by this card's offer.
BMO Cashback Business Mastercard
Do You Want To Concentrate On Your Business Rather Than Your Business Credit Cards?
BMO's cashback cards are generally aimed at people who don't really want to get their hands dirty with all the various, complicated offers that credit card rewards seem to revolve around. If you simply want a small advantage from a credit card that simply gets the job done and helps you out without you really getting involved, you've come to the right card.
You'll be losing out on money if your purchases will be various, though. The only people who stand to truly exploit the benefits of this card are those who have fixed, office-related purchases. Anything outside that realm will bring you minimal benefits, and there are other options that might suit you. If your business model requires you to purchase items that aren't recognized as office materials, this card isn't for you whatsoever.
The Welcome Offer Gets You A Massive 6% Cashback
For the first 4 months of getting this card, you could receive a 6% cashback for all the office supplies you want. Gas and phone charges are also included in this offer, so have at it if you're looking to get this card and start a business simultaneously, it could work out very well for you and help you save up on a ton of money.
There's More Savings To Be Made
The BMO cashback card doesn't just stop there. It has some other tricks up your sleeve which might make you inclined towards it:
No annual fees: BMO blows every other card out of the park with it's zero annual fees. You're basically saving over $100 a year if you opt-in for this card, and that alone could be enough to win you over.
1.5% cashback on office-related purchases: This card's bread and butter is its 1.5% cashback, which is increased to 1.75% at Shell fuel stations. This offer also covers cell phone and internet charges.
There's Lower Cashback On Other Purchases, Though
You'll only get 0.75% cashback on purchases not covered by this card's flagship offer. However, the welcome offer might just be enough to make us look past this one.
BMO Air Miles Business Mastercard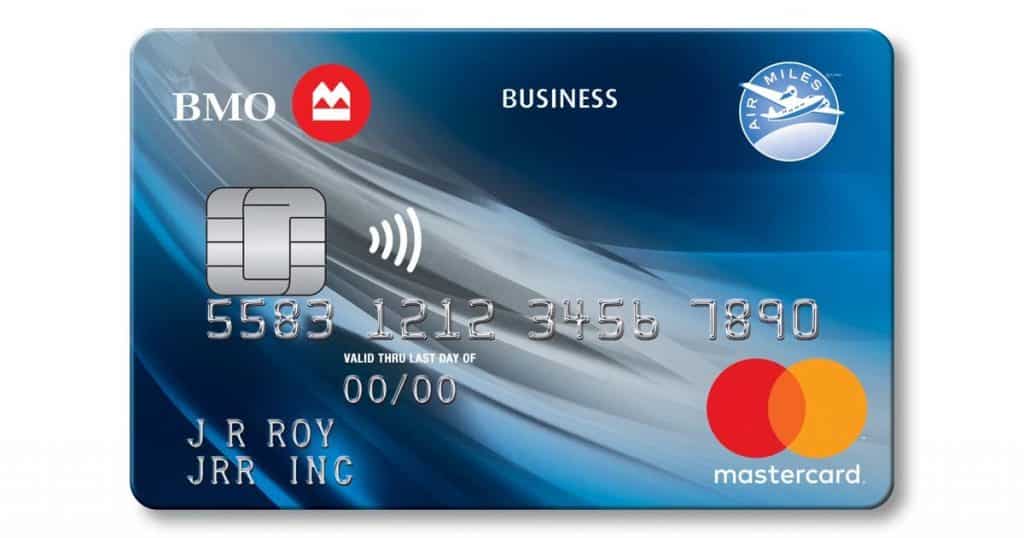 Do You Need To Fly To Your Clients Frequently?
This card was born to serve the needs of businessmen who need to travel long distances to conduct their business. BMO Air Miles will come in extremely handy and will result in multiple flights throughout the year. For the traveling salesman, this is the perfect card. Click here if you want to know more about airport lounges.
If, however, your business model revolves around your own city, you'll be wasting the potential of this card. There are plenty of credit cards for business owners who don't need to travel. Therefore, if you'll be staying put, stay away from this card.
Receive A Warm Welcome With 2 Free Flights
That's quite the welcome package, admittedly. After making your first purchase with this card, you'll immediately have 3,000 AIR miles, which roughly equate to 2 flights. That's not all, of course. You stand to receive another 2,000 AIR miles if you can spend $5,000 during your first 3 months of using this card.
The Benefits Don't End Here
The Air Miles Business card has some strong advantages that you're going to enjoy a lot:
You can pool AIR Miles: This means that you can join forces with other people who have this card and get yourself even more flights than you would have had before.
The first year is free: You aren't required to pay any annual fees during the first year, which we're certain you'll find appealing.
Earn AIR Miles through regular spending: Every $10 that you spend will earn you and AIR mile. This number is upped to 1.25% if you use Shell for your fuel needs.
It's Not All Perfect, Of Course
While BMO has created a powerful credit card here, it's not without its Achilles' heel.
High annual fee: While the first year is free, you're going to start feeling the sting once you have to pay $120 in yearly fees after that point onwards.
Lack of other rewards: Other than gifting a huge amount of free miles, this card doesn't really have much else to offer. Sure, it does its job well, but we'd expect BMO to make the card more friendly to office supply purchases. With that being said, it's still a great option for frequent flyers.
Amex Marriott Bonvoy Business Card
Need To Stay At Hotels Often?
This Amex business card is the perfect card for you, because not only does it help you earn points which you can redeem at various luxurious hotels, it also assists you with your flights. It's a pretty powerful competitor to the BMO AIR Miles card, and anyone who needs to stay at hotels for their business trips will highly appreciate this card.
On the other hand, if you can picture yourself staying put, for the most part, this card will be mostly useless to you. It's aimed squarely at business people who require extensive hotel usage. You'd be better off with another card if hotels are around the corner for you.
You'll Be Welcomed By 3 Free Nights
This card made sure that the welcome offer is one that you can't really turn down. It offers 50,000 points, which roughly equates to 3 nights in a hotel that's affiliated with Amex. That's a pretty generous offer and could tip the scales of your decision in this card's favor.
This Business Credit Card Stays Generous With The Rewards You Get
American Express has really gone out of their way to make this credit card accommodating, which is something we highly appreciate.
At any Marriott Bonvoy hotels, you'll earn 6 points for every dollar spent. Other than that, you stand to gain 4 points per dollar spent on regular activities like restaurants and phone charges. All other purchases provide 2 points per dollar spent. It's great to see that they haven't reduced this value to 1 point, as many other credit card providers have done.
However, The Annual Fee Is Skyrocketing
Perhaps one of the few drawbacks to this card is that its annual fee is $125 a year, which might lower the overall worth of the card in the eyes of some potential businesspeople. Another thing to keep in mind is that there aren't any rewards specifically for purchasing office supplies, so you'll have to calculate if office supplies are more costly to you than traveling. If moving around and staying at hotels is your top priority, then the Marriott Bonvoy card is the ace up your sleeve.
Scotia Momentum for Business VISA Card
Are You Looking For A Flat Cashback Rate And Low Charges?
The Scotia Momentum can easily get your business up and running with minimum overhead. It has a great cashback rate and you'll find it's simplicity and vast amount of offers to your liking. If you're looking to run a simple office, this card can definitely be of use to you.
However, this card isn't meant for your use if you're looking to travel around a lot – via air or otherwise. It is simplistic, and if you're seeking extra benefits, like rewards, you're going to be put off by it.
A 3% Cashback Can Really Float Your Business
The flagship offer that this card has is everything your business would need to thrive. That's not even counting the incredible welcome offer that the Scotia Momentum brings with it. A flat 3% cashback on all the office supplies you'll ever need is a huge amount. If you're running a simple business close to your residence, finding a better offer will be difficult.
A Reduced Interest Rate For 6 Months Welcomes You
Generous much? The Scotia Momentum offers a 2.99% interest rate for the first 6 months of you using it. It's the perfect card for building the momentum of your business, especially if it's a startup. That's not where the amazing offers end either:
Low annual fee: This card comes at only $49 a year, and supplementary cards come at an even lower price of $29 a year. The savings you get from this offer are worth putting into consideration.
Great credit limit: for a card that costs so little to maintain, and the upper credit limit of $100,000 is pretty impressive. You're never going to run into any trouble. This, coupled with the welcome offer of a 2.99% interest rate, your business would turn to some serious profits.
There aren't really any downsides to this card. It does its job well, and we think it's great for the standard business.
Verdict – The Edge Is Your Best Business Credit Card
No card has the same mojo that the Amex Edge brings. The only card that comes close is the Scotia Momentum. It has the tools to redefine just about any business.
However, the Edge provides the user with a lot more flexibility and really incentivizes more purchases with its exquisite offers. It also focuses heavily on office supplies. It's a jack of all trades and brings everything to the table, which gives it the (okay, last pun) … edge over its competitors.