Parking in big cities like Toronto is often expensive, so finding the cheapest parking downtown Toronto has to offer is at the top of most people's minds when they visit the city. This is especially true for those working in Toronto but who don't have access to a company-provided parking space. Parking prices in downtown Toronto can vary greatly. The cheapest hourly rate is $3 for the Chinatown Centre parking lot, several others are in the $4–$5/hour range, and others charge much higher, like the Yonge Richmond Centre parking lot where you'll have to pay $15 an hour. If you plan to stay for longer, full-day deals start at $20 but can climb significantly reaching over$35 a day. Nightly rates are usually slightly less expensive than daytime parking in downtown Toronto.
Living or working in the heart of Toronto can be expensive, and cheap parking is one way to save money. Although plenty of paid parking spots are available in downtown Toronto, they can often be expensive.
Fortunately, there are some unknown cheap parking spots scattered throughout the area that can save you time and money, Whether you plan to stay long-term or just need a short-term spot while running errands, in this article, we'll uncover all of the cheap parking spots in downtown Toronto, including street parking, lots, garages, and more.
Related: If you or someone you know is getting married in Toronto, you may be interested in the cheapest wedding venues in the city.
The 10 Cheapest Parking Downtown Toronto Offers
The following table summarizes the cheapest parking in downtown Toronto and their respective hourly rate.
| | |
| --- | --- |
| Parking Spot | Rate |
| Chinatown Centre | $3/hr |
| Simcoe Place | $4/hr |
| 37 Queen Street East | $4/hr |
| Richmond Adelaide C (Adelaide) | $5/hr |
| Bell Trinity Square Lot | $5/hr |
| Adelaide Place Parking Garage | $5/hr |
| 40 Gerrard Street E Apartments- Lot | $3/30 min |
| Roy Thomson Hall Parkade | $8/hr |
| 100 University Avenue Parking Garage | $8/hr |
| Yonge Richmond Centre | $15/hr |
#1 Chinatown Centre
Location: 222 Spadina Ave., Toronto.
Chinatown Centre is a famous shopping mall in downtown Toronto. It has been a hub of activity for many years, offering everything from clothing to electronics and even specialty items. Chinatown Centre offers various payment options to make shopping easier for its patrons. This includes cash, debit cards, credit cards, and Interac payments.
Additionally, the mall offers shoppers an hourly parking rate of $3 or a daily rate of $12. This makes it convenient for those who want to stay longer and explore its various offerings.
#2 Simcoe Place
Location: 200 Front Street West, Toronto.
This parking lot is conveniently located on Front Street West, just one block west of University Ave. This lot offers affordable rates of $4/hr and $22/daily for those looking for a quick or long-term parking solution. With its perfect city centre location, this lot is the ideal choice for anyone wanting to get around Toronto in quickly.
Simcoe Place features secure parking with 24-hour video surveillance, giving you the peace of mind that your car will be safe and secure while you enjoy all Toronto offers. It is open seven days a week and accepts cash and card payments.
#3 37 Queen Street East Garage
Walking distance from the downtown core, 37 Queen Street East is perfect for anyone looking for convenience and affordability. With only $4 per half hour and $20 per day, parking a car in this location is one of the most cost-effective options in the city. The lot has 623 parking spaces and is fully automated.
Plus, you also have access to various vehicles and customisable rental plans. Whether you are looking to park your car for a few hours or an entire day, 37 Queen Street East has the perfect option for your needs.
#4 Richmond Adelaide C—Lot
Location: 130 Adelaide Street, Toronto.
Thought to be one of the most convenient underground parking lots in Toronto, this garage is located off York Street and is connected to the PATH. Located near the Canadian Opera Company/Four Seasons Centre and some of downtown's most outstanding restaurants, this lot offers unbeatable access to all areas of Toronto.
Ticket rates are $5 per hour, with a maximum of $34 per day. With its convenient location and competitive rates, this lot is an ideal place to park in downtown Toronto while enjoying the sights and sounds.
Related: You may be interested in the cheapest places to buy a house in Canada.
#5 Bell Trinity Square—Lot
Location: 483 Bay Street, Toronto.
Bell Trinity Square Lot is an excellent option for downtown parking. This lot is conveniently located in the heart of Toronto's vibrant downtown, just steps away from City Hall and Eaton Centre.
With hourly rates starting at $5/hr and daily rates starting at only $21, this lot offers excellent value for those looking for affordable parking near some of the city's most popular attractions.
Whether you're in town for a day or just popping by for a few hours, Bell Trinity Square Lot offers you an affordable and convenient parking solution.
#6 Adelaide Place Parking Garage
Location: 150 York Street, Toronto.
Adelaide Place Parking Garage is one of the cheapest parking spots in downtown Toronto. It offers daily rates starting at $30 and hourly rates starting at just $5. That's far below the average rate for downtown Toronto. Its location near Union Station and St. Lawrence Market makes it perfect for commuters who need to park their car for a short time.
#7 40 Gerrard Street E Apartments—Lot
This garage is located at 40 Gerrard Street E and is the perfect place to park if you're planning on visiting Yonge Street or Ryerson University. Rates are reasonable at $3 per 30 minutes or $15 per day.
The lot is located less than a block from Yonge Street and just three blocks from Ryerson University, so you'll have no problem getting to your desired destination.
It is a safe and secure parking lot with 24/7 surveillance, making it an ideal spot for anyone who needs convenient and affordable parking in the area. Plus, there are plenty of nearby restaurants, cafes, and shops for you to explore after you park your car.
Related: These are the best furniture stores in Toronto that sell at affordable prices.
#8 Roy Thomson Hall Parkade—Lot
Location: 60 Simcoe Street, Toronto.
The Roy Thomson Hall Parkade is conveniently located near the financial district in downtown Toronto. It offers hourly and daily parking rates, with an entrance off Wellington Street, west of Simcoe Street. Hourly rates start at $8/ hr, while daily rates are available for only $18. This lot provides easy access to various attractions, including the Air Canada Centre, Rogers Centre, Harbourfront Centre, and the CN Tower.
#9 100 University Avenue Parking Garage
Housed in the same building and operated by the same company as the nearby Metro Parking at One University Avenue, this parking location is an excellent option for those looking for cheap parking in downtown Toronto.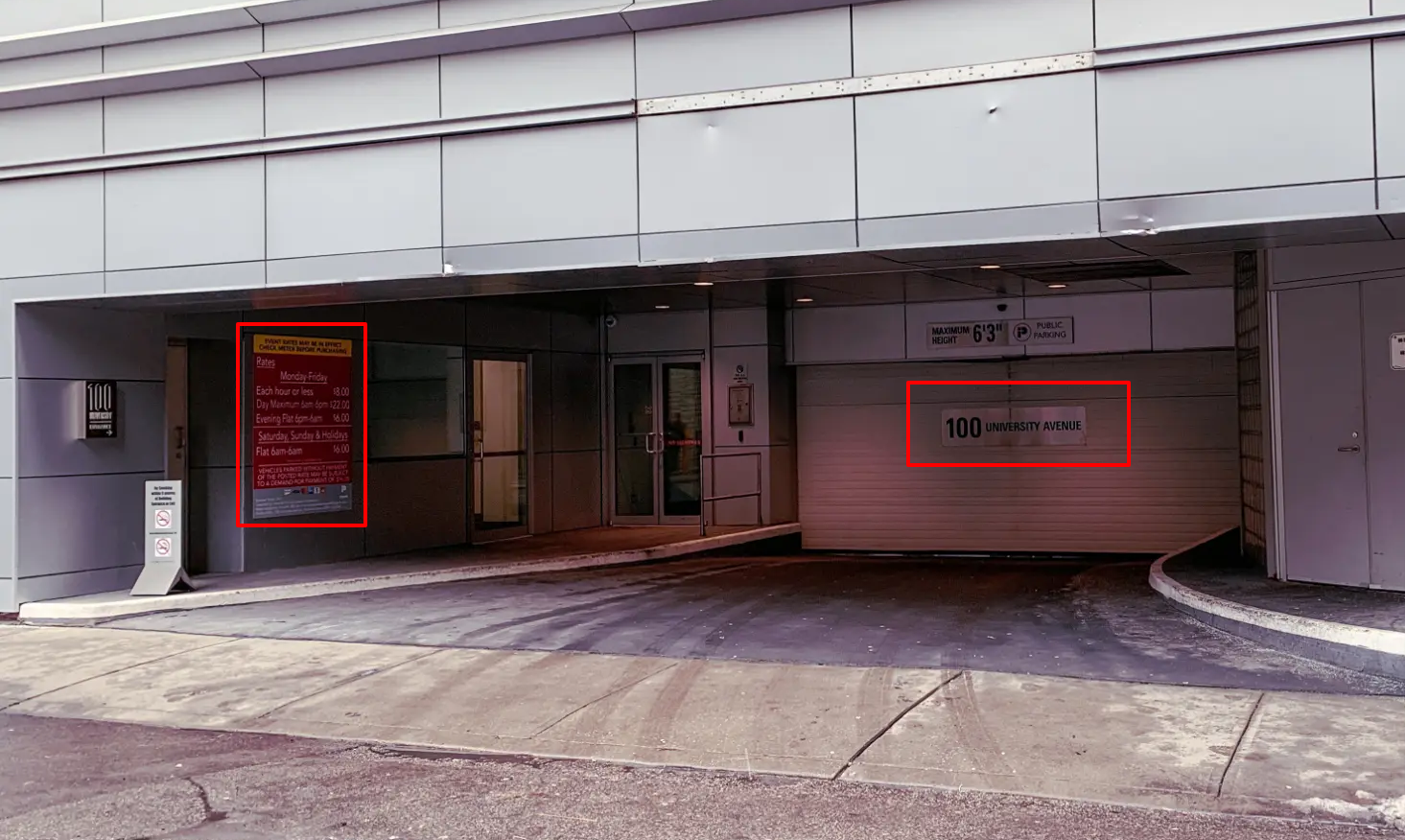 Located between Queen Street West and Dundas Street West, this garage also offers long-term or late-night parking discounts. The cost to park here can range from $7 per hour to $8 an hour, with a daily maximum of just $22.
#10 Yonge Richmond Centre—Lot
Location: 151 Yonge St., Toronto.
The city hall garage at 151 Yonge St. is the perfect place to park in Toronto's downtown core. It is located next to Cambridge Suites Hotel and offers convenient all-day parking with direct access to Richmond Street E and other nearby roads. This lot is ideal for both monthly and transient users and hotel guests looking for a safe place to leave their cars.
It is open 24 hours a day, seven days a week, and offers hourly rates of $15 and daily rates of up to $30. It has ample room for cars and larger vehicles such as RVs, trailers, or commercial vans. The lot is secured with barriers, CCTV surveillance cameras, and well-lit areas for maximum security.
Types Of Parking Options In Downtown Toronto
For most visitors, cheap parking in Toronto is at the top of their list when planning a trip to the city. Luckily, there are a variety of options when it comes to cheap parking in downtown Toronto.
Parking Lots
Several private lots available throughout the city offer cheap hourly or daily rates. It's best to shop around for the lowest rate, but generally speaking, a day of parking in these lots costs around $10–$20.
Green P Parking
Green P is an app that allows you to find and pay for parking in downtown Toronto. It has the cheapest rates of all the parking options available, with daily maximums as low as $10 per day.
With its easy-to-use app and convenient locations, Green P is perfect for those looking for an affordable way to park their car while visiting downtown Toronto.
Impark Parking
Providing optimal parking solutions in downtown Toronto is one of the most convenient and cost-effective options available. With locations in both the Financial District and Yorkville area, Impark offers some of the cheapest parking rates in the city.
Their daily fee starts at just $3 per hour, with monthly passes available for as little as $120. In addition to the significant savings, Impark also offers a mobile app to make parking as easy and convenient as possible. The powerful technology allows customers to find available spots, pay, and extend parking sessions from their smartphones.
With so many benefits and outstanding prices, Impark is one of the best options for cheap parking in downtown Toronto.
SpotHero
SpotHero offers the most convenient and cheapest parking in downtown Toronto. As a leading parking reservation service, SpotHero allows customers to search for and reserve parking in advance to save time and money.
SpotHero's easy-to-use mobile app makes finding affordable and quality parking options near your destination simple.
Spot Angels
A free app that helps drivers find and save money on parking. It offers real-time information about nearby parking restrictions, garages, and lots. Spot Angels also provides users with up-to-date notifications when their time is running out in a particular spot.
It allows them to compare prices and pay for parking quickly and easily. You can save time and money with Spot Angels by avoiding expensive fines and tickets.
Tips For Finding The Cheapest Options For Parking In Downtown Toronto
From discount coupons to discounted daily rates at certain garages, there are several strategies you can use to save money on parking in this bustling city and make your trip more affordable.
One of the most affordable ways to park downtown is to use an hourly or daily rate public lot. These lots typically offer lower rates than private parking garages and are located in several convenient locations throughout the downtown core.
You can purchase monthly passes at a discounted rate if you want to stay longer. Many of these lots offer special rates for early bird or night parkers. While public lots may not have the same amenities as private parking establishments, they provide an excellent means of accessing the city centre at an affordable cost.
Another option for parking downtown is street parking. There are several spots throughout the downtown core where you can park for free or for a small fee. However, these spaces may be limited and heavily regulated in some areas. Check local bylaws to ensure you are parking legally and in the correct zone.
Some businesses offer discounted parking for customers. For example, certain restaurants may provide free or reduced-cost parking with a minimum purchase. If you plan to visit downtown Toronto regularly, check out these locations before committing to any long-term parking options.
In Summary
Cheap parking in downtown Toronto is beneficial since it allows you to avoid the hassle of commuting into the city and saves money on parking fees. With research and patience, you can find affordable options that won't break the bank. Additionally, you can find great parking deals if you plan and book in advance. Places like the Chinatown Centre and Simcoe Place parking lots offer some of the cheapest hourly rates for parking in downtown Toronto, at jus $3 and $4 per hour, respectively. Other options can cost multiple times as much but offer better daily rates, so they end up being a good deal.
Cheapest Parking Downtown Toronto FAQs
How much does parking cost in downtown Toronto?
The cost of parking in downtown Toronto varies depending on the location. Generally, metered street parking costs around $3.00 per hour or $18.00 daily. At the same time, multi-level lots and garages range from $8.00 to $35.00 per day, depending on the duration and amenities each lot or garage offers.
How can I get cheaper parking?
There are a few ways to get cheaper parking, such as booking in advance, using coupons and discounts, looking for off-street parking options, and carpooling. Additionally, some cities offer discounted or free public transportation options that may be a better alternative than paying for parking.
Is there free street parking in Toronto?
Yes, there is free street parking in Toronto. You can find a few major streets that offer two hours of free parking for those who need to make quick stops downtown. 337 University Avenue, 18 James Street, and 126 Elizabeth Street are some of the most commonly used locations for parking without payment.
Is it cheaper to pre-book parking?
Yes, it is generally cheaper to pre-book parking. When you pre-book, you can compare different rates and ensure you get the best deal for your money. You may also qualify for discounts or special offers when you book in advance.
Is there an app that finds free parking?
Yes, some apps can help you find free parking. Some popular apps, such as Green P and SpotHero, allow you to search for available spots near your current location. These apps offer various options, from street parking to private lots, so you can easily find the best spot with the least hassle.