Crypto staking consists of letting your crypto tokens be used by a blockchain to confirm its internal transactions, and it's a great way of earning passive income through its high-interest rate staking rewards. With more and more cryptocurrencies shifting to the proof-of-stake consensus mechanism, there truly hasn't been a better time to stake your cryptocurrencies than right now.
The simplest way to invest in proof-of-stake cryptocurrencies is through a crypto exchange, and the best Canadian exchange for this purpose is CoinSmart. I can't recommend it highly enough because of its security, simplicity of use, and extremely low trading costs.
What Is Crypto Staking?
Staking is the act of actively participating in transaction verification on a proof-of-stake (PoS) blockchain (such as the Polkadot and Cardano blockchains). To do this, you let your cryptocurrency tokens be used by the blockchain to confirm transactions.
Crypto staking is similar to earning interest on the funds you have in a savings account. However, while the interest rates you'd get from a savings account are usually quite low, you can make around 10% or more with crypto staking.
Is Crypto Staking Legal In Canada?
Yes, crypto staking is legal in Canada. Crypto staking is legal in most countries around the world.
The only thing to be aware of is that some countries have stricter regulations when it comes to cryptocurrency and blockchain technology than others. However, as far as Canada is concerned, crypto staking is perfectly legal.
What Are The Benefits Of Crypto Staking?
Staking is a great way to increase your profits if you've decided to invest in cryptocurrency. Many cryptocurrencies, particularly newer ones, use this method of transaction validation, and in return for staking coins, you'll be eligible for rewards on the tokens you've staked.
Crypto staking is a great way to generate passive income, and it's also a more energy-efficient alternative to proof of work (PoW) models, which often require costly hardware setups to mine new coins.
What Are The Risks Of Crypto Staking?
The risks of crypto staking are similar to the risks of investing in any cryptocurrency. The value of your tokens can go up or down, and there's always the possibility that you could lose money.
That said, if you're careful about which cryptocurrencies you stake and you diversify your portfolio, you can minimize your risk and earn a healthy return on your investment.
It's also important to remember that when you're staking coins, you'll be locking them up for some time. This means that you won't be able to sell or trade them during that period.
What Fees Are Involved In Crypto Staking?
The fees associated with crypto staking can vary depending on the platform you're using. Some platforms may charge a small fee to set up your account, while others may not charge any fees at all.
What Are The Tax Ramifications Of Crypto Staking?
The tax ramifications of crypto staking will depend on your country's tax laws. In Canada, any crypto staking rewards that you earn will be considered taxable income. This means that you'll need to declare your crypto staking earnings on your taxes.
How To Get Started With Crypto Staking In Canada
Here are the steps you need to take to start staking cryptocurrencies and earning staking rewards for doing so:
1. Choose A Personal Crypto Wallet
To store the cryptocurrencies that you'll be staking, you'll need a personal crypto wallet. There are two main types of crypto wallets: software wallets (or hot wallets), and hardware (or cold wallets).
Hot crypto wallets are connected to the internet and can be used for everyday transactions. They're great for storing small amounts of crypto and are generally quite user-friendly. However, they're also more susceptible to security risks than other types of crypto wallets.
Cold crypto wallets, on the other hand, are disconnected from the Internet and are therefore considered to be safer than hot wallets. They're highly secure if you're planning to store large amounts of crypto in the long term, but it can be harder to trade when using them.
As someone who's tried out more than a dozen different wallets over the years, here are my top 3 picks for the best crypto wallet for Canadians:
#1 Best Overall

Supports: 70+ crypto assets
Type: Software wallet
Cost: Free

The most secure wallet, period.

Top Hardware Wallet

Supports: 1,800+ crypto assets
Type: Hardware wallet
Cost: $199 CAD

Rated 4.6/5 on Amazon.

Best For Altcoins

Supports: 1,000+ crypto assets
Type: Hardware wallet
Cost: $75 CAD

Trusted by 1 million+ investors.
ZenGo: ZenGo is a free software wallet that leverages the blockchain to make it significantly more secure than traditional wallets while also being extremely easy to use. Sending and receiving crypto to/from ZenGo is also free, and it takes less than 30 seconds to open your free ZenGo wallet.
Ledger Nano S: The Ledger Nano S is a hardware wallet that uses a certified secure chip to protect your private keys. It supports 1,500+ cryptocurrencies and allows users to hold up to 20 digital assets on the device at any given time.
Trezor Model One: The Trezor Model One is a hardware wallet and password manager that supports 1,000+ cryptocurrencies. Its Trusted Display ensures extremely secure transactions, and its compact design makes it easy to keep your crypto safe.
2. Choose A Cryptocurrency With A PoS Blockchain Model
The most crucial step in crypto staking is selecting a good crypto staking prospect.
Choosing crypto to stake just because it offers big rewards is a big mistake: it can be tempting to stake cryptocurrencies that offer the highest staking rewards, but plenty of these cryptocurrencies can turn out to be poor investments that will plummet in value as time goes on.
Here's a list of the top proof-of-stake cryptocurrencies available right now:
#1 Cardano (ADA)
Charles Hoskinson and Jeremy Wood launched the Cardano blockchain, a proof-of-stake blockchain, in 2017. ADA, the cryptocurrency powering the Cardano blockchain, has a fixed supply like Bitcoin (BTC) and Ethereum (ETH) — there are 32 billion circulating coins and a total of 45 billion virtual tokens.
Cardano (ADA) is one of the world's most prominent cryptocurrencies, alongside Bitcoin (BTC), Ethereum (ETH), and Binance Coin (BNB).
#2 Polkadot (DOT)
Polkadot (DOT) is a cryptocurrency that belongs to Polkadot, a project aiming to encourage the development of a global network of computers that will operate its blockchain (with user-generated blockchains on top of it).
This marks Polkadot as one of several current blockchains attempting to build a cryptocurrency ecosystem, alongside Ethereum (ETH), Cosmos (ATOM) and EOSIO (EOS).
#3 Solana (SOL)
The Solana blockchain is a public blockchain that uses the proof-of-stake and proof-of-history consensus mechanisms. The symbol for the cryptocurrency this blockchain uses is known as Solana (SOL).
It's important to note that Solana can communicate with smart contracts in the same way as Ethereum does, but it does so way faster than the Ethereum blockchain at 50,000 transactions per second.
3. Buy Your Preferred PoS Crypto In A Crypto Exchange
To begin crypto staking, you'll need to get your hands on a cryptocurrency that uses the proof-of-stake consensus mechanism, as no other cryptocurrencies may be staked.
Fortunately, the proof-of-stake consensus mechanism is becoming increasingly popular as it becomes more efficient, and even Ethereum (ETH) is currently shifting from the proof-of-work model to the proof-of-stake model.
There's no easier way to buy cryptocurrencies than using a crypto exchange and/or crypto broker. Here are our top Canadian crypto exchange picks: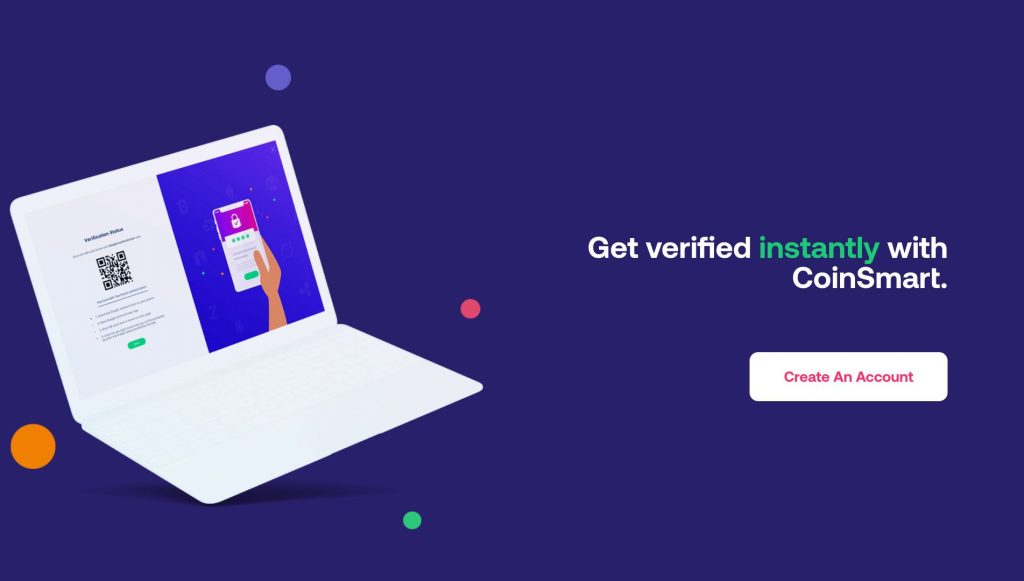 CoinSmart is a great option for Canadians seeking a reliable, trustworthy crypto exchange. CoinSmart's trading fees are just 0.2%, they offer excellent customer support available 24/7 via phone, live chat and email, and user accounts are verified instantly.
CoinSmart has been designated a Registered Marketplace by the Ontario Securities Commission (OSC), which means they're a highly secure exchange. They also maintain a 95% cold storage policy, which keeps your crypto extra safe across all circumstances.
As a new CoinSmart user, you'll receive a $50 bonus upon funding your account, which you can use to buy Bitcoin, Ethereum, or any of the 16 assets CoinSmart supports. If you're looking for a highly secure, reputable exchange, CoinSmart is an excellent choice.
Features
Extremely low trading fees (0.20%)
24/7 customer support available via phone, live chat or email
Instant account verification
Supports 16 cryptocurrencies
Registered Marketplace by the OSC
Trade all altcoins directly
Immediate deposits and withdrawals
User-friendly for both beginners and advanced traders
95% cold storage policy keeps your crypto extra secure
Cost
Account Opening: Free
Trading Fees: 0.20%
INTERAC Deposit: 0%
Bank Wire Deposit: 0%
Bank Wire Withdrawal: 1.00%
EFT Withdrawal: 1.00%
Signup Bonus
$50 bonus when you sign up using this link
Best For
Investors looking for top-level security and instant account verification.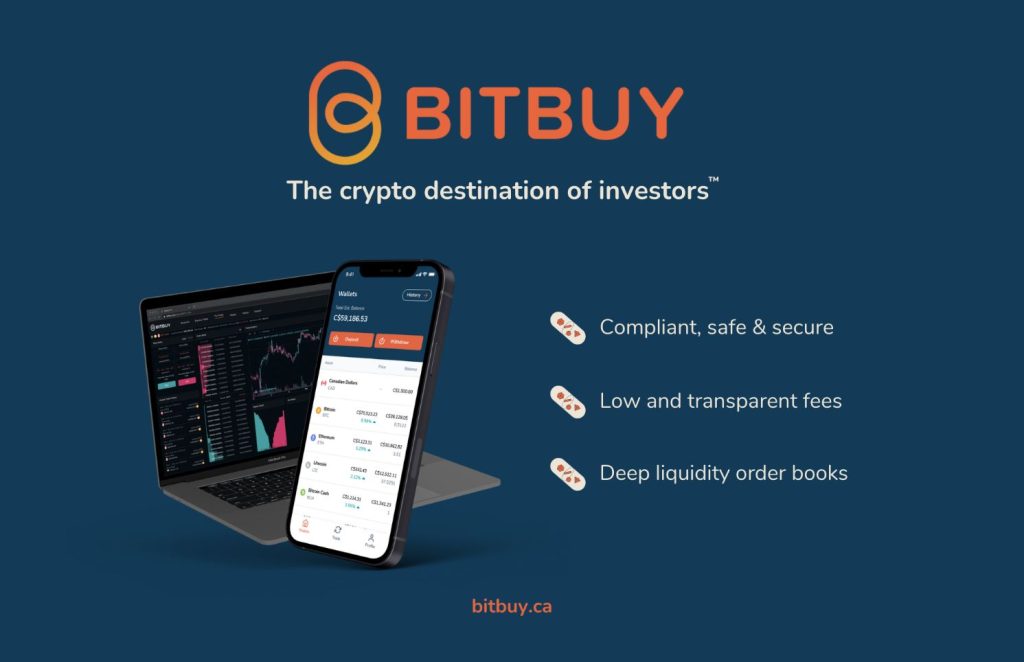 Bitbuy's trading fees are an impressive 0.20%, and just 0.1% for Pro users. It supports 17 cryptocurrencies, verifies accounts instantly, prides itself on its helpful customer service reps, and has a beautiful, well-rated app.
For a limited time, Bitbuy is offering a $50 bonus to new users who fund their account with $250 or more.
You can fund your Bitbuy account directly from your bank account via INTERAC e-transfer or bank wire, with all account deposits and withdrawals executed quickly. It's processed more than $4 billion in trades across its 350,000+ Canadian users.
Bitbuy is a Registered Marketplace and Investment Dealer, as recognized by the Ontario Securities Commission (OSC). This means that the OSC has recognized Bitbuy as a highly safe and secure exchange, and that it offers deep liquidity for all order sizes.
If you're looking for a highly-respected exchange that offers altcoin trading, excellent customer service, and a slick mobile app, Bitbuy is for you.
Features
Extremely low trading fees (0.10% – 0.20%)
Easy to use for both beginners and advanced traders
Supports 17 cryptocurrencies
Excellent customer support
Powerful mobile app (rated 4.6/5 on the App Store)
99% cold storage policy keeps your crypto extra secure
Cost
Account Opening: Free
Express Trading Fees: 0.20%
Pro Trading Fees: 0.10% to 0.20%
INTERAC Deposits/Withdrawals: 1.50%
Bank Wire Deposit: 0.50%
Bank Wire Withdrawal: 1.00%
Signup Bonus
$50 when you deposit $250 using this link.
Best For
Investors looking to trade with extremely low trading fees.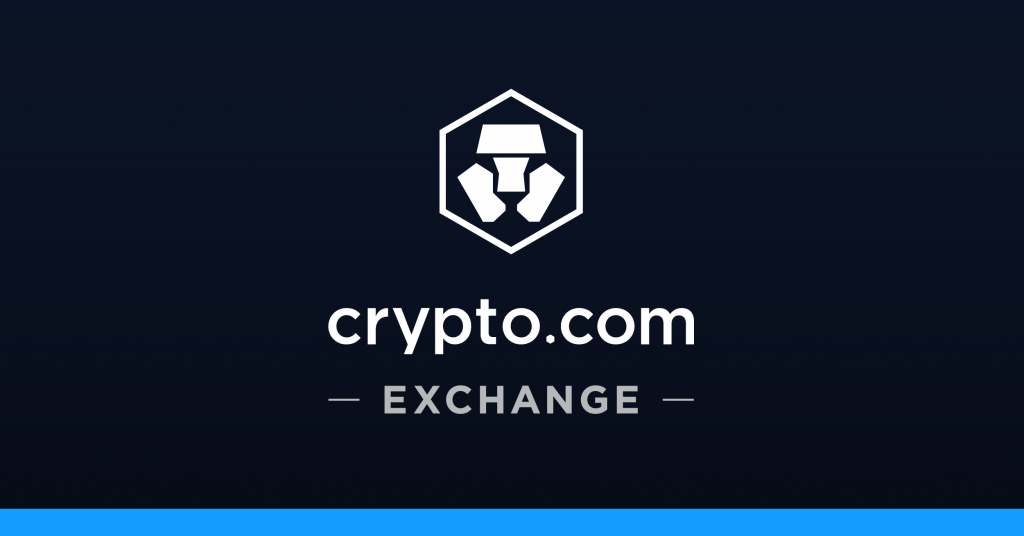 Crypto.com is a major global player that brings a mature, proven exchange to Canadian crypto investors. It supports 100+ cryptocurrencies, making it an ideal fit for anyone looking to invest in undiscovered altcoins before the masses.
Crypto.com offers some unique features that no other Canadian cryptocurrency exchanges can match. Users can trade options and futures contracts, earn interest by staking their coins, and make trades with up to 10x leverage when they feel particularly confident in a coin.
Crypto.com also has invested an enormous amount of money into its platform security, which makes trading with them extremely safe. The exchange is lightning quick (prices update dozens of times per second), which gives day traders an upper hand over the rest of the market.
Overall, Crypto.com is a solid exchange for investors looking to cash in on brand new altcoins. If you're just looking to buy more mainstream coins like Bitcoin and Ethereum, though, I suggest either Bitbuy or CoinSmart instead.
Features
Average trading fees (0.4%)
Supports 100+ cryptocurrencies
Allows up to 10x leverage
Trade crypto derivatives (futures and options contracts)
Earn daily interest by staking your coins
Purchase newly-listed coins at up to 50% off
Free deposits from all cryptocurrencies
Cost
Account Opening: Free
Trading Fees: 0.4%
Best For
Investors looking to buy altcoins and other new crypto assets before they go mainstream.
4. Stake Your Crypto Through An Exchange Or Staking Pool
The last step to staking your crypto funds will be to find a staking pool or crypto exchange that allows you to stake your chosen cryptocurrency.
If you bought your cryptocurrency tokens on a crypto exchange, the exchange likely offers staking instructions or an option on your account's portfolio.
However, if your crypto exchange doesn't support that feature, you may stake your cryptocurrencies with a staking pool. These pools are made up of cryptocurrency funds that investors have pooled together to receive better staking payouts.
Be aware that you first need to transfer your funds to a crypto wallet before you can stake them through a pool, though.
Crypto Staking: Pros And Cons
| | |
| --- | --- |
| Crypto Staking Pros | Crypto Staking Cons |
| You don't need an expensive, high-speed computer to stake crypto, unlike mining | Crypto prices are volatile and can quickly plummet |
| Staking is an easy way to earn interest (and passive income, by extension) on your crypto funds | Crypto unstaking periods can take a full week or longer to happen |
| Crypto staking lets you take a direct part in maintaining the security of the blockchain | Staking requires that you lock up your coins for a certain amount of time, and you can't do anything with your tokens during that period |
In Summary
Crypto staking is a great way to earn passive income, but it's important to do your research before investing in a cryptocurrency that uses the proof-of-stake consensus mechanism. By following these actionable steps, you'll be on your way to crypto-staking success in no time.
The easiest way to invest in proof-of-stake cryptocurrencies is by buying them through a crypto exchange, and the top Canadian crypto exchange for this purpose would be CoinSmart. With its security, ease of use, and it's super low trading fees, I can't recommend it highly enough.