Arrived has created a new way to invest in real estate that makes it easier and safer for people who want to get started.
With Arrived, anyone can buy shares starting at just $100 and their operational work will take care of everything else, including renting the property out.
If you're interested in starting your journey into homeownership with as little risk as possible, I encourage you try Arrived today.
Arrived is a company that has created a new way to invest in real estate that makes it easier for people who want to get started.
With Arrived, anyone can buy shares starting at just $100 and their operational work will take care of everything else, including renting the property out so investors have more time to collect net rental income and appreciation shares.
How Does Arrived Work?
Arrived has built its operating strategy around two primary goals: getting the biggest bang for your buck and minimizing operational costs.
First, to get the most out of each investment property they acquire, Arrived targets specific markets and properties throughout America that can offer both high cash-on-cash returns and long-term home appreciation.
Second, to ensure minimal operational costs across all acquired properties, Arrived has developed a streamlined plan that allows them to efficiently manage homes by utilizing economies of scale while maximizing profits per house with low overhead expenses.
These two specialties allow Arrived to vastly improve their investors' profits per property.
Users of the platform will be able to invest in real estate through a simple four-step process:
#1 Browse Homes
Investors can browse through homes available on Arrived. These properties have already been thoroughly checked and placed on the site based on their earning potential.
#2 Select Shares
Once an investor has decided to invest in a property, they can choose how much money they want to put into it and reserve those shares.
#3 Sign & Invest
After reading the terms and conditions, investors fill out an online contract. After that, they link a bank account to the platform in order to fund their investment.
#4 Earn Income
Investors collect their share of net rental income and shares from the property's rise in value without having to do much else.
If you still aren't clear on how Arrived works, watch this 1-minute explainer video:
What Makes Arrived A Good Tool For Earning Wealth?
Arrived grants you all of the upsides of investing in real estate while making the platform as simple as possible to use.
Here are some of the key benefits you can get from investing in real estate (and, by extension, using Arrived as the tool to help you do so):
Access to low-cost debt: With government subsidies, consistent increases in value, and low borrowing costs for real estate purchases, it is possible to increase investment returns by utilizing the financing.
Unique tax advantages: Investing in real estate can have tax benefits that are not available to other types of investments.
Multiple income sources: Real estate also has the benefit of earning you revenue from various sources, such as tax benefits, cash flow from the home and appreciation of the property.
Shields you from inflation: Real estate acts as a natural counter to inflation, as it ensures that your buying power and capital don't lose value over time.
Low volatility, low correlation: Real estate has lower volatility than other asset types (like equities). Furthermore, it also has a low correlation with popular assets, which means that you can reduce your risk significantly by diversifying your portfolio.
Arrived vs. Traditional Real Estate Investing
In contrast to Arrived's four-step process, traditional real estate investing tends to be a lot more difficult.
Here are the usual steps you need to take to invest in real estate traditionally, as a direct comparison:
Start researching rental homes: Look for properties near you that fit your investment criteria.
Find a lender: You'll need to get approval for a loan from a bank or private lender to fund your investment.
Tour potential homes: Touring for potential homes is necessary if you want to find the best rental property deals for your needs.
Determine if it's a good investment: You'll also need to determine whether or not the property is worth buying and how big the income potential is.
Make an offer: If the property checks all the boxes, make an offer on it.
Wait for it to be accepted: Wait for the homeowner's response and hope for the best.
Invest tens of thousands of dollars: Secure enough funds for the down payment and closing costs of the property.
Close on the home: Sign any pertinent documents and pay the closing costs to get the property.
Get the homeowner's insurance: Finalize the purchase by getting the homeowner's insurance.
Make any necessary renovations: Before putting the property up for rent, you should make sure it's in excellent shape first.
List the home for rent: After renovating the property, list it for rent and wait to see if any renters are interested.
Show the home to renters: When interested renters appear, schedule some time to show the property to them.
Sign a lease: Once a renter has been approved, sign a lease with them.
Manage the investment's accounting: Keeping track of all income and expenses associated with the rental property is a must.
Organize taxes yearly: Handle any tax filing that needs to be done on the property, and make sure you're on time with yearly payments.
As you can see, traditional real estate investing takes a lot longer when compared to using Arrived. This is mainly because traditional real estate investing forces you to manually take steps that Arrived already does for you automatically.
Features & Benefits Of Arrived
Here are some of the most noticeable features & benefits of using Arrived:
#1 Low Minimum Investment
With Arrived, the difference between investing $100 and investing $100,000 is practically non-existent.
By allowing investors to use the platform (even if they invest as little as $100), Arrived has removed all barriers to real estate investing and has made it accessible for everyone.
#2 Allows Investors To Diversify
Diversification is an excellent way to reduce the risk involved with investing because it prevents you from putting all of your eggs in one basket.
By allowing you to invest in multiple multiple real estate properties, the platform helps you reduce any potential losses that might be associated with having a single property investment.
#3 High Potential Returns
When done well, real estate investing can generate high overall returns. Those returns are obtained through both rental income dividends and property value appreciation.
On the rental income side, Arrived properties paid cash dividends in Q2 2021 that translate to an annualized 5.21% – 6.42% per year. Appreciation is harder to gauge given the properties haven't been sold yet, so the appreciation hasn't been realized.
#4 Grants Passive Income
Arrived has taken special care into ensuring that rental payments are consistently paid out to their investors. Investors receive these payments quarterly with no hassle or waiting necessary.
#5 No Operational Responsibility
By taking complete operational responsibility for the home, Arrived allows you to sit back and earn passive income nearly effortlessly.
Investors in Arrived properties are only liable for their shares of the investment.
As mentioned previously, all you have to do to start earning passive income through the platform is browse and choose available homes, select shares, sign a contract, and invest in the property.
#6 No Personal Liability
Arrived places all new properties in a Limited Liability Company (LLC), which means that investors are not personally liable for lawsuits or personal guarantees of financing debt.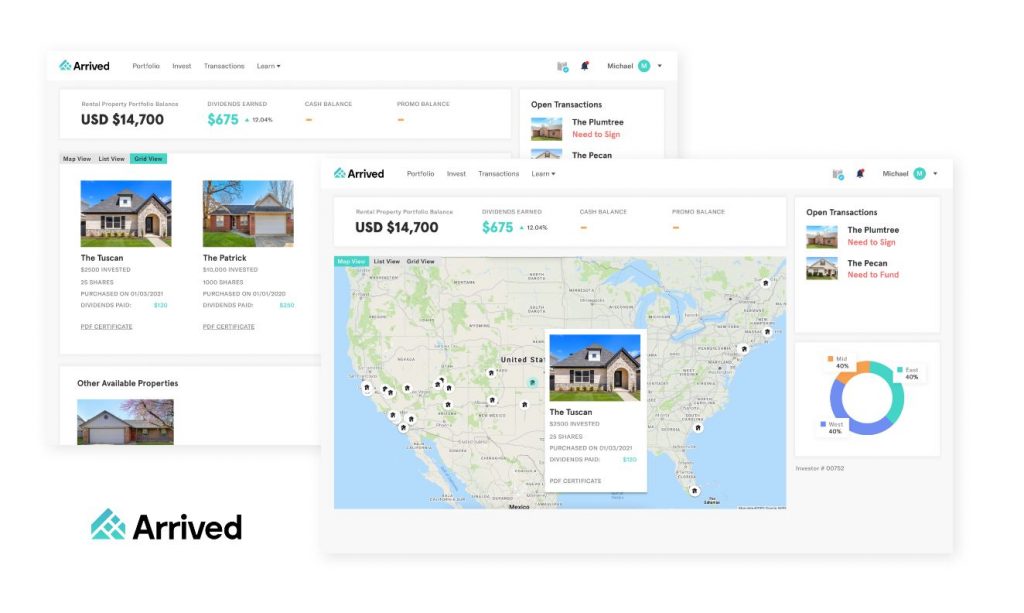 #7 Access To Lucrative Markets
The platform gives investors the ability to access great real estate investment opportunities in any market they choose, even if said markets are very far away from where they live originally.
This is one key advantage that Arrived has over traditional real estate investing, as many traditional opportunities force you to tour potential homes locally.
#8 Aligned Incentives With Top Renters
Arrived thoroughly vets tenants and turns them into co-investors so that you can have shared incentives and a better fit in the long-term.
This is useful because it ensures that you are getting high-quality tenants who are willing to stay for an extended period.
#9 Backed By Top Investors
Arrived Homes is backed by world-class investors, including Amazon founder Jeff Bezos, Salesforce founder Marc Benioff, Uber CEO Dara Khosrowshahi, and former Zillow CEO Spencer Rascoff.
#10 Plenty Of Learning Resources
Arrived also has its blog, with its fair share of articles and guides that you can use to learn more about real estate investing in general.
It's a unique characteristic of Arrived that will undoubtedly aid you in getting the most out of your investments over time.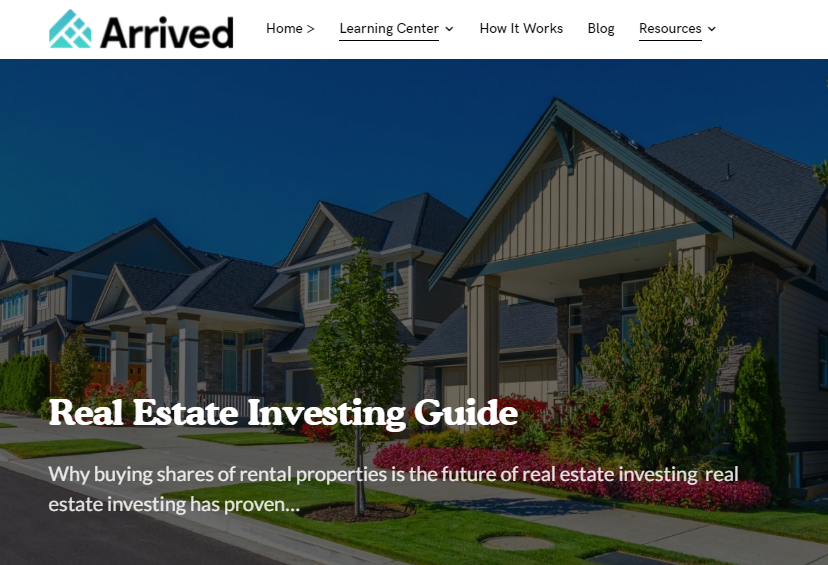 Is Arrived Safe?
Although real estate investing has plenty of risks you should seriously consider, the way Arrived works effectively negates some of these risks completely (for example, you don't have to worry about problem tenants or bad locations while using the platform).
This still leaves room for problems like negative cash flow, but one thing's for certain — using Arrived is safer than investing in real estate through traditional means.
They also have a few additional safety measures for their investors. For instance, Arrived maintains a cash reserve for each house, which is usually around 2-4% of the total property value. They also budget for both planned and unplanned operating expenses.
In the case of a negative cash flow situation that goes beyond their budget and cash reserve, they would take out a short-term loan from their corporate entity to the individual home, which they would then pay back with rental income in the future.
Arrived Frequently Asked Questions
#1 Who has legal ownership of the house?
Purchasing shares in an Arrived home offering also grants you ownership of the individual Series of a Series LLC that owns the property asset.
So, if you invest 1% of the shares in a single property offering, you will be entitled to 1% of the asset's economic interests over time. It may also include rental or property value appreciation.
#2 Who can invest in Arrived properties?
The Arrived platform is currently available to U.S. residents who are at least 18 years old.
Individuals may also invest through organizations or self-directed retirement accounts, and they don't need to be accredited investors to take part in the Arrived platform.
#3 Will I have any responsibilities for managing properties I invest in? If not, who is responsible?
No, Arrived handles all of the homeownership duties. This includes selection, purchase, renovation of the home, finding renters and dealing with maintenance issues.
The company provides property managers with years of experience to take care of the day-to-day management responsibilities.
#4 What is the minimum initial investment?
As previously mentioned, Arrived strives to make rental home investing available to everyone.
Taking all of this into account, the minimum amount required to start investing on the platform is $100.
#5 What happens if I want to liquidate my investment before the holding period ends?
Investors may sell their interests to other investors after an initial six-month lockup period, subject to liquidity and conforming with the transfer limitations outlined in Arrived's Operating Agreement and Offering Circular.
Investors can also indicate their intentions to exit an interest (including the price they want to be paid out) by contacting Arrived Support.
However, transfer fees will apply and they'll be stated before a formal exit request is submitted. Arrived Support will seek to match exit interest to potential buyers.
In case that an exit request isn't recognized by Arrived, you may be required to keep your investment for the expected hold period for each property.
In Summary
The Arrived platform is a great way for people of all walks of life to invest in real estate with less risk.
With Arrived, you can start investing as little as $100 and their operational work will take care of everything else, including renting the property out so investors have more time to collect net rental income and appreciation shares.
It's worth mentioning that you don't get entirely riskless opportunities when using Arrived, but it's a lot safer than traditional means of real estate investment.
If you're looking at ways to diversify your portfolio, or you're interested in starting your journey into homeownership without most of the risk that comes along with it, I encourage you to give Arrived a try today.