HackerRank is a popular interview preparation platform that offers programming questions and interview prep resources for developers, while offering a place to hire tech talent for companies at the same time.
However, HackerRank's resources could use a lot more depth, which is why we recommend Tech Interview Pro, a proven program offering hundreds of coding walk-throughs that also prepares you for the soft side of the interview.
HackerRank is a technical interview platform that offers a place for you to practice your coding skills with programming questions and online coding contests. It also allows you to receive job offers depending on your performance in both of these areas, and it currently has over 11 million developer users.
Advantages of HackerRank
#1 Multiple Programming Language Support
HackerRank supports a very large number of different programming languages, making it unnecessary to learn a new language before tackling any of HackerRank's programming questions.
#2 Tutorials
Here's a complete list of all the programming languages HackerRank currently supports:
| | | |
| --- | --- | --- |
| C | Python 2 | Elixir |
| C++ | Python 3 | Erlang |
| C++14 | Ruby | Lua |
| C# | Scala | OCaml |
| Go | SQL | Objective-C |
| Java 7 | Swift | Octave |
| Java 8 | VB.NET | Pascal |
| JavaScript | ADA | R |
| Julia | BASH | Racket |
| Perl | Clojure | Rust |
| PHP | CoffeeScript | SmallTalk |
| PyPy 2 | Common Lisp (SBCL) | Tcl |
| PyPy 3 | D | WhiteSpace |
HackerRank also has its own series of tutorials, and they're not just about coding: they also cover interview prep and even statistics as well.
This is something that online judge platforms like LeetCode often don't have, and it makes HackerRank extra useful because it allows you to both learn and practice what you've learned in the same place.
#3 Multiple Practice Topics
HackerRank categorizes most of its programming challenges into a number of core computer science domains, including:
Databases
Data Structures
Mathematics
Artificial Intelligence
Algorithms
Functional Programming
Machine Learning
This makes HackerRank very convenient if you're looking for tech jobs outside of software engineering (for example, getting a job in software sales), and it's a trait that most other online judge platforms don't have.
#4 Comfortable Interface
HackerRank has a pleasant user interface: it gives clear instructions for each question, includes a programming language selector, offers hints in case you get stuck on a particular problem, and provides a small introductory challenge so you can familiarize yourself with the content before tackling the larger problem.
#5 Job Offers
Your HackerRank profile and your overall performance on the programming questions and coding contests are visible to the companies that use HackerRank as a hiring platform. This means that, if you perform well, you may receive job offers on the platform.
Here's a list of some of the companies that use HackerRank as a hiring platform:
| | |
| --- | --- |
| Amazon | Mathworks |
| Atieva | Medallia |
| Atlassian | Optiver |
| BlackRock | Palantir Technologies, Inc. |
| Bloomberg | Pocket Gems |
| BNY Mellon | Pure Storage |
| Booking.com | Quora |
| Box | Redfin |
| BP | Rocketfuel |
| Capital One | Thumbtack |
| Centric Consulting | Tower Research Capital |
| Clearslide | TransferWise |
| Coinbase | Two Sigma Investments |
| Cyanogen | Uber |
| DrChrono | Visa Inc. |
| Elementum | VMWare |
| Euclid Analytics | Walmart Labs |
| Evernote | WePay |
| Fidessa | Yelp |
| GoDaddy | Zappos |
| HBC Digital | Zendesk |
| Instacart | Zenefits |
| LendUp | Zillow |
This saves you a lot of time when you're on the job hunt, and it's definitely something you can take advantage of.
So, Is HackerRank Worth It?
As a way to practice your coding skills, learn the core fundamentals of a topic, and potentially get job offers—you bet.
But as a comprehensive interview prep resource—not at all. At least not on its own.
There are a few reasons why I don't recommend using HackerRank alone to prepare for technical interviews, but perhaps the most notorious of them all is…
Travel With Peace Of Mind
Staying safe and healthy while you travel has never been more important than it is today. Join the world's most user-friendly insurance company, SafetyWing, for less than $1.50/day. Cancel penalty-free any time.
HackerRank's Achilles Heel: Not Detailed Enough
When preparing for your technical interviews, you need to make sure you know all of the topics relevant for the position you're applying for as thoroughly as possible.
And while HackerRank does a better job than many online judge platforms with its tutorials, they could definitely be much more in-depth.
And even if you performed excellently in HackerRank's coding contests and received plenty of job offers, you'd probably only ever get your foot in the door, because you'd be missing several qualities that HackerRank doesn't help you prepare for.
Here are some of the most important ones.
#1 Data Structures & Algorithms
DS&A is the area that many other candidates prioritize, so you'll need more than what HackerRank's tutorials provide if you want to set yourself apart from other applicants.
That's not to say that HackerRank isn't a good place to practice what you've learned, but if you don't have a grasp on the fundamentals, how are you supposed to practice?
#2 Systems Design
This is another relevant topic, especially if you're applying for a web-based company like Google. Knowing how to design scalable systems is key, but HackerRank's tutorials don't cover systems design theory at all.
The same problem as with DS&A arises, then: if you don't know about the topic in theory, how are you supposed to make practical use of it?
#3 Communication Skills
This often gets ignored by tech interview candidates, but it's hugely important that you have a strong set of communication skills so you can demonstrate you fit well with the company's culture.
You also need great communication skills for whiteboard coding so that you can explain the logic of your code to your interviewer.
#4 Teamwork Skills
Most software engineers think they'll be developing plenty of important software for their company on their own, but this is a big misconception.
Software development is a team endeavor, and if you dislike the idea of working with teams, your interviewers will notice this and likely pass over you.
#5 Leadership Skills
One other important skill to have (and one that's in very high demand) is leadership: after all, companies are looking to hire candidates who can develop into strong senior engineers capable of leading their teams to success.
It doesn't matter if you're extremely proficient at coding, either: you still need to show that you also have some solid leadership skills if you want to give yourself the best chance of landing a job.
HackerRank vs. Tech Interview Pro
So, HackerRank is a good tool for practicing what you know, but you need to learn the theory of these topics in more detail. What else can you use, then?
I suggest you use Tech Interview Pro, a program designed by a former software engineer at Facebook and Google who has compressed years of interview knowledge and experience into a single course.
And here's a few reasons why I recommend Tech Interview Pro over HackerRank.
#1 Thorough, All The Way Through
Tech Interview Pro will extensively coach you in all aspects of a technical interview (whether it's your technical skills or your behavioral skills) in over 20 hours of video lessons.
Here's an outline of the course, just to put it into perspective:
Understanding The Interview Process
Four Axes of the Interview

Coding
Data Structures & Algorithms
Systems Design
Communication

Interviewing Masterclass
Data Structures & Algorithms
100+ Coding Sessions
The Mock Interview
Systems Design
Transitioning Careers
Negotiating & Accepting Your Offer
This course outline allows for mastery of both the technical and the non-technical alike: having proficiency in both will immediately make you stand out from candidates who prioritized one over the other.
#2 Private Facebook Group
Another considerable advantage that Tech Interview Pro has over HackerRank is granting you access to the TIP private Facebook Group.
The TIP Facebook group is made up of 1,500+ former students of the course, and it's an invaluable resource for getting immediate feedback on your interviews and offers, and for meeting other engineers who have successfully landed jobs at FAANG companies and other tech firms.
Here are a few examples of recent posts in the group: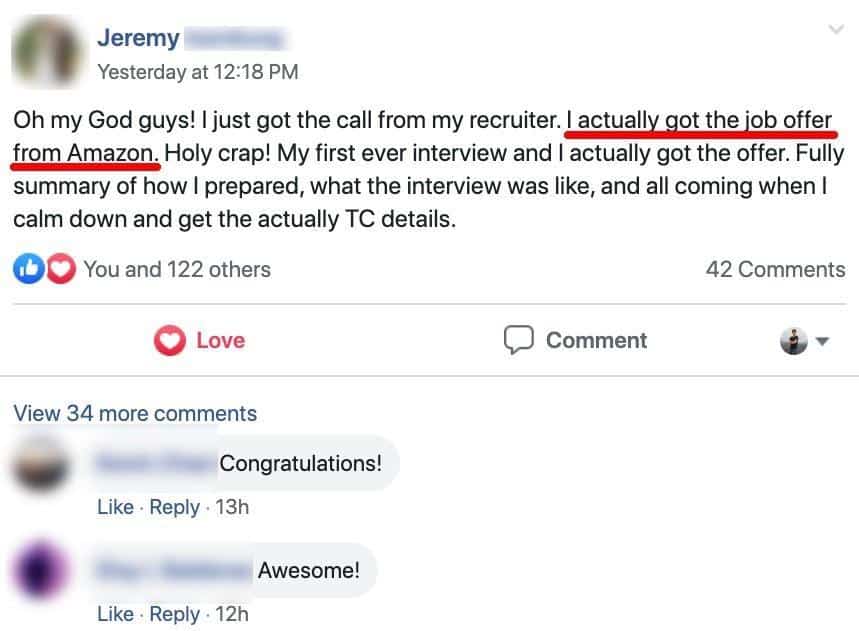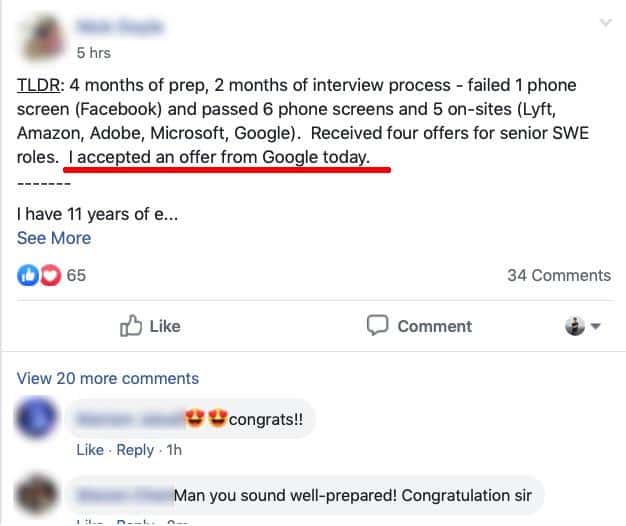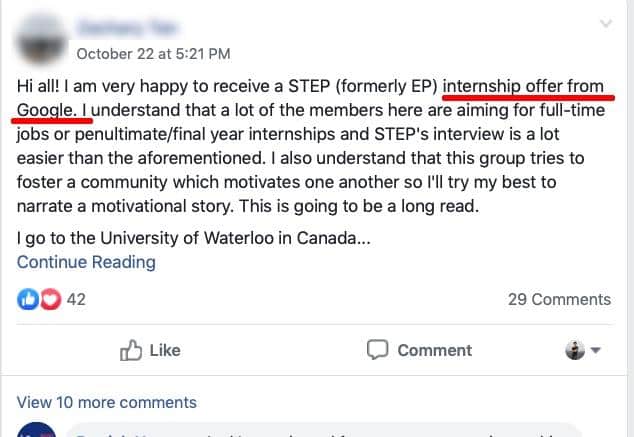 #3 Created By An Industry Insider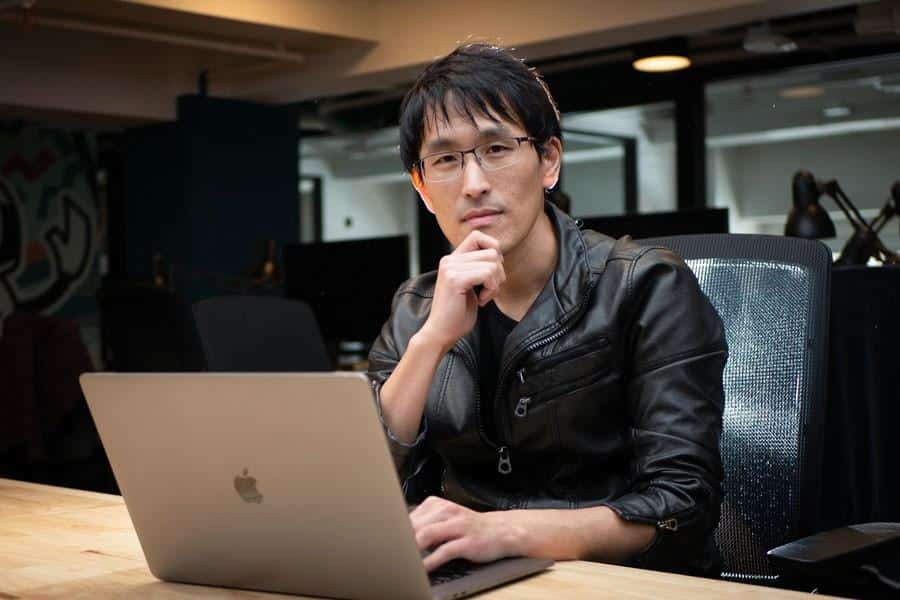 Tech Interview Pro was designed by TechLead, a former Google and Facebook software engineer who has grown his own websites to millions of users and has conducted over 100 technical interviews for Google.
In other words, he's the perfect guy to teach you exactly how to ace your technical interview—and that's what the course is all about.
#4 Bi-Weekly Q&A Sessions
TechLead hosts live Q&A sessions for TIP students every two weeks, which are the best way to get specific answers to your highly individual questions.
Some questions you could ask and get holistic answers for include:
Is it necessary to ace all 5 onsite interviews with Facebook to land the job?
How do you get a job at Google?
What DS&A concepts do I need to know so I can do well in my Amazon interview?
What are the trickiest questions that Microsoft can ask during an interview?
Every Q&A session is recorded and can be accessed at any time as well, so new TIP users can go back and watch dozens of past Q&A sessions to gain insight from previously asked questions.
#5 Resume Reviews
TechLead will also personally review your resume and help you tailor it to both the position and the exact needs of the company you wish to apply for.
This is a big advantage, considering your resume is the first thing your recruiter sees: you need to ensure you make a strong first impression.
In Summary
HackerRank is a popular technical interview preparation platform that provides a place to learn, practice your code, and get job offers if everything goes well. But, if you're going to use it to prepare for your technical interviews, you'll be forced to use other resources in order to compensate for what it lacks.
If your goal is to truly set yourself apart from the rest of the applicant pool, you're going to need a teacher who can guide you through the entire technical interview and beyond. To give yourself the best shot at landing a job with a FAANG company, we recommend Tech Interview Pro.