Masterworks is an investment platform based on a new business model, which will allow you to become the co-owner of an artwork. The investments are long-term because it is necessary to wait between 5 and 10 years to sell the artwork at a price that can generate returns. In this Masterworks review, you'll learn all the ins and outs of this new investment platform.
If you're into art and you want a long-term investment project, Masterworks is a great option for you.
#1 Masterworks Review: A New Business Model
Masterworks is an innovative company founded in 2017 that seeks to get artworks that have the potential to be revalued over time and thus be able to obtain high returns. The Masterworks business model divides the ownership of the acquired artworks so that anyone can be the co-owner of the artwork. This way, when a piece is sold, you will receive proportional earnings to your investment. In other words, if you choose to invest in the Masterworks platform, you will get stocks representing a fraction of the ownership of the artwork you choose. This isn't the same as buying penny stocks, which are simply stocks with a very low price, but rather a way to turn large-value assets into more manageable investments for the small investor.
On the Masterworks platform, you will also find the evolution of the recognized artwork price. Also, there is a space with free content where you can learn a lot about artworks through endless interesting articles.
What Masterworks Invests In
To ensure that the artworks will be profitable in the long term, Masterworks focuses on buying art from artists who have appreciated over the years. This makes Masterworks focus on Blue-Chip art. This term comes from the stock market and refers to a stock that sells for a high price due to public confidence in its long history of constant earnings. Thus, by making the analogy, Masterworks invests in artwork by respected artists who have increased in value year by year and focuses specifically on Post-War and Contemporary art.
Masterworks Artwork Index Performance
To measure the performance of your investments in art, Masterworks has developed an art index that will allow you to see the evolution of the returns that could be obtained with this type of investment. In fact, in the following graph, you will see that the Masterworks performance index is superior to other art indexes.
A relevant aspect that we suggest you consider in this Masterworks review is that the performances of Blue-Chip art have shown a higher performance than the market measured through the S&P 500 index.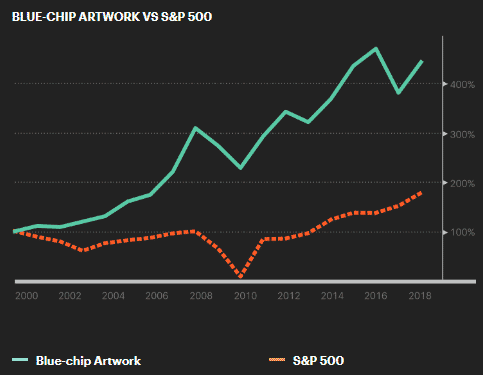 How Long Should You Wait To Make A Profit On Your Investment?
The goal of Masterworks is to get the most out of the artwork. This means that you are going to have to wait a long time. Masterworks investments are long-term, and for them to be sold or auctioned, it takes approximately 5-10 years. In this way, you should consider that this type of investment is not very liquid. You will not be able to convert your investment into cash for a long time. This is the exact opposite of day trading, so if that's what you're looking for, Masterworks isn't for you.
You should not worry about the state of the artworks since Masterworks follows a rigorous procedure to keep the acquired works in good condition in a museum with adequate temperature and lighting to meet high standards of maintenance of artworks of great value.
#2 What Steps Does Masterworks Follow For You To Obtain An Investment Return?
Below you will see in detail each of the steps carried out by Masterworks and that will allow you not only to be the co-owner of outstanding works of art but also to help you measure the level of confidence of this investment.
Identify And Buy Artwork
Masterworks closely tracks Blue-Chip artwork. It then observes the evolution of the price of prominent artists to determine if the investment in those artworks generates a higher performance than the market. You are closer to owning pieces by famous artists:
Pablo Picasso
Amedeo Modigliani
Andy Warhol
Wu Guanzhong
Public Offering In The Stock And Securities Commission
After Masterworks selects and purchases an artwork, the next step that follows is to register the artwork with the Security and Exchange Commission (SEC). The intention of this is to generate transparency and make a proper registration of the artwork on your platform. Masterworks creates the conditions so that it is possible to divide the property of the work of art.
Masterworks Review: Stocks Distribution
After the artwork has been listed and registered, it is possible to offer stocks. The following image shows the specific record of one of the artworks that Masterworks acquired on November 21, 2018. There you will see that Masterworks divided the value of the artwork into stocks that have a value of 20 USD.
Generally, the Offering is open to everyone, though there are limits on how much you can invest:
Accredited investors follow rule 501 (a) of Regulation D.
All other investors can invest up to 10% of the greater of their annual income or net worth (for natural persons) or 10% of the greater of annual revenue or net assets at fiscal year-end (for non-natural persons).
Note: If you want to see the offer in more detail, here you will find Masterworks' registration file.
Sale And Distribution Of Profits In This Masterworks Review
The sale of each artwork divided into stocks will depend on the owners' votes. In other words, investors must reach a consensus to sell the asset. After making the sale, each investor will receive a return according to their percentage of ownership of the artwork once the commissions are discounted. Later we will show you a section dedicated only to fees and commissions so that you can have a clearer idea of the costs associated with the sale of artwork within Masterworks.
#3 Some Of The Artwork That Masterworks Has Acquired
Masterworks has acquired relevant works with an excellent revaluation history focusing on Blue-Chip art. For example:
Coloured Marilyn
This is an artwork by prominent Andy Warhol. The author was an outstanding plastic artist and filmmaker who was one of the main developers of Pop Art.
Claude Monet's Coup de Vent
It is the work of one of the fathers of Impressionism. In fact, the term was coined thanks to one of his works.
#4 Masterworks Review: Free Content
In this Masterworks Review, you'll learn that the platform offers interesting and free content, for example, comments on works and biographies of prominent artists. This means that you will learn a little more about art and you will also be able to see the value of many relevant works.
You can also increase your art culture thanks to the variety of articles that it publishes on its platform. Below you will see a few and we include the links in case you are interested in reading a little more:
#5 Registration On The Masterworks Platform
Registration in the platform is very simple as you will see in the following image. You only need to be at list 18 years old, add your name, phone number and password. However, although it is a platform for social investment in art, an invitation is required. Also, you must approve a telephone interview so that you can enter as an investor within Masterworks.
After you register on the platform, you must wait until they do the phone interview. There is usually a waiting list but the good news is that your turn will come very quickly. We requested an invitation to the Masterworks platform and our place on the list was number 434. In our case, we only had to wait 4 days and the interview only lasted 15 minutes.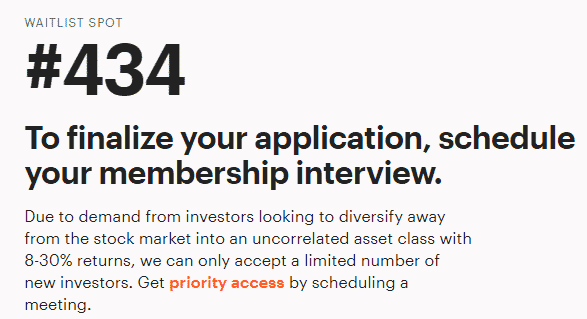 #6 Fees And Commissions
Masterworks charges a 1.5% annual fee for management services. This type of fee is very common in the case of investment funds. Actually, you can view your investments in Masterworks as a fund that invests your capital in the artwork.
In the event that the artwork is revalued, Masterworks will charge a 20% commission on the profits. Basically, Masterworks will charge 20% of the difference between the buy and sale prices. In a nutshell, shareholders will only get 80% of the profits.
Please note that Masterworks clearly states on its website that each specific offer must be read to be certain of all costs associated with its services. The most logical recommendation, at this point, is that if you are willing to invest with Masterworks, ideally, you would first choose the artwork you want to invest in. The next step you should consider is to read in detail the public offering that Masterworks makes to the SEC. That way, you can be clearer that other extra expenses could arise besides those we have already commented on.
#7 Masterworks Review: Pros and Cons
Pros
You may be the co-owner of a famous artwork that would otherwise be impossible to own.
The value of the stocks is accessible.
There is interesting free content. It is even possible to follow the prices of artworks that are all over the world.
The artwork indices show that it can generate better returns than the market.
The price of artworks is generally maintained or even increased.
Investments in Blue-Chip art promise long-term returns.
Masterworks presents the offering circular to the Securities and Exchange Commission.
Cons
The value of art is very subjective and subject to sudden changes in preferences.
Investments are long-term.
The investments are not very liquid; the money will remain immobilized for a long time.
You have to reach a consensus to sell the artwork.
Masterworks is a very recent business model and is still in the development phase.
To invest with Masterworks, you must have an invitation and then approve a telephone interview.
Although there are some clear fees and commissions, Masterworks says every offer needs to be read because more fees may emerge. It's a bit confusing.
Consider that you should complement your investment ideas with the recommendations of a qualified advisor. Indeed, we suggest our post on Capitalist Exploits, where you'll learn much more about investing and get great recommendations. In it, we cover the type of content and services Capitalist Exploits offers, how it works and in which markets they recommend you invest.
#8 Our Masterworks Review In A Nutshell
Masterworks represents a new way of investing in art that has given many something to talk about. Its business model has been of interest to prestigious investment analysis platforms such as Bloomberg, CNBC and Yahoo Finance.
One factor that builds confidence is that Masterworks files a stock offering with the SEC for every piece of art it acquires. In short, whenever Masterworks buys artworks, the platform will offer new investment opportunities. However, it is necessary to read each public offer because there may be extra commissions that could even be different between each of the specific offers for each artwork that Masterworks acquires. Also, in the future, the artwork may be sold at a loss due to administrative costs (in case the price is maintained). Take into account that it is a risky investment and that the sale of the artwork will be done in the long term, so there's no guarantee of when the sale will be made.
In this Masterworks review, we recommend considering this business model as new and untested. It is necessary to see through time how it evolves. As in any new business model, it could be an absolute victory or a total loss.
Related: you may also be interested in Real Estate Investment Trusts or REITs as another long-term investment option.
We also suggest that you do not invest all your money in a single asset. The fundamental principle of finance is to diversify, i.e. don't put all your eggs in one basket.
With this in mind, we highly recommend looking at Capitalist Exploits since it's a Financial Newsletter service that will give you excellent investment advice and help you diversify your portfolio to lower your risk and maximize your return.