Prehired's accelerated tech sales program trains people of all experience levels to become highly successful, high-earning software salespeople. When you're finished the coursework, Prehired's team of well-connected mentors will help you land a job in the field.
Even after you've secured a job, your Prehired lifetime membership will continue to assist you throughout your career, offering advice with job offers, salary negotiations, and industry connections. With a price tag of $0 upfront and their $60,000+ job guarantee, we highly recommend applying for Prehired today.
Prehired is a part-time, online course that guarantees students will land a $60,000+ job in software sales within 12 months. Using Prehired's proprietary Science-Based Sales® system, students learn techniques and strategies that transform them into highly successful, well-paid sales development representatives (SDRs) at some of the top software companies in the world.
On top of Prehired's thorough training program, students also get access to personal coaching from Prehired mentors, as well as help with job research, job applications, and salary negotiation. Course material is provided through preformatted templates and 60+ hours of instructional videos and is further discussed through one-on-one weekly mentoring and an active members-only Slack community with mentors and other students.
Who Is Prehired For?
Prehired is designed to help motivated people in the US, UK and Canada land high-paying jobs in software sales. You do not need any software or sales experience to be accepted into Prehired's program, nor do you need a college degree.
Instead, Prehired looks for people with a strong drive to succeed. Once they find those people, they train them to develop all of the necessary tangible skills to become excellent software salespeople.
Benefits Of Prehired
There are many benefits of Prehired, but here are seven of the most important ones:
#1 Perfectly-Aligned Incentives
Since Prehired charges members using an income sharing agreement (ISA), their incentives are perfectly aligned with yours: when their members do well and earn more money, Prehired earns more as well (up to a maximum of $30,000).
This is different from most traditional education platforms, which are incentivized to get you in the door, but have no strong incentives to help you get a great job once you're through their program.
#2 Higher Earning Potential
On average, Prehired members earn $73,000 per year (salary + commissions) in their first year after finishing the course. That's $23,000 higher than non-Prehired grads, who earn about $50,000 per year (salary + commissions), and take significantly longer to land a job.
Prehired grads regularly earn six figures in their second year of work and beyond.
#3 Fast-Tracked Career Progression
The data above shows that Prehired grads generally receive their first promotion after about 3-9 months on the job, compared to 12-18 months for non-Prehired SDRs. The second promotion also comes takes another 3-9 months for Prehired grads, while non-Prehired SDRs take an average of 6-12 months to receive their second promotion.
This means that the average non-Prehired SDR takes a full 12 months more (24 months vs. 12 months) to receive two promotions than the average Prehired grad, making them lose out on tens of thousands of dollars of earnings. High-performing Prehired grads can move up even more quickly. As the diagram shows, within 3-5 years of completing Prehired, it's completely reasonable to be earning $190,000+ per year.
#4 $60,000+ Guarantee
If you don't find a career paying $60,000+ per year (salary and bonus) within 12 months, Prehired will release you from your ISA, meaning you won't have to pay a dollar for your training.
Of course, this doesn't mean you can expect to take the course for free—Prehired does its due diligence to ensure you've been making a reasonable effort to find employment. But it does mean that Prehired is so confident in its program that it's willing to guarantee you'll find a $60,000+ job after you finish.
#5 Lifetime Mentorship & Support
Even after you get hired, Prehired wants you to succeed and continue growing your income year after year. That's why as a Prehired member, you get lifetimes access to all of these benefits and more:
Content updates
Mentoring
Job references
Live training
Members-only online groups
Annual members-only summit
Job opportunities with partner companies
After all, why wouldn't Prehired want you to succeed? High-flying members make the course look great, so it's in their best interest to help you out not just in the early years, but all throughout your career, too. That's the power of well-aligned incentives.
#6 The Alumni Network
Many of Prehired's members say that the alumni network alone was worth the cost of the program, and they're not kidding. You'll find that many current and previous members are happy to offer email and phone references, help you land interviews, share secrets on what's working best at their companies, and just become great friends.
And if you become a manager—which many Prehired grads do within their first 12-24 months on the job—you'll also have the chance to recruit other Prehired members, giving you access to a highly-trained talent pool.
Prehired grads are currently working at Google, Wistia, Microsoft, Zoom, Salesforce, Facebook, Houzz, Drift, Gong, OutboundEngine, Zoominfo, Chorus, Outreach.io, and hundreds of other companies.
You can see some of Prehired's alumni here.
#7 Job Search & Salary Negotiation Assistance
This is one of the most valuable benefits of Prehired, because if you don't have someone coaching you when you're entering the job market, it's easy to accept a job offer that's $5,000+ lower than what you should be receiving.
To ensure that never happens to you, your Prehired mentors will help you build your personal brand, provide feedback on the emails and job applications you write, help you prepare for job interviews, discuss the offers you receive, and help you negotiate for a higher salary.
Prehired's 3-Step Method For Succeeding In Software Sales
Now let's dive a little deeper into the coursework inside of Prehired. This is just a small sample of what you'll be exposed to, but it offers good insight into how thoughtfully the program is laid out.
#1 Tools
Every successful SDR leverages a core suite of 10+ performance-boosting tools, and every hiring manager is trained to ask job applicants about the specific tools they're using. And if you make it further along in the hiring process, you can expect the hiring manager to ask you to walk them through exactly how you use those tools.
That's why Prehired students are taught to master six primary categories of tools:
Customer Relationship Management (CRM): Effective ways to keep track of your prospects and where they're at in the buyer journey.
Lead Generation: How to find new prospects based on your specific criteria.
Lead Enrichment: How to get more information about your prospects.
Productivity: How to supercharge your use of everyday tools like your email, calendar, and word processor.
Sales Automation: How to make your tools work for you and boost your sales while you sleep.
Artificial Intelligence: How to leverage AI to form deeper connections with prospects and boost your sales.
If you aren't familiar with the top tools in these categories, Prehired will introduce you to them and show you how to use all of the key features, ensuring you'll ace that part of the interview.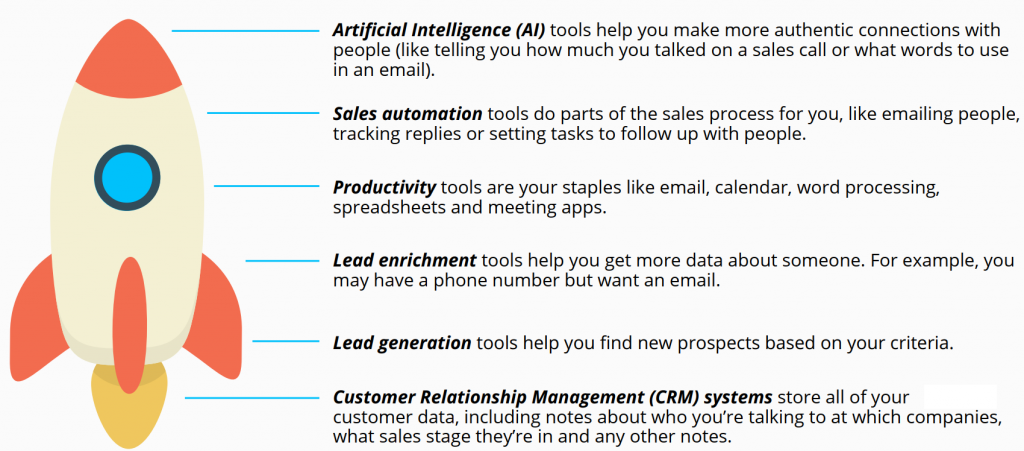 #2 Skills
Just as there are core tools required to be a successful SDR, there are core skills as well. Prehired focuses on six crucial types of skills:
Ideal Customer Personas & Buyer Personas: How to develop your ideal customer and recognize the tirekickers who are wasting your time.
Email Sequence Planning & Copywriting: How to persuade prospects using the written word and leverage proven email and copywriting strategies to make the sale.
Sales Call Planning & Plays: How to take control of the sales call and naturally guide your prospects toward the sale.
Effective Voicemails: How to structure voicemails that ensure your prospects will call you back.
Sales Meeting Planning & Running: How to structure sales meetings that address all of your prospect's doubts and move them toward the sale.
Personal Brand-Building: How to develop credibility and present yourself in a way that both builds long-term rapport and increases your sales today.
#3 Workflows
Workflows give you the proven steps necessary to achieve the desired result. It's a clear plan, a map for getting from where you are to where you want to be.
Prehired's workflows are broken out into the four stages of the sales process: Prospecting, Qualifying, Discovery and Advisory. And because the workflows were all designed together, you can seamlessly move from one to the next, saving you time while boosting your sales.
How To Apply For Prehired
There are a few key milestones you'll pass through in your journey through the Prehired program.
First, you need to fill out the application form by clicking "Apply Now" in the top-right. It only takes 2 minutes, so I suggest doing it right now before you continue reading. Make sure you put "Yore Oyster" as your answer to the "Who referred you?" question. 
Second, you'll have your admissions interview. The interview is where both you and Prehired assess each other to see if the program is the right fit. You'll want to ensure that you're going to get a good return on your investment, and Prehired wants to ensure you've got what it takes to succeed in their program. Since Prehired's incentives are so tightly aligned with yours, they only want to bring you on board if you're going to do well—they have no reason to invest so much in you if they don't think you'll do well on the job market after you complete the coursework.
Third, if you make it past the admissions interview, you'll enter the Prehired program. Congrats! This is where you'll start to learn
Fourth, after you're done the coursework, Prehired's mentors will help you find a job in software sales. When you find the company you want to work for, they'll also help you negotiate a higher salary and commission structure, since it's in their best interest to help you maximize them both. You can see where some of Prehired's alumni work here.
Finally, you'll continue leveraging the Prehired network long after you finish the coursework. You'll still have access to the members-only Slack community (shown below), the full alumni network, Prehired's member resources, and all of the content and other benefits that were available to you when you were going through the program.
How To Get Accepted By Prehired
Prehired looks for the "4 As" when deciding who to admit into its program. Those are:
Attitude: Do you have a positive mindset? Are you coachable? If so, you'll be a good fit for Prehired.
Aptitude: These are just basic skills like native-level English proficiency and being comfortable using a computer. Prehired will train you on all of the more specific skills you'll need to know to succeed.
Ambition: Prehired wants to know that you're hungry to succeed, so show them that you're ready to take on a new challenge in the form of software sales.
Accountability: Prehired doesn't want to waste time and resources on anyone who won't take the program seriously, so let them know you're a reliable person they can count on.
Prehired Timeline
If it sounds like Prehired takes a long time to work through, it actually doesn't. Most members make it through the course in 6-12 weeks by investing 10 hours per week into the course and then land a job in an average of 6 weeks after finishing the coursework. 
Here's what a typical timeline looks like for a student that's slightly slower than average:
Week 1: Start course
Weeks 5-6: Coursework approval
Weeks 7-10: 1:1 Mentoring + Outreach to Target Companies
Weeks 11-12: Negotiate Job Offers + Accept One
How Much Does Prehired Cost?
Prehired students pay for the training using an income sharing agreement, also known as an ISA. This means that you don't pay anything upfront, but instead you pay Prehired a percentage of your earnings after you finish the program.
This table has more details about the costs and structure of the ISA payments you'll make. If any of it isn't clear, the examples below the table should help clear things up.
Duration
6-12 weeksAt 10 hours per week
Location
Online
Time Investment
10 hours/week
Average Salary
$73,000 in Year 1
6-figure potential in Year 2 and beyond
Average Time To Find A Job
6 weeks
When investing 90 minutes per day in outreach to companies
96% of members find employment within 6 months of beginning the program
Trial Period
7 days
Or 30% of the program, whichever comes first
Upfront Payment
$0
First Payment Due
30-60 days after starting your new job
Total Cost
12.5% of gross monthly income for 48 months
Maximum total cost of $30,000
Here are three examples of how your ISA payments could work out:
Example 1: Earning $3,000/month
Since the Prehired ISA stipulates that you don't pay anything when your salary is less than $3,000/month, you will pay $0 in this scenario.
It's worth noting that this is a rare case: the average salary of Prehired members is $73,000 in the first year after finishing the coursework, so it's much more likely that your salary will be around double this, or $6,000/month.
Example 2: Earning $4,000/month
If you're earning $4,000/month, you'll pay ($4,000 * 12.5%) = $500/month for a total of $24,000 after 48 months.
Since 48 months is the maximum payment duration for Prehired, you won't pay any more than $24,000.
Example 3: Earning $10,000/month
If you're earning $10,000/month, you'll pay ($10,000 * 12.5%) = $1,250/month for a total of $30,000 after 24 months. Since $30,000 is the maximum cost of Prehired, you won't pay any more than that, regardless of how much you make in the future.
How Does The Prehired ISA Work?
ISAs may seem like complex financial agreements, but they're actually quite straightforward: you agree to share a certain amount of your monthly income (in Prehired's case, 12.5%) with a third party until the ISA expires.
Your Prehired ISA expires when the first of these three events happen:
You make 48 monthly payments
You pay a total of $30,000
8 years pass
Prehired's ISAs are managed by Meratas, a trusted partner in the ISA space, who make the process seamless. All you need to do is report your income and job status each month, and properly file your taxes. And since your ISA is not a loan, you won't need to pay any interest on it.
Is Prehired A Scam?
Definitely not, but it's normal to be skeptical of a company that makes such strong claims. Here are just two indicators that show Prehired is not a scam:
It's Exclusive: Prehired only accepts 5% of applicants to ensure they can keep incentives perfectly aligned: if they're going to pour time, money and resources into you and only charge you a percentage of your future income, they want to be certain that you'll get a great, high-paying job after you're done with the program. Don't listen to the skeptics on reddit who haven't even gone through the program: Prehired is the real deal.
It's Vetted: Prehired has hundreds of 5-star reviews and maintains an overall review score of 4.8/5 or above on every platform where it's rated. Read the reviews below to get a feel for what past and current students are saying about Prehired.
Prehired Reviews
Prehired has more than 1,000 active members who have gone through the program and continue to take part in the wider Prehired community. Here are just a handful of verified Prehired reviews from a few of those members:
"An amazing program for a 6-figure tech career. It isn't easy, but it is entirely worth it!" — James Eismon
"Prehired is great, just follow the program…IT WORKS!!!!" — Joe Kivlin
"Prehired is definitely worth it! You always have someone you can reach out to, it gives you a great network of people, and it's easily able to be done even with a full-time job." — Shannon Kuczerepa
"Thank you Prehired! At the end of the day, it's an investment in yourself to get to that next level, and I highly recommend the program to anyone considering it." — Rachele Lazo
"I finished the course within a month, and got a job the next month." — Samuel Kwak
"After finishing the program, I got a job offer from my top company within 4 weeks of starting my job search! This is by far the best investment I've made in my career development. Thank you Prehired, you have definitely changed the trajectory of my life." — Juan Arcila
"With the tools I learned from Prehired, I became a top performing SDR at my company, where I consistently meet and exceed my quota and make great money with a job with benefits." — Abijah Stokes
Prehired Member Stories
In case those reviews haven't convinced you, here are a few quick stories about Prehired members—the sort of people you'll be rubbing shoulders with once you enter the program.
| | | |
| --- | --- | --- |
| Before Prehired | After Prehired | Do They Recommend Prehired? |
| Elaina was working three jobs—a server at two restaurants, and also a dance teacher—and was struggling to make ends meet. | Elaina joined Royal 4 Systems as a business management consultant. | "Absolutely! I'd do it again. I'm no longer stressing about school. Now I get up every day doing what I love. I'm setting up for my future." |
| Thomas was an auto mechanic working 50 hours a week. | Thomas joined Advantax as an SDR. | "Prehired is legit. You're going to learn a lot here, and after you finish, you will get a lot of job opportunities." |
| Albert was working a dead-end commission-only sales job for a small company. | Albert joined GTT Communications as an SDR. | "If I—a combat veteran and father with four young children and a wife who doesn't work—can do it, I think any person who wants a position in SAAS sales can do it." |
| David was a pastor for 12 years. | David joined Avvo as an SDR. | "Prehired changed my life. I didn't even know what a CRM was before, so it definitely helped me get a whole new career." |
| Shannon was a dental hygienist who had reached a plateau in her career. | Shannon joined Quinncia as their Director of Partnerships. | "It was so easy and there's nothing to be afraid of." |
| Isaiah worked at a religious nonprofit. | Isaiah joined Outreach.io as an SDR. | "It wasn't easy at all and was definitely a challenge, but once you're done and working, you'll be much happier." |
| Philip worked in real estate and delivered for UberEats 5 nights a week just to get by. | Philip joined Outreach.io as an SDR. | "Prehired is built for you to succeed." |
How To Contact Prehired
In Summary
Overall, Prehired is the best program out there for breaking into tech sales. More than a thousand members have gone on to land high-paying sales jobs, and the lifetime membership continues to offer value long after you're done with the course.
With a price tag of $0 upfront and their $60,000+ job guarantee, Prehired is an excellent way to fast-track your career without taking on any additional risk. If you're at all considering Prehired, we highly recommend applying today.