Vendition is a free, 1-week boot camp/3-month apprenticeship program designed to give you the skills and experience to earn your first job in tech sales. The program starts out as a free, online, part-time, 1-week sales boot camp that trains you in the basic fundamentals of tech sales as well as in interview preps, resume crafting and everything else you need in order to get accepted in a partner company for a 3-month apprenticeship. After that, Vendition finds you a job and trains you during your first 3 months of employment. Additionally, Vendition continues to mentor you throughout your career as an alumnus of our program.
During the apprenticeship, you basically work a full-time job while at the same time receiving training from Vendition so that you become the best sales development representative (SDR) you can be. In the process, you will be paid $2,500 per month, totalling $7,500 by the end of the apprenticeship.
The course is designed for motivated and driven individuals who want to pursue a career in tech sales, regardless of whether they have any sales experience at all or whether they come from a related industry or not. It's definitely a great option for those living in the United States who want to go into sales through hard work and without having to spend a dime.
Vendition is a great way to put your foot in the door of the tech sales industry, as long as you're in the United States. If you're not, then Vendition is not even an option. Additionally, the fact that they pay you $2,500 a month while working a full-time job as a salesperson means that you're earning up to $2,000 per month less than the average entry-level job as an SDR in tech sales, so you're basically paying around $6,000 for your training with the only difference that you're not paying in cash but with work.
If you live in the States, in Canada or in the U.K. and you prefer a system that ensures you'll get the highest paying job possible without paying a cent upfront either, and in which you'll only pay after you find a high-paying job in tech sales, we consider Prehired to be a much better option.
Vendition is a Sales Apprenticeship program based in San Francisco that prepares you for interviews, finds you a job, coaches you during your first 3 months on the job, and continues to mentor you throughout your career.
It is completely free for applicants who want to learn the ins and outs of the tech sales industry. You'll learn:
Resume crafting.
LinkedIn profile tips.
Interview prep.
Salary negotiation, and more.
All of this will help you quickly find your first job in sales.
Vendition's business model works by charging partner companies for providing them with talented salespeople and for providing apprentices with training during the entire time so that the companies themselves don't have to.
Who Is Vendition For?
Vendition is for motivated and highly driven people living in the United States who want to start a tech sales career or switch careers. You don't need experience in tech or tech sales to join the program. However, you do need to take the free 5-day boot camp and perform well in it in order to be accepted into the 3-month paid apprenticeship, which is the core of Vendition's offering.
It's important to mention, though, that if you don't have a natural inclination toward sales, getting approved for the apprenticeship is going to be uphill. The 5-day boot camp is online and part-time, so you'll be able to fit it into pretty much any schedule you currently have. But if you're accepted into the apprenticeship, that one is a full-time 40+ hours per week commitment, so you need to be sure that you'll have the available time.
Features & Benefits of Vendition
Here are a few of the most important features and benefits of Vendition:
High Earning Potential
On average, Vendition graduates earn around $82,000 in their first year after finishing the course. Most of their graduates are able to land a job right after finishing the apprenticeship, 97% of them in the same company where they did it.
Online Instruction
Online instruction allows students to learn from the comfort of their homes or anywhere they would like to study. It also provides students who live far away the chance to enroll without having to relocate, making the course available for a wider base of students. This type of learning also suits students with different learning methods, letting them learn more flexibly.
Vendition's interview prep program is a part-time, fully online program that can fit around students' lives schedules. This type of option will allow working people to pursue a new career path without taking the risk of leaving their old jobs until they're ready to land a new role in software development.
Personalized Mentorship
The key to becoming the best sales development representative is having someone by your side every step of your learning process, and that's exactly what Vendition offers. And they don't only offer mentorship during the paid apprenticeship but also after you graduate and become a full-fledged SDR.
Free Training
Vendition doesn't just offer free material; it is a completely free boot camp and apprenticeship program. You will never have to pay a dime for any of the material and training you receive. However, you will have to work hard to be admitted into the apprenticeship.
Vendition's Referral Program
Vendition offers a referral program with which you could earn up to $1,250 worth of rewards if the people you refer are accepted into the paid apprenticeship program. Rewards are based on the total number of successful referrals and include merchandise and gift cards from partner companies.
Three things need to happen for you to earn referral bonuses:
Step 1
You need to fill out the referral application and enter the name, email, and LinkedIn profile of the person you'd like to refer to Vendition. This is what the form looks like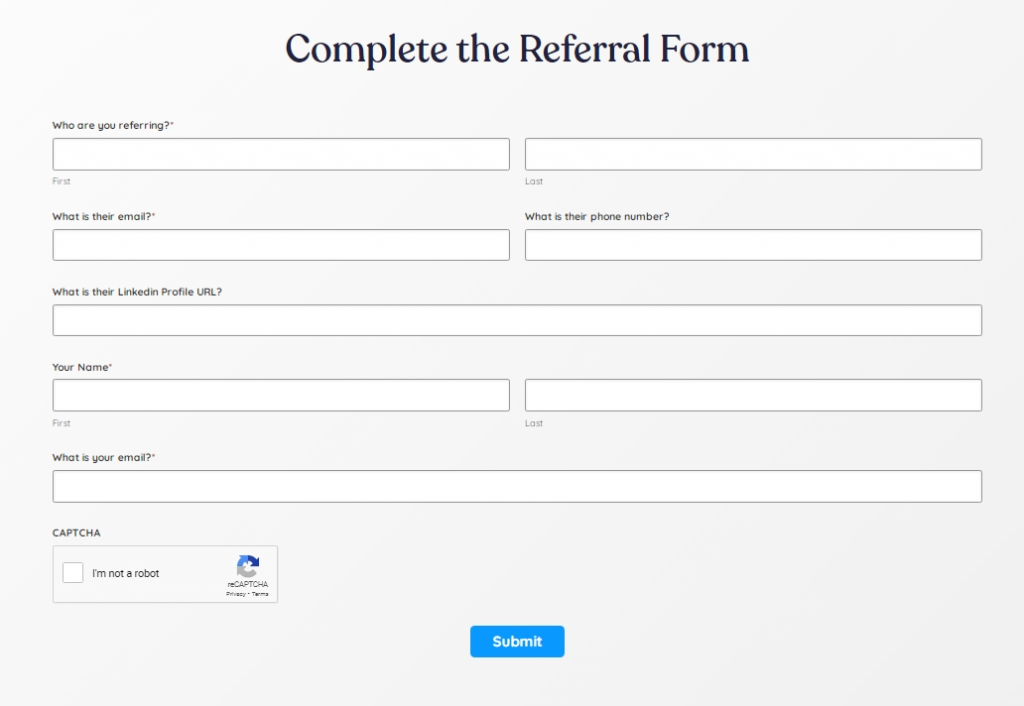 Step 2
Your referral must be accepted into their paid apprenticeship. That means that they must work hard and stand out during the 5-day boot camp since not all applicants are accepted into the apprenticeship.
Step 3
Your referral has to be placed with a partner company for a full-time role. If that happens, you will be rewarded through Vendition's Tier program, as described below:
1st Referral: Amazon Echo
2nd Referral: AirPods
3rd Referral: $200 Ticketmaster Gift Card
4th Referral: Skydiving or Extreme Sport
5th Referral: $500 Airbnb Gift Card
6+ Referrals: Premium Custom Rewards $500+
Job Search Assistance
One of the perks Vendition offers is a catalogue of over 500 U.S.-based partner companies where you can take your apprenticeship. Afterwards, you can normally choose to stay at the same company, or you can look to Vendition to help you out in finding a new interview with another company. They'll be glad to help.
Salary Negotiation Assistance
Besides helping you find the right company and help you land your dream job, you also get assistance in salary negotiation so you don't end up signing a contract that pays you something like $5,000 less than what you should be earning.
Vendition's Course List
Students who enroll in Vendition's program get more than 20 hours worth of training in the basics of tech sales and in interview prep during a short 5-day prep course. After that, you'll jump right into your new job, where you'll receive 1:1 mentorship and all the training you need to become successful within the next 3 months.
Vendition offers 2 different programs:
Free 1-Week Sales Boot camp.
Paid 3-Month Apprenticeship.
In the following table, you'll find an overview of the basic features and cost of these 2 courses.
Course
Course Type
Course Length
Tuition
Free 1-Week Sales Boot camp
Part-Time
Online
5 days
(20+ hours)
Free
Paid 3-Month Apprenticeship
Full Time
In-Person
12 Weeks
(40 hours/week)
Free
(They'll actually pay you $7,500)
Here's a breakdown of all of these programs:
Free 1-Week Sales Boot camp
Location
Online
Class Size
N/A
Start Dates
Rolling start dates
Time Commitment
Part-Time
20 hours per week.
Course Length
5 days
Cost of Tuition
Free
In this prep course, you'll learn the basics of sales, the use of software tools like salesforce and other services such as:
One-on-one career advisory
Resume crafting
LinkedIn profile creation
Interview prep and mock interviews
Career planning
Paid 3-Month Apprenticeship
Location
In-Person: San Francisco, New York and several other major cities in the U.S.
Class Size
N/A
Start Dates
None scheduled
Time Commitment
Full-Time
40 hours per week.
Course Length
12 Weeks
Cost of Tuition
Free
Skills You Will Learn
The Paid 3-Month Apprenticeship course focuses on the following skills:
Digital Marketing: the promotion of brands using the internet and other forms of digital communication, including email, social media, web-based advertising, and text and multimedia messages as a marketing channel.
Sales.
Salesforce a customer relationship management solution that brings companies and customers together. It's an integrated CRM platform that gives all departments — including marketing, sales, commerce, and service — a single, shared view of every customer.
Job Placement & Career Support
If you are accepted into Vendition's 3-month apprenticeship program, then you pretty much already have a job. Vendition pairs you with several of their 500+ partner companies and sets up interviews with them so you can choose where you want to do your apprenticeship.
Once you're accepted, you'll be working and training on a full-time schedule for the next three months. After that, it's very likely that you'll be able to stay in the same company since more than 97% of graduates do. The only reason the number is not 100% is that some of the candidates get offers from other companies even before they graduate.
Student Success Rate And Earning Potential
Vendition's success rate looks like this:
| | |
| --- | --- |
| Graduation rate | 100% of students who are accepted into the 3-month apprenticeship complete the training. |
| Employment Rate | 100% of graduates manage to find a job as sales development representatives, most of them in the same company where they did their apprenticeship |
| Median Earnings | According to Vendition, their graduates average an annual salary of $82,000, with some |
Some of the companies that have hired Vendition graduates are:
| | | | |
| --- | --- | --- | --- |
| Google | Salesforce | LinkedIn | Box |
| ServiceChannel | Liftoff | Bevy | Iterable |
| Zenefits | Groove | BrightTALK | Rahi Systems |
| 6 Sense | | | |
How Does Vendition Make Money?
The first thing to cross many people's minds when they hear "learn for free, we'll find you a job and pay you $7,500" is: this must be a scam! What's in it for them?
We should start by saying that this is not a scam. However, this is not a not-for-profit organization either, so if you're not paying for your training, someone else definitely is. That someone is none other than the same company that accepts you as an apprentice for three months.
Companies pay Vendition and others like it to find people like you who want to be great sales reps and train you to become valuable members of their sales teams.
The reason they do that is two-fold: On the one hand, they don't have to spend time and money on finding, recruiting and training new candidates to fill their job vacancies; Vendition does that for them. This alone saves companies a ton of money. On the other hand, they don't have to pay you a full salary for three months during your training. In fact, they don't pay you at all. They pay Vendition, and Vendition pays you.
It's a very clever business model that keeps everyone involved happy. You're happy because you're getting the experience needed to start a new and profitable career with no upfront cost but making money while at it. Companies are happy because they're receiving well-trained SDRs after only three months at a fraction of what it would have cost them otherwise, and, yes, Vendition is also making money, even after paying you $2,500 a month during your training.
Is Vendition Truly Free?
If your definition of free means not having to pay for something, then yes, Vendition is free. However, the fact that you're not paying Vendition any money doesn't mean that you're not giving something in return. Let me break it down for you.
As I just explained, companies pay Vendition to recruit and train for them simply because it's cheaper for them to do so. You may not notice why that is at first, but it becomes clear once we crunch some numbers regarding how much they would have to pay you if they decided to do it themselves.
Consider the alternative that a company would look for and hire candidates for an entry-level job as a tech salesperson. In the United States, the lowest salary for an entry-level job in this field is $40,098 per year without commissions, according to talent.com, which works out to about $3,340 a month, minimum. According to Vendition, though, SDRs earn between $60,000 and $90,000, which actually puts the lowest bar at $5,000 per month. That means if a company were to hire you without Vendition, they'd have to pay you somewhere between $3,500 and $5,000 a month.
If you haven't done the math already, that means that you could be earning between $1,000 and $2,500 more than what Vendition is paying you during the apprenticeship for doing exactly the same amount of work. So, in a way, you're missing out on the potential to earn $3,000 to $7,500 in salary, plus commissions after three months, therefore, that's how much it's costing you to receive Vendition's training.
Even so, it is still a very good deal because, in the end, they make it a lot easier for you actually to get your first job in the industry. If you had to do it all by yourself, it could be some time before you actually manage to find a job in the first place, if you ever do.
Prehired – An Alternative To Vendition
Vendition is a good choice for many people who want all the help they can get in landing their first job in tech sales in the U.S. But there are also other fish in the sea. One very good option that is not limited to the U.S. alone but covers Canada and the United Kingdom is Prehired.
Just like Vendition, they also offer the opportunity to start a tech sales career without paying a dime upfront. However, this is a boot camp you have to pay, albeit in installments and only after you land a high-paying job in the tech industry.
The key differences between these two programs are:
Prehired is available in the U.S., the U.K. and Canada, while Vendition is only available in the U.S.
Vendition ensures a paid 3-month apprenticeship at one of their partner companies, paying you a total of $7,500, while Prehired guarantees you'll find a $60,000+ job within the first year or get the entire tuition waived, no questions asked.
You won't have to pay Vendition a cent before, during or after the apprenticeship. This doesn't give Vendition much of an incentive to help you find a job with the best possible salary. Prehired, on the other hand, charges its tuition through an income share agreement or ISA, which means it'll take a percentage of your salary until you make 48 payments or reach a total of $30,000. This means that it's in Prehired's best interest that you find to get the best possible salary as soon as possible, so they'll really put their backs on it when it comes to finding you great job opportunities.
If you find this more appealing than what Vendition offers, or if you're in the U.K. or Canada where Vendition isn't even available, you can learn more by reading our Prehired review, where you'll find everything you need to know about how they'll help you find a job in tech sales.
How To Apply To Vendition
Applying to Vendition is simple. Just follow these steps:
Step 1: Go to their website
This is as simple as clicking or tapping on the button below.
Step 2: Fill out the application form
Once on their site, just click on APPLY NOW at the top right corner. Once you do that, you'll be taken to an application form like the one you see below:
Step 3: Take the free 5-day sales boot camp
Everyone that wants to be a part of Vendition's Apprenticeship program must first pass the short sales boot camp. Else, it will be a lot harder to succeed in the interview process.
Step 4: Start Interviewing
After finishing the prep boot camp, you'll be ready to tackle your first interviews. Vendition will send your newly-crafted resume to several companies, and they'll answer back if they're interested in interviewing you.
Step 5: Start at your new job and start your training
Congratulations! By now, you're officially a part of the apprenticeship program, so you can start working hard to learn everything you can and practice
How to Get Accepted
The key to getting accepted into the apprenticeship is to work hard during the 5-day boot camp. If you show determination, ambition and a good inclination toward sales, you'll probably be just fine.
Vendition FAQs
1. How much does Vendition cost?
Vendition is not only completely free; they actually pay you $7,500 to participate in our 3-month Apprenticeship.
2. Do I owe money after completing the apprenticeship?
No. Free means free. Your salary is your money. We will never ask you for any money.
3. Exactly what is an apprenticeship?
An apprenticeship is a system of training employees which includes on-the-job experience along with training, with the bonus of being paid the entire time.
4. What's the schedule for the apprenticeship?
The apprenticeship is a Monday through Friday 40-hour workweek, just like any other job you would take.
5. Do I have to stay at the company I work at after the apprenticeship?
No, you're not required to stay with your company after the Apprenticeship, but 97% of our graduates do. The few that don't stay with the company they originally joined generally have several offers lined up before they even finish.
6. Where will I work? Are all the jobs in New York or San Francisco?
No. More than half of the apprenticeships are in San Francisco or New York, but Vendition has partner companies in most major cities in the United States. Additionally, there are also more remote opportunities than ever before.
Vendition User Reviews
Here are just a handful of verified Vendition reviews from a few of their members:
"Sam [Vendition coach] was not just my coach, he also became a friend. With his expertise and support, he not only taught me how to outreach, he also helped me think through how to approach the client. I came to a point where I merged both Adam's expertise with Sam's coaching and applied it to our process. I had the best of both worlds working with both of them." — Chidi Nnaji
"With the SDR role, you have to put in the time. There are no shortcuts since your inputs equal your outputs. Even if that means working 10 hour days occasionally because it ultimately does pay off. Another thing I've noticed with my experience is how important it is to stay curious. I am still starting out on this journey of tech sales and I'm so early on, I want to learn everything I can." — Chaitanya Malik
"Steve really takes the time to make sure you are getting what you need out of the class. The whole staff is on your side. Steve is very intelligent and savvy when it comes to sales. He will find a way to teach you for sure." — Olivia N
"I found the sales boot camp very helpful. It has pertinent information on current strategies, techniques, and tools that can be used to accelerate your success. The boot camp also provides strategies to 'prospect' jobs, which was also very helpful." —Chris Schreiber
"The team at Vendition was great at getting me started right out of college. My mentor Gabriella taught me so much valuable information about interviewing and landing my first "real job" following my graduation from school. Once I was in the program, I was given great direction as I started my sales career, and I was given great help every time I asked for it. Ask and you shall receive! Seriously though, never be too shy to ask for help. That's how you get the most from this program." —Robert Faryan
"When I found Vendition, they were appealing in the fact that they take professionals new to the tech industry and manage to ramp them up to be a qualified candidate for SaaS roles in 3 months. While working closely with Sam Schooley every week, I managed to get an Account Executive role immediately after graduation from the execution of the training I was provided at Vendition." —Tim Mikolajczyk
Alumni Stories
In case those reviews haven't convinced you, here are a few quick stories about Vendition members—the sort of people you'll be rubbing shoulders with once you enter the program.
| | | |
| --- | --- | --- |
| Before Vendition | After Vendition | Do They Recommend Vendition? |
| Jesse Yeh had been in retail sales and then operations management in retail since graduating college, | After being an operations manager at a large retail corporation, Jesse was interested in an opportunity to build sales and operations processes at a startup, and Vendition helped him get there. | "The coaching sessions served as the right tools to help me course correct." |
| Victoria Cervantes had taken a class towards the end of her time at UC Berkeley that opened her eyes to personal financial management, and she wanted to teach young people how to manage their finances and set themselves up for success. | Vendition set Victoria up with Holberg Financial, where she now works as an SDR. This was the perfect opportunity because it's a startup that essentially offers financial coaching and financial education as a benefit for companies to provide to their employees. | "One thing Vendition provided me that was so foundational was ongoing mentorship. We could cover things that were top of mind, like: What am I doing here… What are the results of what I'm doing…Do I want to try this in a different way… I want to be better…AND more." |
| After spending several years studying and working in Veterinary Sciences, Ashley Woo found herself at a crossroads. | Through her partnership with Vendition, Ashley was able to find the support and mentorship needed to evaluate her own skills and how that aligned with a career in sales. | "Cold calling was one of the areas where I really felt incompetent at the start. My coach's confidence in handling the objections definitely rubbed off on me and it helped me rephrase how I handled the objection." |
How To Contact Vendition
In the following table, you'll find the most important contact info so you can get in touch with Vendition in order to learn more, ask any questions you may have or sign up.
| | |
| --- | --- |
| Phone | (888) 235-1904 |
| Email | [email protected] |
| Mailing Address | 600 California St, 11th Floor, San Francisco, CA 94108 |
In Summary
Vendition is an excellent choice for people in the United States who want to start their careers in tech sales. It's a paid apprenticeship that will earn you a total of $7,500 in three months if you manage to get accepted after taking their free 5-day sales boot camp. You'll learn everything from CRM software, time management, project management and, obviously, sales and marketing strategies. Considering the fact that the entire program is completely free, it's an excellent way to put your foot into the tech sales industry without putting any money upfront.
However, it is worth mentioning that the 3-month apprenticeship is actually a full-time job combined with mentoring and sales classes. So, you'd basically be working full-time for a salary of $2,500 per month. Considering that entry-level jobs in sales earn an average of $3,500 to $5,000 per month, this is equivalent to paying a total of $3,000 to $7,500 for the three-month training.
Even so, the fact that you can earn your training with hard work without putting a cent upfront and then easily find a job right after the apprenticeship ends makes this a very attractive deal if you live in the U.S.
If, on the other hand, you live in Canada or the U.K., or if you do live in the States but prefer a system that is set up to help you find the highest-paid job you can possibly find, then we suggest you take a look at Prehired. Their $60,000+ job guarantee, coupled with their income share agreement, means that it's in their best interest to help you find the best job possible as fast as possible, and they're very good at it.