Trade Republic is a mobile-only trading platform exclusive to German, Austrian and French traders. Users can trade shares, ETFs, bonds and some commodities in Trade Republic's mobile app. However, Trade Republic doesn't offer cryptocurrency, offers a very limited of non-European stocks, and fails to provide the power and customizability of a desktop platform.
If you're looking for a more professional trading experience with full access to the US markets, we recommend Capital. Capital never charges any trading fees , and because it offers cryptocurrency and a full-on demo account, it's significantly more powerful than Trade Republic. Click below to learn more.
We analyzed hundreds of data points relevant to the costs, benefits and features of trading with Trade Republic and scored our findings on a 10-point scale across 10 distinct categories.
| | Trade Republic | Capital.com |
| --- | --- | --- |
Trade Republic is a German securities trading bank that has recently become popular amongst traders on Reddit. Trade Republic began as an alternative to banks to make trading possible from your phone. Mobile trading platforms are commonplace nowadays, but when Trade Republic launched in 2019, it promised one mobile platform to end them all. Trade Republic is the first securities trading bank in Germany that operates on a mobile-only basis.
Trade Republic spent the years of 2015-2019 getting a banking license. This means that whenever you create an account and trade with this bank, you'll be dealing directly with a legal and certified banking entity. Trade Republic is also partnered with SolarisBank AG, HSBC Germany, BlackRock and the Lang & Schwarz Exchange.
As of today, Trade Republic operates all of its trades on the Lang & Schwarz Exchange, which in turn operates on the Hamburg Stock Exchange (HAM). This means that only people who pay taxes to Germany were eligible to open an account with Trade Republic in the early days. They've since expanded to Austria and France as well.
Pros & Cons
Pros
No deposit, withdrawal or inactivity fees.
Supported by legal entities like HSBC Germany and Solaris Bank AG.
All clients are protected up to €100.000.
A streamlined and easy-to-use mobile platform.
No minimum initial deposit is required to open an account.
Has an official banking license, which makes it a Securities Trading Bank as well as a broker.
Up to 7,300 assets if you count both shares and ETFs.
Lets you trade assets from the most prominent international stock markets.
Cons
Charges a €1,00 fee per trade, regardless of volume.
Only offers support in 3 languages (German, English and French)
Support is only available through email.
Only available for German, Austrian and French citizens.
Only offers a mobile platform; there are no desktop or web versions.
You can only withdraw/deposit your money to/from a bank account and your assets to/from another broker.
Only has 3 types of commodities, Gold, Silver and Oil.
You can only trade ETFs from Ishares and Wisdom Tree.
Doesn't offer cryptocurrency.
No educational resources whatsoever.
No demo account is available.
Account Types: One Is Enough
Currently, Trade Republic only offers one regular equity account type. This will have to do for both long-term and short-term investments. This means that you can trade every asset, from stocks to REITs, from a single account, which is much less confusing than other brokers, which require separate account types per product.
#1 Fees: €1 Commission On Every Trade
Trade Republic charges a €1 fee for every trade, regardless of the trade volume. This bodes well if you're making large trades of tens of thousands of euros, but in reality, most Trade Republic traders are individuals making small, frequent trades, so this can add up. If you open and close just one trade per week, for example, that would be €2 x 52 weeks = €104 per year.
When it comes to its non-trading fees, Trade Republic matches the industry norm by not charging deposit, withdrawal or inactivity fees. This is partly made possible by the fact that Trade Republic is a legal banking entity connected to all the other national banks in Germany.
Trade Republic gets a high score due to the simplicity of its fee structure and lack of ancillary fees, but because it still charges €1 to open or close a trade, we give it an 8/10 in the fees category. As you'll see later on, it's more than possible to work with a broker who doesn't charge you any fees at all on your trading.
Trade Republic Fees Score: 8/10
#2 Signup Process: Very Simple
While writing this Trade Republic review, it became clear to me that the bank has one of the most straightforward signup processes in the market. The process is completely digital, user-friendly and fast since it's all done from your phone.
Trade Republic opens your account instantly, but you do need to participate in a live video identification call with a bank representative. This means that your account verification is subject to when these representatives are online, but most of the time you'll be able to create and confirm your account within the same day. This is faster than many brokers, some of which require you send via fax or physical mail, but still not as good as our recommend broker, Capital, which you can start trading with in under 15 minutes whether you sign up on a Monday afternoon or late on a Saturday night.
Still, for the relative ease and simplicity of creating and verifying your account and starting to trade, we give Trade Republic a 10/10 for its signup process.
Trade Republic Signup Process Score: 10/10
#3 Minimum Initial Deposit: Whatever You Like
Another good aspect of Trade Republic is that it's as straightforward with its deposit requirements as it is with its commissions. As we write this Trade Republic review, it does not ask for any specific minimum initial deposit. This means you can open your account with any amount you'd like to add, in contrast with some other brokers who often ask you to deposit several hundred euros to get started.
For its straightforwardness and flexibility on its minimum deposit, Trade Republic earns a 10/10 in this category.
Trade Republic Minimum Initial Deposit Score: 10/10
#4 Ease of Use: Could Be Better
Sadly, this is where Trade Republic's performance starts to falter. As we mentioned, it's only available through a mobile app, which means that web and desktop trading are off the table. For some traders, this might not be such a big deal, but for professional traders who rely on their ability to customize their setup to maximize their profits, it is a big deal. We're not saying that the Trade Republic platform is bad—we're just saying that if you're an investor who approaches your trading more professionally, you probably won't feel comfortable allocating thousands of euros from your mobile phone.
Not having a desktop platform also hinders those traders who like to develop their own trading strategies since the app's functionality is limited. That's why Trade Republic is severely hindered when it comes to its ease of use relative to other, more powerful platforms.
With all that said, the mobile apps are good as far as mobile apps go. The layout of the app is thoughtful, though because everything has to be displayed on a tiny screen, we find Trade Republic often has to compromise functionality for simplicity. The Android and iOS apps each have a score of 4,0 and 4,6 in their respective stores, but a non-trivial number of reviews mention that the app hangs or lags during intensive market hours, which has led to real losses on behalf of the users.
Overall, we give Trade Republic a 5/10 in the ease of use category. Being a mobile-only broker is innovative, but we prefer to see innovation in terms of expanding traders' options and abilities to profit, not limiting them.
Trade Republic Ease of Use Score: 5/10
#5 Trade Republic Has Very Limited Withdrawal And Deposit Options
Being more of a securities trading bank than a broker isn't only a good thing for Trade Republic: it also creates some issues that other brokers don't have to deal with.
Being an official banking institution in Germany means that payment and withdrawal options are somewhat hindered for legal purposes. As I write this Trade Republic review, the bank only accepts national bank accounts and other broker accounts as withdrawal and deposit options. When compared to other brokers both on a national and international scale, this is extremely limiting for the user.
For legal purposes, you can't deposit to Trade Republic from the following services:
Electronic wallets
Wire transfers
Debit/Credit cards
Also, when depositing your assets into Trade Republic from another broker, the assets that Trade Republic does not offer will be bounced back to the original account. All deposits and withdrawal options also have to be made to an account that was created under your name or they won't work.
What's more, withdrawals and deposits from your bank or from another broker can take a total of 1-6 days before appearing in your account. Usually, national bank transfers take less time, while moving securities from other brokers takes the longest.
All in all, Trade Republic only offers basic withdrawal and deposit options that are severely hindered compared to other brokers, so it gets a score of 5/10 in this category.
Trade Republic Deposit & Withdrawal Options Score: 5/10
#6 Customer Support: We Hope You Like Emails
We know that Trade Republic is a fairly new bank, but what surprises us the most is how little customer support it offers. As of the moment of writing this Trade Republic review, the bank doesn't offer phone or live chat support. Also, support is only offered in three languages: German, English and French.
However, since email is the only form of support they offer, it's the best and only tool at your disposal. We've sent a couple of emails to all the most important brokers to test how fast they answered and, fortunately, Trade Republic answered in less than two hours. Their answers were helpful and straight to the point, highlighting exactly what we asked and nothing else. In fact, if you want to ask them any questions about their service you can write them an email directly at [email protected]
Overall, we give Trade Republic a score of 4/10 for their customer support. Only offering email support is quite outdated, especially when phone and live chat support is offered by so many other brokers. However, we do appreciate that they do email well, given that it's their only support channel.
Trade Republic Customer Support Score: 4/10
#7 Asset Classes From All Over The World
Stocks
Trade Republic is a partner of the Lang & Schwarz Exchange. This exchange center is listed on the Hamburg Stock Exchange, but what's special about it is that its assets are not limited to Germany alone, giving you access to both high-value international companies and cheap stocks from promising startups. With Trade Republic you can also trade assets from:
Germany
The United Kingdom
The United States
Canada
Hong Kong
China
Japan
Although Trade Republic does not offer all of the markets available in those countries, you'll have access to many of the most prominent ones. Trade Republic also lets you diversify your portfolio with indices for these assets, including these and others:
America Select
NASDAQ
Dow Jones 30
Europa Select
Euro Stoxx 50
DAX
MDAX
SDAX
There are about 6,500 assets available to trade with Trade Republic, which is not the most of the brokers we've reviewed, but also not bad for a relatively new securities trading bank. Here are a few of the asset types you can trade with Trade Republic:
Currency Pairs
As of the moment of writing this Trade Republic review, there's only one currency pair offered, EUR/USD. We certainly wish there were more, but that's what's available to trade on the Lang & Schwarz Exchange.
Commodities
As far as commodities go, Trade Republic only lets users trade gold, silver and Brent Oil, which is a pretty small list when compared to other brokers.
Bonds
Thanks to the Lang & Schwarz Exchange, Trade Republic offers 500+ bonds for German companies and other major European contractors.
ETFs
Trade Republic also has a fairly wide variety of ETFs to trade. They offer around 400 ETFs on indices, commodities and currencies, though, not all available ETFs on the Lang & Schwarz exchange are available on Trade Republic. Currently, Trade Republic only offers ETFs from Ishares and the Wisdom Tree.
ETF Savings Plan
Trade Republic also offers a savings plan for ETFs, where a minimum initial deposit of €25 allows you to enjoy permanent discounts on ETFs. You'll only have to pay the market value and Trade Republic's standard €1 fee for the trade.
Crypto
Trade Republic doesn't offer any sort of cryptocurrency, nor does it plan to offer it in the near future. This is quite annoying since most mobile-only brokers offer crypto trades today.
Overall, we give Trade Republic a score of 9/10 for its asset classes in spite of the fact that it offers no crypto, only one currency pair (EUR/USD), and only three commodities (gold, silver and Brent Oil). It gets a high score because of its wide offering of stocks, bonds, and ETFs, which add up to more than 7,400 assets in all.
Related: If you're interested in investing in fine art but don't have the capital to pay thousands of dollars for a unique masterpiece, check out Masterworks, the trading platform that lets you invest in shares of the finest art pieces in the world.
Trade Republic Asset Classes Score: 9/10
#8 Referral Program: Not Available
Trade Republic does not offer a referral program and have no plans to offer one in the near future. This might be influenced by the fact that the institution is a legal banking entity and not just a broker, so for now they get a score of 0/10 here.
Trade Republic Referral Program Score: 0/10
#9 Demo Account & Educational Resources: Non-Existent
Another negative aspect of Trade Republic is that it offers no educational resources or demo account for new or inexperienced traders. Trade Republic assumes that you know the basics of trading and the definitions of most terms used in the trading scene. Granted, Trade Republic has simplified its user experience enough that it is quite easy to understand, but if you're a newcomer, you'll still face some friction upon getting acquainted with the service, and might lose money as you try to figure it out.
Also, without a demo account, you can't try out Trade Republic to see if you like it. You'll have to go all the way through the signup process—including sending in your identification and documents—just to get a feel for what the trading platform is like. We much prefer brokers who offer a demo account so you can get a feeling of what they're like before investing so much time, money and energy into them.
As a result, Trade Republic gets a score of 0/10 in this category, because although the design is simplistic, Trade Republic lacks some of the core functionality new traders need to succeed.
Trade Republic Demo Account & Educational Resources Score: 0/10
#10 Safety & Regulation: Top-Notch German Regulation
Trade Republic is a bank itself and also a partner of another bank called Solaris Bank AG, so all deposits in your account are legally secured up to €100.000. These funds are secured in a trustee collection account with Solaris Bank AG in Berlin, which is regulated and supervised by the Deutsche Bundesbank and the BaFin (Federal Financial Supervisory Authority).
All assets in your account are your property and are kept by HSBC Germany, but they always belong to you.
All in all, Trade Republic offers one of the most regulated and safest trading experiences in Germany. Because it's regulated by some of the heavyweight regulatory agencies in Germany, it earns a solid 10/10 in this category.
Trade Republic Safety & Regulation Score: 10/10
Now we'll compare Trade Republic to our highest-rated broker,
Capital
, which scores 91/100 points.
Trade Republic Vs. Capital
Over the course of using and reviewing all of the most popular brokers in Germany, France and Austria, we've come to notice what works and what doesn't. We scored all of the brokers on a scale of 0 to 100, and one broker received a significantly higher score than all the others: Capital. That's why the ultimate test for Trade Republic is how well it stacks up next to Capital.
Based on our scoring system, Trade Republic receives a total score of 61/100, while Capital receives a total score of 91/100. So, without further ado, let's delve into what makes Capital so much better than Trade Republic.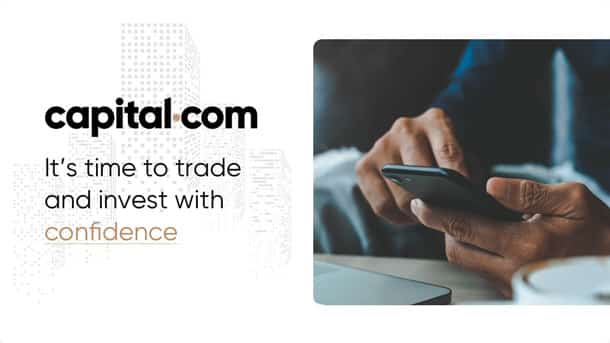 #1 Fees: €1 Per Trade vs. Zero Fees
Trade Republic's €1 fee per trade may sound small, but it adds up quickly, especially if you trade multiple times per day. Like I mentioned above, if you open and close just one trade per week, it adds up to €104 per year that you really don't need to spend.
Capital, on the other hand, doesn't charge any trading fees at all. More importantly, though, it shows their commitment to the success of their users, which is the sort of outlook you want from your broker.
#2 Ease of Use: Mobile-Only Vs. Desktop, Web And Mobile
Trade Republic is a mobile-only platform, which means it has sacrificed functionality for the simplicity of being usable on your phone. Capital, on the other hand, offers a robust trading platform on desktop, mobile and web, making it accessible wherever you need it.
One of the best things about Capital's user interface is the level of similarity between the desktop platform and the mobile one. Rather than starting from a simplistic mobile app and building up, Capital started with a web trading platform and made that level of functionality work on the mobile app. So while Capital's app is easy to use for even inexperienced traders, it has a level of power and functionality appropriate for professional-level traders, too.
Here's a quick look at Capital's desktop and web trading platform.
#3 Customer Support: Email-Only Vs. Live Chat, Priority Phone Lines and Email
Customer support is a very important aspect of any broker, and this is an area where Trade Republic really lets customers down. It only offers email support, while Capital offers one of the best customer support experiences out there. Not only does it offer live chat, phone support and email support, but it also offers support through online live chat, Telegram, Facebook Messenger, Viber, and WhatsApp. In my experience, they respond within 5 minutes on most of these platforms.
One other unique aspect of Capital's support team is that every user is assigned a dedicated account manager. This means that you'll speak with the same person in every customer support interaction, eliminating unnecessary back-and-forth since your manager knows your account history and can solve the issue faster than anyone else.
Another thing to note is that Capital offers customer support in 8 languages (English, German, French, Italian, Spanish, Russian, Turkish and Arabic), while Trade Republic only offers support in 3 (German, English and French).
#4 No Educational Resources vs. A Complete Library To Learn From
Trade Republic has no educational resources whatsoever. It does have a pretty thorough FAQ section about how the site works and the specifics of some services, but aside from that, there's not much else to find.
On the other hand, Capital offers a free, complete demo account with no time limits. It also has an exhaustive glossary for specific and general terms regarding its platform and overall trading terminology. So, all in all, Capital offers educational tools that are more thorough and accessible than those of Trade Republic.
We believe that Capital is almost always a 10/10 when it comes to most categories we listed earlier. For that reason, we believe that it is truly the best way to get into trading from wherever and whatever experience you have.
#5 Deposit & Withdrawal Options: Few vs. Many
Trade Republic's deposit and withdrawal options are, quite frankly, bad. They don't allow deposits from electronic wallets, wire transfers, or debit and credit cards, which are three of the most popular deposit methods in Europe. This means that even after you open an account with Trade Republic, you may find yourself in the awkward scenario of not being able to deposit any money into your account.
In contrast, Capital accepts deposits through all of those methods— electronic wallets, wire transfers, and debit and credit cards—plus many more. If you use an instant transfer method like an electronic wallet or debit or credit card, your funds will appear in your account within a matter of seconds, and withdrawals are quick, too.
In Summary
At the end of the day, Trade Republic is not a bad trading platform. It offers a reasonable way for German, Austrian and French investors to buy and sell stocks at €1 per trade.
But if you're looking for a fee-free broker with a much wider array of assets to invest in, we suggest Capital. I've personally used it for more than 3 years, and it's our top-rated broker across all categories in 2021.
With cryptocurrency, leveraged trades, a full demo account, and excellent customer support, we recommend opening an account with Capital today.