What Are The Best Crypto Debit Cards?
The Crypto.com Rewards Visa Prepaid Card is a unique crypto card aimed at cryptocurrency owners who want to readily access and convert their crypto assets into spendable money.
Until crypto payment cards were introduced, customers had to wait weeks to access their money for spending. The Crypto.com Rewards Visa has solved this problem by allowing users to load their crypto funds onto the card and then convert them to the user's preferred fiat currency.
This card also enables you to earn cashback of up to 8% on your purchases and supports a wide array of different cryptocurrencies to spend.
Features
Wide array of supported crypto (90+)
No monthly fees or issuance costs
Cashback deals on streaming services
Cost
Annual fees: No annual fee
Best For
Cryptocurrency holders looking for a crypto debit card that supports plenty of different cryptocurrencies.
BlockFi was one of the first companies to provide a Visa credit card that gives cashback in Bitcoin on all purchases. The BlockFi card earns you rewards in the form of Bitcoin, which will be added to your BlockFi Interest Account and begin earning interest immediately.
The BlockFi card has a similar credit limit to other Visa cards and can be used to make purchases wherever Visa is accepted. The card also gives 1.5% cashback on every purchase, which is converted to Bitcoin and deposited in the cardholder's BlockFi account. The first three months of card ownership earn a 3.5% bonus on cashback, up to a maximum of $100.
Features
1.5% cashback
3.5% cashback in the first three months
Cost
Annual fee: No annual fee
Foreign transaction fee: No foreign transaction fee
Best For
Cryptocurrency holders looking to earn cashback in Bitcoin purchases.
The Coinbase Card is a crypto debit card that lets cardholders use their cryptocurrency anywhere Visa is accepted. This card's popularity stems from its ability to handle numerous crypto tokens, its simple currency conversion, and its top-notch security.
It supports up to nine cryptocurrencies, including Bitcoin (BTC), Ether (ETH), and Litecoin (LTC), and users must have a Coinbase account. On demand, the card converts the cryptocurrency of your choice into your Coinbase account for you, so you don't have to keep a fiat currency balance in your account.
Features
Can be used anywhere Visa is accepted
Pay using multiple cryptocurrency wallets
Multiple security features
Cost
Cryptocurrency liquidation fee: 2.49%
Best For
Cryptocurrency holders looking for a crypto debit card that has an easy and quick currency conversion.
In 2020, Binance partnered with Swipe to launch a Visa debit card that provides 8% cashback. The Binance Visa Card has no issuance or monthly costs and only charges a 0.9% transaction fee for transactions and ATM withdrawals, although ATM operators may charge an additional fee.
The card supports 30 different cryptocurrencies, including Bitcoin (BTC) and Ether (ETH). It stores cryptocurrency in your wallet and only converts what you need at the time of purchase, similar to Coinbase. The card may be used to make purchases anywhere where Visa is accepted.
Features
Offers 8% cashback
No monthly fees or issuance costs
Convert crypto on demand
Cost
Transaction fee: Up to a 0.9% for transactions and ATM withdrawals
Best For
Cryptocurrency holders looking to earn cashback in Bitcoin purchases.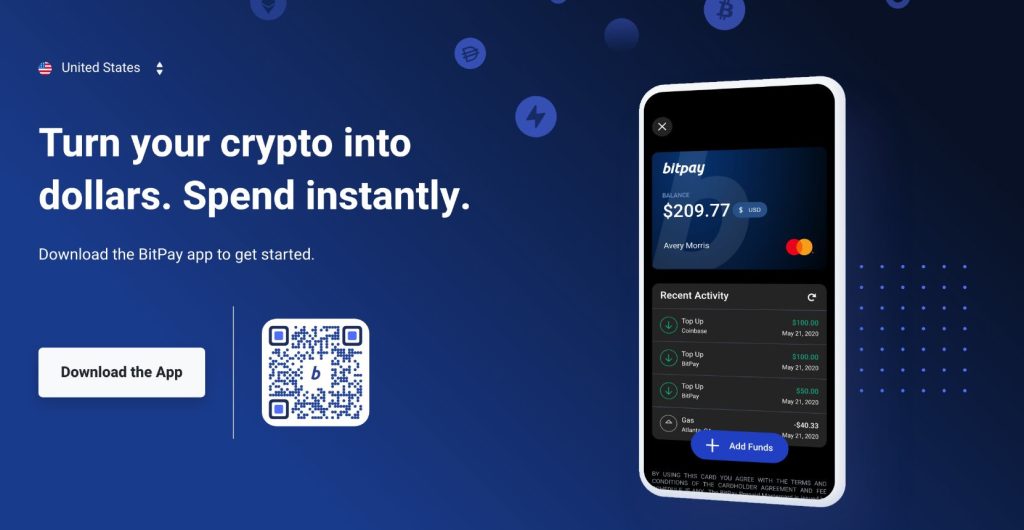 The BitPay Debit Card connects with your BitPay non-custodial wallet or Coinbase account to transfer funds when you make a transaction. It supports Bitcoin, Ethereum, Dogecoin, and ten other crypto assets (13 in total), making it a flexible option for spending your crypto at your own pace.
The BitPay Card works in-store, online and at millions of ATMs—anywhere Mastercard is accepted. You can also add funds, freeze your card, track transactions, and even manage other wallets like Trezor and Metamask direct from the BitPay app, making it an easy way to manage your money.
Features
Use anywhere Mastercard is accepted (plus ATMs)
Top coins supported, new coins added regularly
$10,000 load/spending daily limit
$25,000 total cash balance limit
Load from BitPay Wallet or Coinbase account
Apple Pay and Google Pay Integration
Track purchases and control card from BitPay app
Cost
Free: No initial or annual cost
$2.50 ATM withdrawal fee
Best For
U.S. residents that want to spend and instantly cash out the most popular coins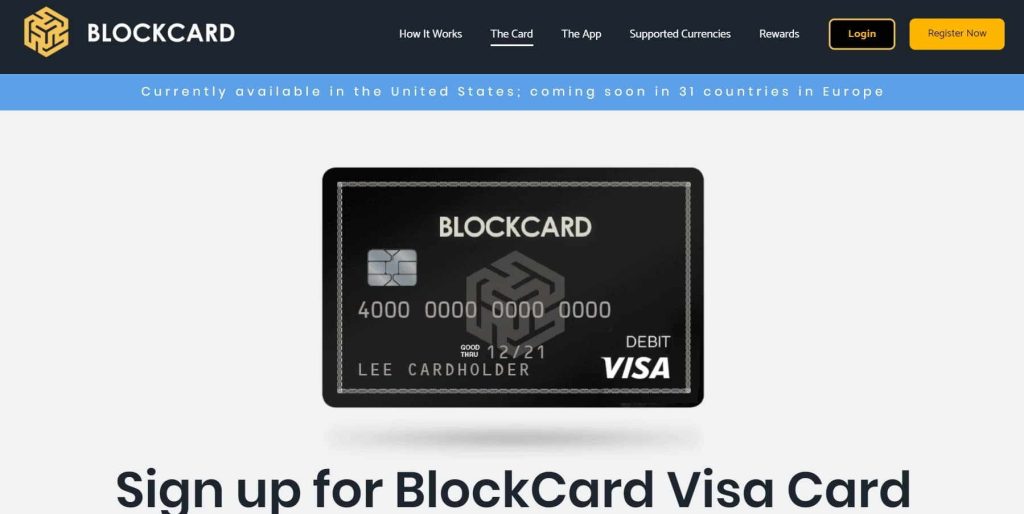 The BlockCard Rewards Visa Card, created by financial technology firm Ternio, allows users to make purchases using their cryptocurrency of choice wherever Visa is accepted. It has a flat account management fee and no deposit, exchange, or withdrawal fees.
A $10 activation charge and a monthly administrative fee of $5 are charged by the company, both of which are waived if the cardholder spends more than $750 per month in non-cash transactions. BlockCArd has no deposit, exchange, or withdrawal fees and only charges $3 for domestic ATM cash withdrawals ($3.50 international).
Features
No transaction, exchange, or withdrawal fees
Flat monthly fee
Offers cashback rewards
Cost
Monthly fee: $5
ATM withdrawal fee: $3
Foreign transaction fee: $2
Best For
Cryptocurrency holders looking for a low-fee crypto debit card.
In Summary
Crypto investors have a handful of crypto debit cards to choose from, allowing them to spend their coins like it's cash by exchanging it the moment a transaction is made. I constantly keep up with the latest crypto debit cards, and with its current €10 signup bonus, I'm confident that the Crypto.com Rewards Visa Prepaid Card is the best on the market right now.
However, if you're looking for a better way to buy and sell crypto, I recommend Capital, an easy-to-use platform with zero trading fees. Capital verifies most accounts instantly and assigns each user a dedicated account manager, and as someone who's invested with them for more than 4 years, I can't recommend Capital highly enough.
Best Crypto Debit Card FAQs
What Should I Look For In A Crypto Debit Card?
When comparing Bitcoin debit cards, there are a few characteristics to consider. These include:
Fees: There are costs associated with some Bitcoin debit cards, but not all of them. These might include monthly maintenance, foreign transaction, and ATM withdrawal fees. Look for a card that charges as few of these fees as possible.
Rewards: Bitcoin debit cards sometimes provide perks such as cryptocurrency cashback. These incentives may significantly increase your earning potential, so seek cards with generous cashback if you want to make the most of them.
Supported currencies: Not all crypto debit cards support more than one or two crypto tokens. Make sure to pick a card that supports your preferred cryptocurrency type.
Availability: Some Bitcoin debit cards are only available in specific regions, such as the European Union or the United States. Look for a debit card that works in your area.
Other perks: Perks are a welcome addition to Bitcoin debit cards. These can range from basic benefits like free Spotify memberships to more advanced ones such as complimentary ATM fees.
How Do I Get a Bitcoin Debit Card?
Bitcoin debit cards are most often provided by cryptocurrency exchanges and need individuals to establish an account and/or digital wallet before applying for one. Some also demand that applicants submit identification documents as part of the Know Your Customer (KYC) verification procedure.
In order to utilize some of these cards, you must first purchase it; however, these expenses vary. Others charge a fee in their native token currency in order to get greater perks, with prices ranging from $400 to $4,000 or more.
How Do I Apply For A Bitcoin Debit Card?
After you've decided which Bitcoin debit card is ideal for you, you'll need to apply for one. There are a few actions that must be completed in order to utilize a Bitcoin debit card, including:
Creating/buying a personal crypto wallet
Buying Bitcoin from a great cryptocurrency exchange
Connecting the card to your crypto wallet
Depositing funds to the card
Some cards ask users to confirm their identity before being allowed to use them. Others demand that customers make a purchase using the card's native currency or invest in it. You may convert Bitcoin from your debit card to fiat money at an exchange or a Bitcoin ATM.
How Do Bitcoin Debit Cards Work?
Bitcoin debit cards (also known as crypto debit cards) are like prepaid debit cards that may be used to make online and in-store purchases from merchants who don't accept cryptocurrencies.
These cards transform Bitcoin or other cryptocurrencies held in a Bitcoin wallet into the fiat currency required to make a purchase. Bitcoin debit cards may also be used to withdraw cash from ATMs in any of the currencies supported by the card.
Where Can Bitcoin Debit Cards Be Used?
Users of Bitcoin debit cards can spend them online or in-store wherever major credit cards are accepted, as long as the issuer has relationships with the major credit card companies (usually Visa). Cash withdrawals may also be made at any ATM that is compatible with the credit service.
Bitcoin debit cards are only available in certain countries, such as Europe. The cards also enable cardholders to convert cryptocurrencies back into fiat currencies that are considered foreign and will charge them for doing so.
Are Bitcoin Debit Cards Safe To Use?
They are as secure as most major credit cards, considering they feature advanced security features such as two-factor authentication, biometric scanning, and mobile codes. Cardholders may also freeze or cancel their card with little to no effort by using a smartphone app.
Nonetheless, some people believe that Bitcoin debit cards are less safe than offline digital wallets. Transferring funds from a wallet to the debit card provider might raise the danger of cyber-attacks, as can keeping money on mobile wallets or online exchanges.