A UPS mailbox is a mailbox provided by The UPS Store, a subsidiary of United Parcel Service or UPS. How much does a UPS mailbox cost? That depends on the size of the mailbox and the location of your chosen The UPS Store. Prices range from $10 to $50 per month, overflow fees are about $3 and you'll also have to pay a fee for your set of keys. Overall, UPS mailboxes are good options if ou have a The UPS Store nearby. If you don't, it won't work because they don't offer mail forwarding services.
A real street address is important for many businesses since it gives a sense of legitimacy. This is especially the case for online stores. However, using your home address as a mailing address for your business may not be the best option due to safety and privacy concerns.
If you're looking for an alternative mailing address for your or your business, UPS mailboxes are a good option. But how much does a UPS mailbox cost? Figure it out in this blog post.
What Is A UPS Mailbox?
A United Parcel Service (UPS) mailbox is a physical mailbox where mail or packages are sent to prevent disclosure of the recipient's home address. It works like a Post Office (P.O.) box however, it accepts parcels and mail from all carriers. Both have a similar purpose but are managed by different companies.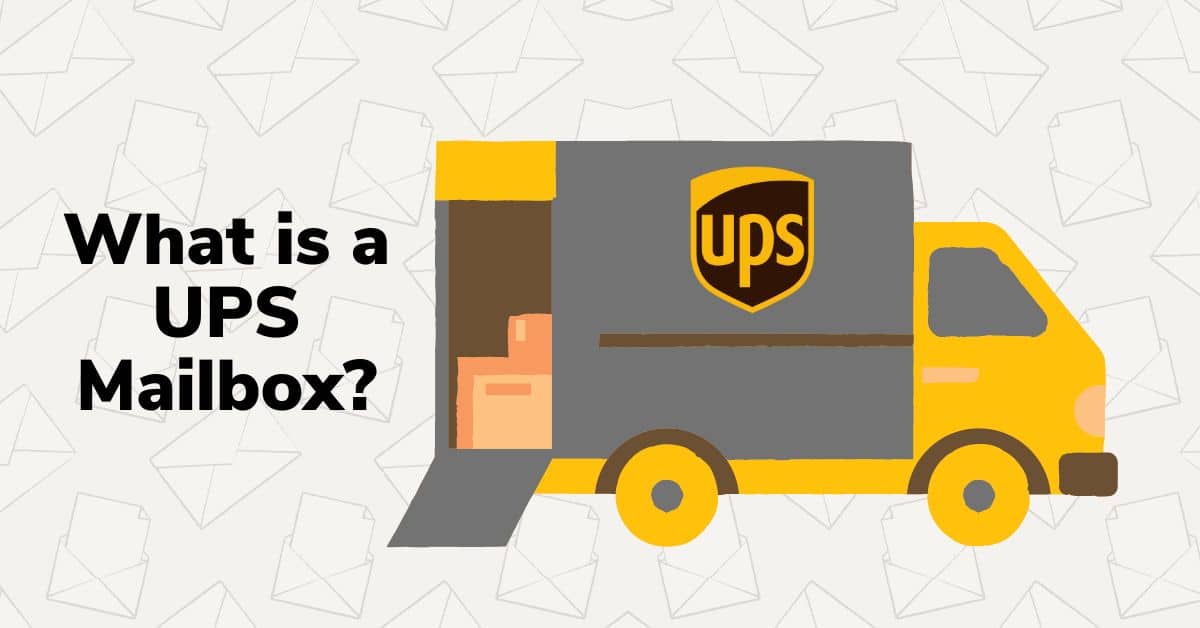 The UPS mailbox is a service provided by The UPS Store, a subsidiary of UPS, not by UPS itself. The company offers print, fax, passport photos, shredding, notary services, and personal and business mailboxes.
The mailbox is secured and can only be accessed by the recipient in The UPS store. Since it is delivered to the address of the store, recipients guarantee their home address is protected. However, they are required to go to the store and pick up their parcel or mail.
The UPS mailbox is typically rented for the desired period, size, and location. Each of these factors impacts the total UPS mailbox cost that the renter will pay. The service mainly targets businesses seeking a professional local address.
UPS Mailbox Keys
When you rent out a UPS mailbox, you receive a set of keys. The keys allow you to open the mailbox center and your mailbox 24/7 for the whole year.
UPS Mailbox Sizes
Similar to P.O. Boxes, a UPS mailbox's pricing is based on factors such as size, location, and rental duration. Renters can rent a mailbox for a period of three, six, and twelve months plans. You can get great discounts if you choose to rent a long-period plan.
There are three UPS mailbox sizes:
#1 Small UPS Mailbox: The small UPS mailbox is for customers that don't expect multiple regular mails.
#2 Medium UPS Mailbox: Individuals and small businesses that receive regular packages and mail fit perfectly for the medium mailbox.
#3 Large UPS Mailbox: The large UPS mailbox is ideal for individuals and medium or big businesses that receive large quantities of packages and mail.
How Much Does A UPS Mailbox Cost?
As mentioned above, the cost of a UPS mailbox is based on its size.
The table below shows the cost per month of the different UPS mailbox sizes.
| | |
| --- | --- |
| UPS Mailbox Size | Monthly Costs |
| Small | $10 – $20 |
| Medium | $20 – $40 |
| Large | $30 – $50 |
It's important to note that these are just average costs, and these costs may vary depending on the location of the store. You can check the cost of your preferred store on their website.
Other Fees
Keys: On top of the monthly rental costs, UPS stores also charge a fee for your set of keys ranging from $10 to $15 each.
Package overflow: The mail and packages may overflow if you receive more mail than expected. If this happens, you'll be charged another fee. Most UPS stores typically charge overflowing fees of about $3.
Other penalty fees: Other situations that may have penalties are unattended packages, late payments, and lost keys. The fees collected for the keys are nonrefundable, and if you lose them, you would pay another nonrefundable fee.
Advantages Of UPS Mailbox
UPS stores are open 24/7: Unlike P.O. boxes, most UPS Stores offer 24/7 services to their customers. You can easily access the mailbox anytime, making it more convenient for you. There's no need to wait for the store to open in the morning if you need to collect the mail at night.
UPS notifies if there is mail or packages: The UPS Stores make sure that their customers are notified if there are mail or packages in their mailboxes. It's one of their services to inform the customers through text and email. However, the store may not provide more details about the mail that arrived. It's basically a "You've got mail" alert. Specifically, the store will send a scanned cover in the mail. Alternatively, recipients of the mail can call the store to know if there is mail or if packages arrived. This can save you the time and effort of checking the mailbox in person.
Supports all carriers: Unlike P.O. boxes, the UPS mailbox accepts mail and packages sent from other carriers. It's advantageous to both receiver and sender as they don't need to look for other service providers. P.O. Boxes don't usually receive packages from other carriers. Additionally, this allows parcels from online shopping to be sent to UPS mailboxes.
Ensured privacy: The UPS mailboxes are ideal for people seeking the privacy of their home addresses. It's a good choice for individuals looking for a professional mailing address but working from home. All of the mail will be directed to the chosen UPS store location.
No need to change mailing addresses: Individuals who change their home address or transfer to a different area don't need to change their mailing addresses. The chosen UPS store's physical address will be the same. It can serve as your official mailing address regardless of where you live unless you want to transfer far away.
Secure your mail and packages: The UPS Stores provide security for mail and packages sent to the recipients. In some cases, things that are sent to mailboxes at home addresses are susceptible to theft. With a UPS mailbox, you can guarantee the mail is protected even if you're not at home.
No missed mail: There are situations where recipients can miss their packages if they're not at home. With UPS mailboxes, the packages will be kept and can be picked up anytime.
Disadvantages Of UPS Mailbox
Not acceptable in all states as a business address: Beware that other states may not accept the use of a UPS mailbox address as a business address. This is a similar case to P.O. Boxes. Meanwhile, you can still use it to receive business-related mail as long as you're not using it as your business mailing address.
You can use a virtual mailbox as an alternative for business registrations. Just make sure that it only provides real street addresses.
You need to visit the store: Since the mailbox serves as your mailing address, you need to visit the store to collect the mail and packages. This is because The UPS Store doesn't offer parcel forwarding services. This may be an inconvenience because you can't receive your mail directly where you are.
No virtual mailbox features: The UPS mailbox doesn't have virtual mailbox features where the recipient can request what to do with their mail or packages. The only thing that the store will do is notify you and send the scanned cover in the mail. Virtual mailboxes allow the recipient to request to open, scan the content, forward it to the recipient, and even shred and recycle unwanted mail.
How Do I Set Up A Mailbox At UPS
Before you can use a UPS Mailbox, you need to rent one from the store. There are only a few steps you need to follow:
Step #1: Locate A UPS Store
Locate a UPS Store situated in or near the area that you prefer. Some individuals choose stores that are near their home addresses. To locate available stores, visit their store locator at the UPS Store website.
Once you find a store with a convenient location, it's a good idea to contact them directly to ask what mailboxes are available and the requirements to rent them.
Step #2: Visit The UPS Store
You are required to visit the store after you get the details to apply for a UPS mailbox. The store typically requires two different IDs for identity verification.
One of the IDs should contain your photo, and the other one is a non-photo ID. Examples of IDs with photos include passports or driver's licenses. For non-photo ID, it should have your home address, such as credit card statements, utility bills, etc.
Step #3: Fill Out The Rental Form
After the IDs, The UPS Store will ask for the payment of the desired mailbox rental. You will be required to fill up the UPS Mailbox service agreement form. It will ask you for essential details needed to open a mailbox and the terms observed by the specific store.
The agreement form provides information about the penalties and other fees applied. Make sure to read this carefully and understand it before you proceed.
UPS Mailbox Vs. Virtual Mailbox
There are several differences between a UPS mailbox and a virtual mailbox. The most important are:
#1 Accessibility
Virtual mailboxes work like mailboxes you can access online through your smartphone or laptop. You can check your mail and packages through this service without being physically present in the store. This is one of the major features that a UPS mailbox lacks.
With a virtual mailbox, you can open, scan, and redirect the delivery of mail or packages, all without visiting the store. For example, if you're on vacation and you want your package to be delivered to where you are, virtual mailboxes make it possible.
#2 Local Pickups
With UPS mailboxes you're forced to pick up your mail yourself. In the case of virtual mailboxes, you usually don't have to. But, even if you want to, in most cases, you won't be able to pick up your mail personally with a virtual mailbox. Only a few virtual meilboxes offer local pickups. In all other cases, forwarding is the only way to get your mail.
#3 Discounted Rates
Virtual mailbox services also provide great discounts and long-term mail storage. By consolidating multiple packages into one, and multiple shipments into a single delivery, customers often save about 80% off the UPS shipping rates. If you seek convenience, a virtual mailbox may fit your needs better than a UPS mailbox.
Nonetheless, there are still many people who prefer a UPS mailbox. In terms of privacy, UPS can guarantee that you will be the one to open your mail and packages.
UPS Mailbox Cost FAQs
Does UPS give you a physical address?
Yes, The UPS Store mailbox offers a physical address to pick up the mail and packages. Depending on which store you rent, they will immediately contact you if you receive mail. Meanwhile, the P.O. Box doesn't provide a complete physical address.
What do I need to get a UPS mailbox?
To get a UPS mailbox, you should present two different IDs. One with a photo and the other one has none. Examples of IDs with photos are driver's licenses, while non-photo ID includes electric bills, bank statements, etc.
Does UPS go to the mailbox?
Yes. UPS can deliver mail to mailboxes in UPS stores. This isn't the case with P.O. boxes, to which only USPS can deliver directly to.
Is USPS cheaper than UPS?
Generally, yes, USPS is cheaper than UPS. UPS is a lot more expensive because of the fees and surcharges. It's commonly used when shipping small packages.
Meanwhile, USPS offers competitive shipping costs for small packages. It's also an ideal choice for huge packages. Still, the choice depends on which is more convenient for the recipient or the sender.
Can you use a UPS mailbox as a legal address?
No, you can't use a UPS mailbox as a legal or business address. You can only use it as a mailing address, which isn't the same thing. There are several state agencies in the U.S. that only consider UPS mailboxes as store addresses.