The Vanilla Prepaid Card is a decent option for short-term spending. It offers you the flexibility and convenience of a credit card without the risk of overspending. This card is available at a minimum of $25 and comes in Visa or Mastercard payment options. This card is ideal for short-term spending on small to moderate size purchases.
Credit cards may not be for everyone which is why prepaid cards are a great alternative. Some prepaid cards can help you purchase things online, make a booking for a hotel, or buy a plane ticket. 

Apart from its name that makes you think of desserts and ice-cream, how does the Vanilla Prepaid Card benefit users looking for a normal credit card but without the possibility of overspending?

We've done several reviews on prepaid cards at Yore Oyster and to add to this growing list, we've put together a comprehensive article to help you decide if you should sign up for a Vanilla Prepaid Card or not. Keep reading to find out more.

What Is The Vanilla Prepaid Card?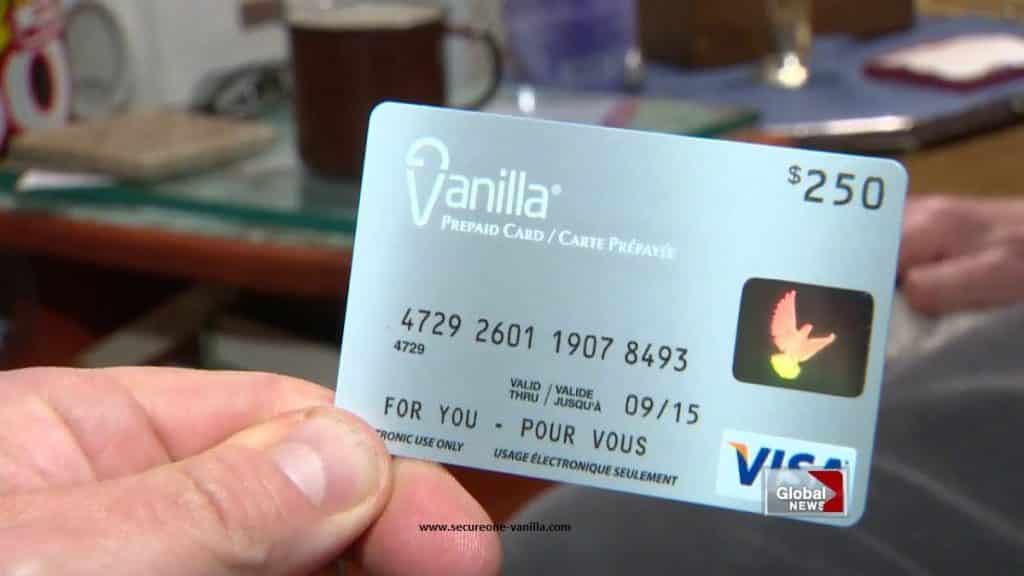 The Vanilla Prepaid Card is a stored-value, prepaid card available in Mastercard or Visa options. It can be used anywhere Mastercard and Visa are accepted. With this card, you can purchase via mail order, point of sale retail, and online stores. 
This card can be purchased at most grocery stores and gas stations in Canada. They also make for an ideal gift option. 
This card is not a credit card, debit card, or a charge card, which means that its use will not affect your credit rating, neither for better nor for worse. You can use the Vanilla Prepaid Card on various locations worldwide, in-store and online. One drawback is that this prepaid card cannot be used at ATMs, nor will you get cash back from your purchases. 
Denomintaions
As we mentioned, there are two different types of Vanilla Prepaid Cards, the Visa and the Mastercard versions. In the following table, you'll see in what denominations you can purchase each:
| | |
| --- | --- |
| Vanilla Prepaid Mastercard | Vanilla Prepaid Visa |
| $25 | $50 |
| $50 | $75 |
| $100 | $100 |
| $200 | $150 |
| | $250 |
The funds you have on your card will never expire but the card does. You can always call Customer Care to request a replacement card which will be mailed to you and then you can transfer the available balance to your new card by logging into your account.
How do I use my Vanilla Prepaid Card?
You can purchase your Vanilla Prepaid card at any participating stores and gas stations. Once you have it, you can immediately activate the card the minute you make your first purchase. As with other Prepaid Cards, you are required to sign the back of the card when you buy it. 
When you purchase an item online or in-store, just present your card at the time of payment. The card balance will reduce according to the amount of purchase (including any taxes and fees charged by the merchant). You can use your card in combination with a second payment method in the event the cost of your purchase item exceeds the balance on your card. 
Vanilla Prepaid cards can be used outside Canada too, anywhere Mastercard or Visa is accepted which is a big plus when compared to a debit card. Just keep in mind that there is a 2.5% foreign exchange fee, but that's standard for most credit cards as well.
Where Can I Purchase A Vanilla Prepaid Card?
You can get them at any of the following retail partners:
Walmart
7Eleven
Petro-Canada
Shell
London Drugs
Corner Store
Best Buy
Express Mart
Giant Tiger
What's The Difference Between The Vanilla Prepaid Mastercard & Visa Options?
The difference between these cards comes in the form of the maximum transaction limits as well as the minimum purchase denomination. The Mastercard option is available at a minimum of $25 and the Visa is available at $50, as we mentioned previously (this is also explained in further detail under the fees section). 
Different Limits
Regarding the maximum transaction limits, these are the differences:
Card name
Card type
Limits
Vanilla Prepaid Visa
Store-bought, non-reloadable card
Maximum card balance $500.00
Maximum daily spend $500.00
Maximum single spend $500.00
Vanilla Prepaid Mastercard
Store-bought, non-reloadable card
Maximum card balance $200.00
Maximum daily spend $200.00
Maximum single spend $200.00
Different Fee Structure
This card has a different activation fee depending on the denomination you choose and the banner it carries:

| | |
| --- | --- |
| Vanilla Prepaid Mastercard Gift card amount | Activation fee |
| $25 Card | $3.95 |
| $50 Card | $4.95 |
| $100 Card | $5.95 |
| $200 Card | $6.95 |
| $60 Multipack Card | $8.95 |
| | |
| --- | --- |
| Vanilla Prepaid Visa Gift card amount | Activation fee |
| $25 Card | $3.95 |
| $35 Card | $4.95 |
| $50 Card | $5.95 |
| $75 Card | $6.95 |
| $100 Card | $5.95 |
| $150 Card | $6.50 |
| $200 Card | $6.95 |
| $250 Card | $7.50 |
| $20 – $500 Card | $7.95 |
There are no other fees that are charged on your card except the foreign exchange fees of 2.5% made on foreign currency transactions. 
How To Check The Balance On The Vanilla Prepaid Card
The fastest way to check your balance is by logging into your Vanilla Prepaid account at www.vanillaprepaid.com. You can also call the customer service (Mastercard: 1-800-652-9174, Visa: 1-844-864-6951) to find out your balance. A good thing to do before you shop is to check your balance before you purchase anything.  The merchants you are shopping at are unable to determine your balance on your card so if you purchase something that exceeds your card balance, your purchase will be declined. 
Drawbacks To The Vanilla Prepaid Card
Both the Mastercard and the Visa versions of this gift card can be used to make shopping online easier. However, there are a few disadvantages to these cards:
You cannot reload the card
You cannot make pay-at-the-pump transactions
You cannot use them to pay recurring bills
You cannot use them to withdraw card from the ATM
They cannot be refunded for cash back
If your card is lost or stolen, you can only get a replacement if you have your card number written down or memorized.
The card has low maximum balances. You will need to use this card with a combination of other payment methods if the purchase you are making exceeds the balance on your card. 
What Is This Card Good For?
As much as this card is a prepaid card, it lacks plenty of features other prepaid cards have. In terms of who it may benefit or what it's best suited for, here are scenarios this card would be useful in:
As A Gift
You can purchase this card for anyone as a gift. Instead of getting a boxed gift, this card can serve as a gift to a teenager, spouse, partner, newly married couple- basically, anyone whom you think would benefit from having the flexibility of purchasing something in their own taste. This way you don't have to wreck your brain trying to decide what to get them. Just purchase the card in the denomination of your choice and gift it to them. 
As A Temporary Method Of Payment
If you are going on a short weekend trip in or out of Canada for 2 or 3 days and you don't want to carry cash, this card can be used to make purchases on-the-go. This card is a much safer approach compared to carrying your credit card. In the event you lose it, you only lose the money you purchased the card, which is a maximum of $500 for Visa and $200 for Mastercard. 
As An Allowance Card
This card does not have any other fees apart from the activation and foreign transaction fees. So you can get this card for your child as an allowance card and have peace of mind that they won't be able to overdraw the card and only make purchases within the card's limit. 
To Keep A Limit Of Specific Expenditures
You can use this card as a payment method as long as Visa or Mastercard is accepted. This means you can purchase the Vanilla Prepaid Card for a specific purchase to maintain your budget. For instance, you purchase one card and use it only for groceries and nothing else. If you are not a fan of credit cards but want to be able to have the option of paying with a card that has a limit, this card would be able to do that.
Miscellaneous Expenses
You can get this card for your office or employees to purchase stationery supplies for the office, or only to purchase gifts for clients. You can also purchase this card as part of a lucky draw prize for an end-of-year annual dinner. 
---
Alternatives To The Vanilla Prepaid Card
The offerings of the Vanilla Prepaid card are pretty basic, so, if you are  looking for prepaid cards with a wider range of benefits, here are some you can look into:
The CIBC Prepaid Visa
You can shop worldwide online and offline, use VISA Paywave even for small purchases and basically spend on your own terms. There are two CIBC Prepaid Visa cards that you can sign up for which are:
CIBC Smart Prepaid Visa Card
CIBC Smart Prepaid Travel Visa Card
The CIBC prepaid cards enable you to top up your card with your money. It works like a debit card, with credit card convenience. This makes it easy for you to shop anywhere inside and outside Canada.
With this card, you get:
Minimum load amount– $20
Maximum balance amount $10,000
Daily Withdrawal Limit– $1,000
No Interest: The card does not incur any interest over time
Worldwide use: But like a credit card, you can use it all over the world, in five different currencies as long as VISA accepted
Credit Score: You don't have to worry about your prepaid affecting any credit rating or store since you only use the money that's on the card.
No Age limit: You can sign up for either the Smart Prepaid or Smart Travel Prepaid at any age, even for those under 18 years old.
No Residency Needed: The residency requirement is not needed which means you don't have to be a Canadian citizen or Permanent Resident to be eligible for the CIBC card. This is extremely useful for travelers traveling to Canada
No CIBC Bank Account Needed: You can get the CIBC prepaid even without a CIBC bank account
The CIBC Smart Travel Visa can be loaded with one of the 5 available currencies- Euros, Pesos, Pounds and US Dollars
The fees for these cards differ but generally, there is a customization fee starts at $5.00 and ATM withdrawals outside Canada costs you at $2.50.
The Koho Prepaid Visa Card
The KOHO Prepaid Visa is a prepaid reloadable card and app powered by Visa that:
Gives you real-time insight into your spending
Helps you set saving goals
Gives you financial tips and claims to reduce your spending
They claim that, within 3 weeks, you'll be spending 15% less and saving nearly $500 by using the KOHO prepaid card.
This card does not have any annual fees however there are fees if you choose to subscribe to a premium KOHO account which is $9/month or $84/year, reducing the international transaction fee to 1.5% for every transaction made outside Canada.
The Canada Post Prepaid Visa
The Canada Post Visa Prepaid Card is a prepaid card which you can use globally in any country that accepts VISA cards as electronic payments for online and offline transactions. You can also use ATM facilities anywhere in the world. Like the CIBC prepaid cards, this card is ideal if you are travelling and don't want to carry cash. 
With this card, you:
Don't need a credit check
Don't need a bank account
Can reload it at any time, as often as you'd like
It comes with purchase security insurance and an extended manufacturer's warranty
The main downside to this card is its maintenance fee which is $3.00 and the reload fee which is $3.00. 
Final Thoughts
The Vanilla Prepaid card is a non-reloadable card that comes with the Visa or Mastercard banner. You can purchase it at any participating retail store without the need for a background check or anything similar. It's probably only a good choice for a prepaid card if you want to give it as a gift to someone you care for, but other than that, there are much better options in the market.
If you are looking for a starter card as a student, or for your child- the CIBC Smart Prepaid Visa card is an ideal choice. There are no unnecessary fees tied to the card and you can withdraw as many times as you want from a CIBC ATM in Canada. Just top up the card as much as you can afford and you spend based on what you have on the card. 
The CIBC Smart Travel Prepaid Visa is really ideal for travellers who are visiting any part of Europe, the UK, the US, and Mexico. Topping up the card with your desired currency means no surprise foreign transaction fees or exchange rates.
Both cards offer the convenience of making purchases online and offline without the need to carry cash around. This card is straightforward, no confusing terms and conditions, and includes all the necessary perks a person would want in a prepaid card.
Either way, if you are keen on getting a gift card for someone you love, you could still benefit from the ease with which you can get a Vanilla Prepaid card, either online or at a retail partner store, so why not get yours today?