With the increasingly high prices of engagement rings, it's crucial to find a place where you can get an affordable engagement ring for your partner. However, most engagement rings are pricey pieces of jewelry, so finding the best, yet cheap engagement rings Canada has to offeris an important task for any groom. Retailers like Blue Nile, James Allen, and ZBrilliant Earth offer great options at an affordable price. However, it all comes down to how you choose your ring. With the average engagement ring in Cnada costingabout $3,500, it's good to have a careful look at the stone you choose, the material of the band, and the ring's design and style, since that'll help you save more than just a couple of dollars.
So, here are 10 of the best places to buy high-quality engagement rings of all types in Canada for cheap, and find out how you can pay less when shopping for engagement rings.
Engagement rings come in many different varieties: some are pretty affordable, others are really pricey, and others belong somewhere in the middle. We researched dozens of engagement ring retailers and identified a few that offer the best features at the lowest price.
In this post, we'll explain why engagement rings cost so much. We'll also show you how to save money, pay less when shopping for an engagement ring, and give 10 of the best places to buy high-quality and affordable engagement rings in Canada. Many also offer free shipping, lifetime warranties, and excellent return policies.
So if you're looking for a jewelry retailer that offers high-quality, sustainable, and stunning engagement rings, you've come to the right place.
Why Are Engagement Rings So Expensive In Canada?
Buying an engagement ring for your partner is a huge step that can impact you financially, emotionally, and in every other facet of your life. It symbolizes the beginning of a new phase in your life. So, it's understandable that you'll want to get a massive rock for your partner. However, the price of engagement rings is increasing, with pieces costing about $1000 to $20,000 and above.
There is a slew of factors affecting the prices of engagement rings in Canada, and some of them include:
#1 The Origin Of The Diamond
For diamond engagement rings especially, there's always a clear distinction between diamonds mined in Canada and those mined elsewhere, including the US. Canadian diamonds are known to be the purest in the world because they are conflict-free and have a slightly different atomic composition due to reduced irregularities. This makes them of higher quality than other diamonds and, therefore, more expensive.
So, if you purchase an engagement ring made of Canadian diamonds, it will be on the higher end of the spectrum but of more outstanding quality. They are also expensive because they are mined in harsh weather with costly special equipment and machinery.
#2 The Weight Or Carat Of The Diamond
The weight or carat of the diamond is one of the greatest, if not the greatest, determinant of its price. Jewelers weigh diamonds beforehand to determine their weight or carat. With every increase in the weight of the diamond, there is an increase in size. So, the heavier the diamond, the more it will cost.
#3 The Clarity Of The Diamond
The clarity of a diamond refers to its brilliance and ability to reflect light, shine, and sparkle. Diamonds naturally have inclusions; the fewer the inclusions, the higher the grade of the diamond. Some of the most expensive diamonds are those with little to no inclusions. Diamonds with no inclusions are rated internally flawless and give a beautiful sparkle. So, the more clarity a diamond has, the more expensive it will be.
#4 Type Of Metal Used
The type of metal used for the band of the ring also determines its cost. The metal can be platinum, gold, or any other metal or alloy, all of which have different price tags.
The higher the cost of the metal, the more expensive the ring.
#5 Jewellery Retailer
Where you purchase the engagement ring also determines its cost. Buying an engagement ring directly from a jeweler may be more expensive than purchasing from a regular retail outlet. Different jewelers have different styles and tastes, so depending on where you buy the ring, you may have to pay more.
#6 Number Of Stones Used
The number of stones encrusted into the ring aside from the central stone also determines the ring's price. This is because each stone has its weight and will add to the overall cost of the ring.
Where To Buy Engagement Rings In Canada For Cheap
Purchasing an engagement ring is a significant investment. The biggest deciding factor of how much you'll have to pay for an engagement ring is where you buy it. In that case, you'll have to know where to look.
So, we searched through dozens of jewelry retailers, so you don't have to. We found some that offer high-quality handcrafted engagement rings made of mined or lab-grown conflict-free diamonds and other sustainably cultured gemstones of all cuts, sizes, shapes, styles, and metals at the lowest prices. Some offer free shipping, ring resizing, a price-match guarantee, and free returns.
So, here are 10 of the cheapest places to buy an engagement ring in Canada:
Blue Nile
Blue Nile is a global online retailer of diamond engagement rings with thoughtful designs that combine top-quality craftsmanship with precious metals and center diamonds to suit any budget. The result is a vast collection of some of the most affordable and high-quality engagement rings, like this gorgeous Classic Simple Solitaire Engagement Ring in 14k White Gold, which is only $340.
Blue Nile offers about 15 million unique pieces of handcrafted engagement rings with ethically-sourced high-quality diamonds with industry-leading diamond certification. The company provides 24/7 expert advice to enable you to make informed decisions on your purchase.
Blue Nile also offers:
A Diamond Price-Match Guarantee
Free shipping and secure delivery of your engagement ring
30-day free returns
Lifetime Guarantee on all engagement rings
James Allen
James Allen is one of the largest online diamond and bridal jewelry retailers with a 'technology soul' and offers the largest selection of the highest quality handcrafted diamonds and jewelry, including engagement rings of different cuts, metals, styles, shapes, and sizes, at the best prices. One of James Allen's highest selling points is its unbeatable 360-degree technology that allows you to view and inspect every diamond in its inventory in 360-degree HD.
You can also use their Real-Time Diamond Inspection Service 24/7 to consult a non-commissioned certified diamond expert to get professional guidance on your purchase. You can also design your engagement ring on the website.
James Allen offers over 500,000 certified conflict-free diamonds photographed in 360-degree HD. It also provides the following:
Real-time diamond inspections
Free shipping worldwide, including Canada
Lifetime warranty
Virtual ring sizer
100% money-back guarantee
Free Engraving
Multiple financing options
Brilliant Earth
Brilliant Earth is a global leader in offering high-quality, ethically-sourced Beyond Conflict Free™ diamonds of either Canadian or Botswana Sort origin and lab-grown and recycled diamonds requiring no new mining. At Brilliant Earth, you first choose a center stone, then the engagement ring setting, after which the ring will then be expertly handcrafted into a unique and timeless piece to suit your style and budget.
Brilliant Earth also offers many gemstone engagement rings like sapphire and moissanite in the most radiant colors. All the rings in their collection are in the most durable, sustainable, and beautiful designs.
Brilliant Earth further provides:
Free shipping to Canada
Free 30-day returns
Lifetime warranty
Lifetime Diamond Upgrade
Flexible payment options
Amazon Canada
You can also find an extensive collection of engagement rings on Amazon Canada. From black diamond engagement rings to moissanite engagement rings to sapphire engagement rings and any other kind of engagement ring you may prefer at very affordable prices. You'll find engagement rings of different styles, cuts, shapes, and center stones.
However, always ensure that you read the reviews on the ring before purchasing. You can also contact the seller for more information. Amazon Canada offers free shipping within Canada for members of Amazon Prime.
Mejuri
Mejuri is a Montreal-based jewelry retailer offering various kinds of high-quality jewelry, including engagement rings, at some of the lowest prices. The company works in partnership with some of the world's best jewelers to create fine jewelry using responsibly sourced materials at excellent prices, like this Pavé Diamond Bold Half Eternity Ring, which is $700. Mejuri has a ring sizer guide on the website to enable you to pick the best fit for your partner.
Mejuri also offers:
Free shipping within Canada on orders over $150
Free 30-day returns
2-year warranty
Financing options via Klarna.
Peoples Jewellers
Peoples Jewellers is Canada's largest diamond jewelry retailer and has retail outlets in every province in Canada. At Peoples Jewellers, you can find engagement rings of different cuts, shapes, and styles, including classic, contemporary, and designer-styled rings to suit your preferences and budget. You can also chat with their certified diamond experts to receive tips and advice on your purchase or to design a custom piece.
Peoples Jewellers also offers:
A 30-day return policy
Free shipping within Canada on orders over $99
Price match policy
VRAI
At VRAI, you can find engagement rings of different styles, shapes, and metals at favorable prices. You could even create your custom engagement ring using a VRAI diamond. To mitigate the impact of diamond mining on the environment, VRAI produces its diamonds in their zero-emission foundry in America, resulting in excellent quality, conflict-free, sustainable diamonds.
VRAI offers:
Free shipping in Canada for orders over $600
Free return shipping
Lifetime warranty
30-day return policy
Glamira Canada
Glamira is another jewelry retailer with a vast selection of engagement rings for any budget. Glamira offers gorgeous ethically-sourced, conflict-free diamond and gemstone engagement rings made from precious stones like emerald and ruby, semi-precious stones like aquamarine and topaz, Swarovski crystals, or lab-created stones like moissanite and sapphire with different variations of their colors, like this stunning Glamira Ring Empire that is $754 and this Glamira Ring Aldea that is $773.
Glamira provides its customers with approved certifications for the stones, and you can order GIA certificates for the diamond ring.
Gamira offers:
Free shipping within Canada
A 60-day return policy
Free ring resizing within 60 days of purchase
Lifetime warranty
Glamira also has a team of experts ready to guide you through the ring selection process.
Etsy Canada
At Etsy Canada, you can find engagement rings of different stones, metals, styles, and shape for affordable prices, like this exquisite Vintage Alexandrite Engagement Ring that is $138.83. Most of the sellers on Etsy offer free shipping in Canada for some rings. Like on Amazon Canada, always check the user reviews of the ring before purchasing.
Canadian Diamond Wholesale
Canadian Diamond Wholesale is a Vancouver-based diamond company offering ethical Canadian diamonds at wholesale prices. Because they provide diamonds at wholesale prices, their engagement rings are on the cheaper side. At Canadian Diamond Wholesale, you can choose the diamond you want and then have it handcrafted and custom-made into an engagement ring suited to your taste.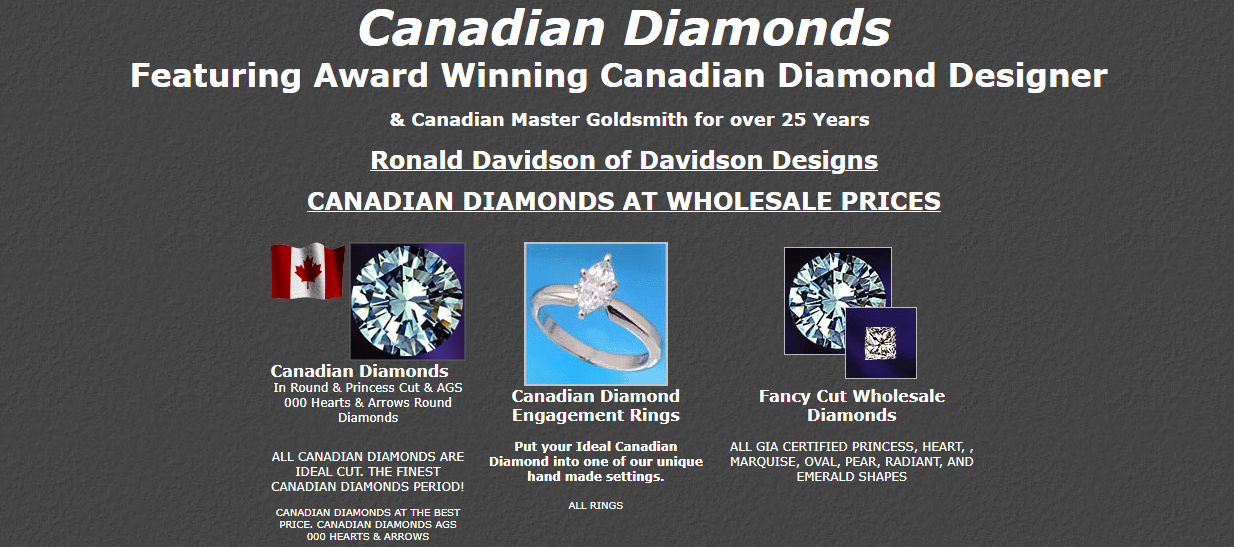 You can also choose from their vast selection of handcrafted, high-quality, sustainable, and already-made engagement rings if you want something other than a custom-made ring, like this beautiful Alberton Diamond Engagement Ring that is $590.
Diamanti By Quorri
Diamanti by Quorri is a Canada-based jewelry retailer that offers high-quality handcrafted jewelry, lab-created diamonds, diamond mimetics, and expertly refined gemstones resulting in beautiful and sustainable fine jewelry. The company has a vast assortment of affordable and reasonably priced engagement rings- from solitaires to three, and multi-stone engagement rings to eternity bands and everything in between, like this stunning BLAKE Solitaire Ring that is $799 and this NATALIA BAND Eternity Ring that is $899.
You can also design your custom engagement ring to suit your taste from the Diamanti collection of beautiful, already-made engagement rings.
Diamanti by Quorri also offers:
Free shipping within Canada
30-day free returns
Lifetime guarantee
What Is The Average Cost Of An Engagement Ring In Canada?
The average cost of an engagement ring in Canada is $3,500. While this amount averages Canada in its entirety, including the large cities, it is still way below the average 3-month salary Canadians earn as suggested by the 3-month rule.
With the advent of online jewelry retailers making engagement rings that much more accessible and affordable, more Canadians are now being conscious of the amount they spend on engagement rings.
How Can I Pay Less For An Engagement Ring?
Engagement rings cost anywhere from $1000 to $20,000 and above. When searching for an engagement ring, the one thing you need is money. But as every dollar counts when you're low on cash or on a budget, finding ways to help you pay less and save more money when buying an engagement ring for your partner is imperative.
So, here are some tips to enable you to pay less for an engagement ring and avoid racking up loans and credit card debts:
#1 Buy From A Reputable And Reliable Retailer
Where you buy a ring will largely influence the amount you'll pay for it. As all jewelers are not equal, ensure you purchase your engagement ring from a reputable outlet to ensure that you're not sacrificing the quality and beauty of the ring. If you're using online jewelry vendors, read the customer reviews on the rings. You can also browse multiple outlets to find the one with more affordable pricing.
#2 Choose Gold For The Metal Band Instead Of Platinum
Aside from the stone, the type of metal you choose for the band also affects the ring's price. Platinum metals are more expensive and more durable than gold metals. However, opting for a 14k or 18k gold metal will help you save more money without sacrificing the look because platinum looks very similar to white gold.
#3 Choose Diamond Carats In Fractions
When you buy a round-figured carat, you'll pay way more than you would if you stay just under the full carat threshold by a fraction or more. For instance, instead of selecting a 1-carat diamond, you can opt for a 0.9-carat diamond. The differences aren't noticeable to the eye and will cost you way less than a round-figured carat.
#4 Avoid Round-Cut Diamonds
Round-cut diamonds are the most popular, in-demand diamond shape and are the most expensive. Because many rough diamonds are lost during the cutting, jewelers jack up the price to compensate for this loss. Choosing less popular styles like princess cut, pear-shaped, or oval-cut diamond engagement rings may help you save some money.
#5 Opt For More Diamonds
While this may seem counterproductive, opting for a ring with multiple smaller stones instead of one large one can be cheaper. For instance, the halo ring setting is made by surrounding a center stone with multiple smaller stones to produce a larger surface area and appearance. Another example is the mosaic ring setting which is made using numerous small stones to form a shape such as an oval or heart shape. This helps lower the amount you may have to pay for the ring.
#6 Choose Gemstones Instead Of Diamonds
As diamonds are more expensive, you can opt for gemstones instead. Tons of beautiful gemstones can be used in place of diamonds, like sapphire, moissanite, ruby, topaz, and many other stones.
#7 Compromise On Colour And Clarity
Hear us out! While the four Cs, carat, cut, clarity, and color, are essential qualities of diamonds, the cut of the diamond is the most important. You can compromise on color, clarity, and carat to reduce the price. Opt for slightly lower colors like G-J and lower clarities like S11-S12 or SI (Slightly Included), which offer the best value for money and cost half as much as the diamonds of higher colors and clarities. Also, the differences are not discernible to the eye, so there's no compromise on beauty.
#8 Know The Best Time To Buy A Ring
The best times of the year to buy a ring are during the holiday season, cyber Monday and Black Friday, the fall season (September through October), spring before February or Valentine's Day, July, and summer. Expect small discounts during these seasons if you want quality rings. However, you'll also save a couple of dollars.
#9 Avoid Retailers With Popular Brand Names
Like every other commodity, purchasing an engagement ring from a widely known brand will cost more than buying from lesser-known brands. Their lesser-known competitors will lower the rings' prices to beat the famous brands' prices to increase sales.
Final Thoughts
While engagement rings signify another phase of your life, they can be pretty pricey. So, finding places to purchase one without breaking the bank and finding ways to save money and pay less for engagement rings is essential.
There are tons of jewelers selling high-quality engagement rings at reasonable prices. You can also find some offering free shipping on orders, ring resizing, fantastic return policies and money-back guarantees, and lifetime warranties.
Cheap Engagement Rings In Canada FAQs
Here are some of the most frequently asked questions on 10 places to buy cheap engagement rings in Canada:
What is the cheapest type of engagement ring?
The cheapest type of engagement rings are:
Solitaire engagement rings
Cushion-cut diamond engagement rings
Princess-cut diamond engagement rings
Emerald-cut diamond engagement rings
Asscher-cut diamond engagement rings
Colored gemstone engagement rings
Pavé diamond engagement rings
Pear-shaped or elongated engagement rings
What months are engagement rings the cheapest?
Engagement rings are cheapest during the holiday season in November, December, and January, the fall season (September through October), spring before February, or Valentine's Day, July, and summer.
What is the cheapest cut of a diamond ring?
The cheapest cut of a diamond ring is the cushion-cut diamond engagement ring.