You can dress responsibly and in style without breaking the bank. It all comes down to finding the right cheap men's clothes in Canada and then choosing the right brands. Some of the best choices include Miik, La Maison Simons, Ungalli and Jerico, but there are several others worth looking at where you'll find apparel for as little as $10 to $40. If you're looking for cheap clothes in Canada for men, these are some of the best options to choose from.
Besides choosing the right brand, there are other ways to reduce your spending on clothes without compromising on quality and style. Some key tips include keeping things simple, using coupons, and visiting online and main street charity and bargain stores, among others.
The finest and cheapest Canadian clothing brands for men use organic, recycled, or locally sourced materials to create cozy, affordable, and environmentally friendly clothing in Canada. By selecting durable, ethically produced menswear, you can dress responsibly, maintain a fashionable appearance, and do it without breaking your budget. In addition, you will benefit the environment, local businesses, and workers in Canada.
Here is a list of the top menswear brands in Canada that are reasonably priced with exquisite designs, and which also adhere to strict social and environmental standards.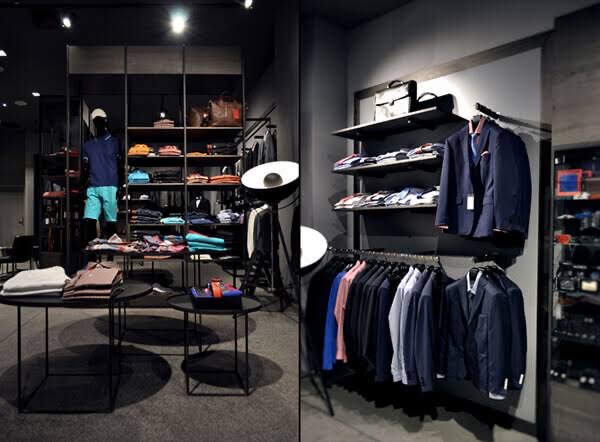 Related: If you're expecting a child, you may be interested in discovering the cheapest maternity clothing for your spouse or partner.
#1 Miik
Miik is an ethical and reputable clothing brand that makes men's clothing in Canada. They are fashionable, cheap, and trendy. They pay close attention to the little things and apply the best materials to make great wardrobe essentials.
Miik integrates sustainability into every stage of the production process because it views it as an ongoing activity. It domestically mills its fabrics in Canada using eco-friendly materials, including bamboo and beech trees.
MiiK is devoted to being a wholly Canadian brand that sources locally to guarantee the best quality and moral manufacturing practices.
#2 La Maison Simons
La Maison Simons is a Canadian clothing brand that specializes in selling organic men's apparel. It has a wide selection of reasonably priced, ethical clothing made in Canada.
This Canadian clothing company follows strict social and environmental guidelines to produce cheap men's clothing that blends elegance and durability. It makes use of organic cotton and linen as well as other natural and eco-friendly materials.
#3 Ungalli
Ungalli creates fantastic, cheap, and quality clothes for men. The company sells apparel created in Canada using cotton produced ethically.
Ungalli is dedicated to creating designs of the highest calibre. It manufactures its fashionable men's clothing in Canadian factories where employees are treated with respect, safety, and a fair wage.
The ethical fashion brand works diligently to establish new fashion norms continuously. Additionally, it spreads awareness of the harmful effects that the commercial clothing business has on people, animals, and the environment.
Related: If you're struggling for money, you may want to consider these great ways to make passive income in Canada
#4 Jerico
Jerico is one of the best and cheapest men's jersey clothing created with bamboo and super organic cotton in Canada. The Canadian apparel company sells upscale men's clothing.
Jerico is a socially responsible clothing company that promotes the economy, ensures a secure working environment, and produces high-quality, durable, and cheap men's clothing.
The family-run business has more than 45 years of experience in Canada's textile industry. It is delighted to offer genuine clothing that was knit, coloured, cut, and sewn in Canada.
#5 Inner Fire Apparel
Inner Fire Apparel is one of the cheapest Canadian-made and environmentally aware athletic brands. It uses recycled fabrics to provide environmentally friendly yoga clothing and athletic wear for active men.
Men's clothing from Inner Fire Apparel can be used as casual wear or for working out. Its stylish, reasonably priced clothing is designed and made in Canada.
Inner Fire Apparel provides readily made clothing items that motivate everyone to live a fulfilling life. It produces moral clothing that encourages kinship and respects Mother Earth.
#6 Province Of Canada
Province Of Canada is a Canadian Clothing brand that produces men's organic cotton clothing and accessories responsibly. They make Tees, jeans, sweatshirts, and other items that are all incredibly soft, comfortable, and surprisingly cheap.
Province of Canada employs 100% certified organic cotton and manufactures all of its men's clothing in Canada. Most of its cotton is domestically woven from sustainable materials.
The fashion company from Canada works to lessen its impact on the environment. It produces stunning lines of classic clothing for casual living in Canada.
Related: Read our review of Fetch Rewards, one of the world-leading cash back apps, to learn how to save money on every purchase, even when buying clothes in online stores.
Pricing Summary
| | | | |
| --- | --- | --- | --- |
| Brands | Prices | Values | Category |
| Miik | $20-$120 | Organic, Timeless | Basics, Accessories |
| La Maison Simons | $10-$50 | Organic, Recycled | Denim, Accessories |
| Ungalli | $30-$40 | Organic, Recycled | Basics, knitwear |
| Jerico | $30- $60 | Organic, Timeless | Basics, Sportswear, Loungewear |
| Inner Fire Apparel | $30-$120 | Recycled, Organic | Basics, Loungewear |
| Province Of Canada | $40-$100 | Timeless, Organic | Basics, Sportswear, Accessories |
Related: You may be interested in discovering the cheapest jewellery stores in Canada.
Tips Men Should Consider When Shopping For Clothes
Shopping can be intimidating due to various factors, including the appropriate attire and the newest trends. All of us have been there. You might be wondering how men should shop for clothing. How can we acquire a sense of style? How do we shop for clothing online?
These are part of the crucial questions men ask before making purchases. It takes practice to find clothes that you'll wear rather than just display in your closet.
Even though we can't physically accompany you to the mall, we can provide you with some shopping advice for men's clothing and fashion. Let's get started!
#1 Fit Is What's Most Important
The essential fashion advice for men is to get clothing that fits them well. Whether it's a pair of pants or a men's t-shirt, you should have the impression that it was fashioned specifically for you. If something doesn't fit properly, it doesn't look well. If they don't look good, you won't decide to wear them either. So, wherever feasible, try your clothing on, and only shop online at stores that allow returns and exchanges.
#2 Identify Your Body Type
You should be aware of the clothing that is suitable for your body type before you go shopping. Many rules can teach you to dress in a way that suits your body type. Our advice for men's style is unquestionably effective.
Wearing horizontal stripes, for instance, can make you appear bigger than you look. Wearing them might also give the impression of being chunky, even if you are not.
#3 Follow The Latest Trends
Before you roll your eyes, we're not suggesting you should follow trends irrationally. However, it's generally good practice to choose items that are still popular so you don't look outdated. If you can only wear cheap men's apparel a few times before it goes out of style, buying it is unreasonable. Keeping up with trends will also help you develop a better eye for cheap but quality men's clothing in Canada.
#4 Invest In Quality Supplies
An excellent wardrobe has the ideal ratio of modern and classic pieces. "Timeless fashion" refers to attire that will never go out of vogue. In other words, mind the foundational components of your outfit. Men's plain T-shirts, traditional blue trousers, and plain white sneakers are a few examples of timeless clothing.
These are everyone's go-to items more frequently than other clothing. This is why it's crucial to spend money on high-quality goods.
#5 Variety Is Key
Avoiding repurchasing the same items repeatedly is one way to add diversity to your wardrobe. How many people are guilty of wearing black or blue T-shirts too frequently? Now is the moment to start purchasing instead of hoarding.
When shopping, look for cheap men's clothes distinct from what you already own. It need not be radically dissimilar to or wholly opposed to your style. Choosing the appropriate hues and patterns for your clothing can add diversity to your closet, even if you do stick to the same colours.
#6 Know Your Brands
You'll shop faster if you do thorough research on your favourite brands. You can choose any item in the appropriate size and leave the store if you know and trust the brand. You won't have to waste time comparing the price and quality of the apparel or trying on countless clothing items before finding the perfect fit and size.
How To Reduce What You Spend On Clothes
Shopping for new clothes is gradually becoming a luxury that not many people can afford as they prioritize paying their household expenditures which don't seem to stop rising.
Fortunately, there are many cost-effective alternatives to update your wardrobe. Here is a compilation of the top methods for lowering costs when purchasing new and used clothing.
#1 Buy Clothes From Reputable Brands
Over the years, supermarket brands have advanced significantly, with all major chains now offering their own wide range of clothing collections customers can choose from. These collections include anything from accessories to basic men's clothing and beachwear, usually at discounted pricing.
#2 Visit Thrift Stores
Many of us developed a habit of purchasing clothing online during the pandemic, yet even during regular sales, you can easily go over your budget.
When looking to buy cheap men's clothes in Canada, try your neighbourhood thrift shops instead of browsing online or visiting the traditional high street stores. Half the fun of exploring is never knowing what you could discover. The things people give away might surprise you.
#3 Stick To Bargain Stores
Online outlet stores provide a large selection of cheap clothing from reputable retailers, including items from previous seasons and fully-stocked warehouses. Unsurprisingly, bargain stores often have some of the cheapest clothes in Canada.
#4 Stick To Your Budget
You may have already established a budget for your groceries, but what about your wardrobe? For instance, you could give yourself a $200 cap on any clothes purchases you make for a year. Over time, this might alter your shopping preferences and keep you from making irrational purchases.
#5 Opt For Vintage Fashion
Have you thought about wearing clothing from the 1970s or 1980s? If you have a collection of clothes in your closet that you don't wear because you believe they are out of style or have seen better days, try them on to see if you can salvage and restore any of them. You may also visit vintage stores or online retailers in Canada to find classic men's clothing at cheap prices.
#6 Add Color To Your Clothes With Affordable Accessories
Take a look at your wardrobe and think about how you may create a brand-new look by adding accessories. For instance, is there a dress that you could accessorize with a belt, jewelry, or tie? Or combine a pair of trousers with a top you had never thought to pair with it.
#7 Keep It Simple
Investing in timeless pieces, you'll wear again will help you streamline your wardrobe, cut costs, and adopt a sustainable fashion philosophy. You might also adopt a minimalist style, using classic pieces to keep your appearance current and easy to maintain. You won't go out of style by wearing straightforward clothing like t-shirts, sweatshirts, jeans, and blazers.
Pro tip: If you want to afford better clothes to dress in style, learn the ins and outs of investing in crypto and the stock market and turn your investments into profits.
#8 Utilize Coupon Codes
By recommending a friend to a clothing store or subscribing to their page, you can frequently save 10% or more on your shopping orders via a coupon code. You may also find it helpful to use browser extension shopping tools to search and add discount coupons to your shopping basket.
Additionally, check whether your preferred retailer offers a loyalty program. For instance, you can get a loyalty card that provides discounts on men's clothing in some stores in Canada if you shop there regularly. Finally, you can also use cash apps and other new services that let you earn money for scanning your receipts, bringing down the costs further.
In Summary
As someone who loves fashion but also wants to be mindful of their spending and impact on the environment, I know the struggle of finding affordable and sustainable clothing. That's why I've put together a list of some of the best Canadian clothing brands for men that are both stylish and reasonably priced.
Miik is a top pick for men's clothing as they use eco-friendly materials, domestically mill fabrics in Canada, and pay attention to detail in their designs. La Maison Simons is another great option for those who want affordable and ethical clothing made in Canada. They specialize in selling organic apparel and follow strict social and environmental guidelines to produce clothing that is elegant and durable.
In addition to Miik and La Maison Simons, there are other ethical clothing brands for men to consider. Ungalli creates quality clothing using ethically produced cotton, while Jerico offers upscale men's clothing made with bamboo and super organic cotton. Inner Fire Apparel offers affordable and environmentally friendly athletic wear made with recycled fabrics, while Province of Canada produces men's organic cotton clothing and accessories responsibly. By following these tips and choosing the right brands, you can dress stylishly and responsibly without breaking the bank.
Cheapest Men's Clothing In Canada FAQs
What are the crucial qualities of men's clothes?
The clothing must be lightweight, appealing, durable, and machine washable. So that men of all age groups and those with disabilities can wear them, the clothing should be simple to put on and take off.
What distinguishes high-quality clothing?
Quality is reflected in the way something feels and drapes as well as in its weight and bearing. With sound, the same thing takes place. Yes, a good fabric has a distinguishable sound. When you stretch a nice cloth, it doesn't sound scratchy; instead, it sounds hard and gratifying.
Do your clothes make you feel more confident?
Nice clothing can give you a feeling of self-confidence as a man. You can feel more powerful and confident and be more willing to take on problems at work and in your personal life if you wear high-quality, well-tailored apparel. Dressing formally might alter how you perceive and handle things.