It's not only possible to earn free V-Bucks by using Fetch Rewards, it's easy. All you have to do is earn points on the app and then use the Fetch Rewards Fortnite redemption option to get free Fortnite gift cards. To earn Fetch Rewards points, you can upload receipts, take advantage of great offers, share the Fetch app with others, and, one of the quickest ways to do so, sign up using a Fetch Rewards referral code. After collecting 3,000 points, you'll be able to buy a Fortnite gift card from Fetch Rewards and then use that to buy V-Bucks.
Your bonus is right here ⤵
---
Use my
Fetch Rewards signup link
and the code
YOREOYSTER
to get instant access to the best Fetch signup bonus available today.
On several gaming forums, Fortnite users have shared experiences of trying YouTube hacks and internet tricks to get free Fortnite rewards and ultimately failing. After seeing those useless hacks (like uploading fake receipts to the Fetch app, which never works), we thought it would be good should show you some authentic, legitimate ways to earn Fortnite V-Bucks by using the Fetch Rewards app. The real question is, do the Fortnite Fetch Rewards codes work? Yes, they do. Many gamers already use the Fetch Rewards Fortnite code to redeem free V-Bucks.
If you are a Fortnite player who could use some free V-Bucks to take your game to the next level, in this article, we'll explore what's the deal with Fetch Rewards and Fortnite, and how you can earn free V-Bucks on Fetch Rewards. Let's dive in.
Related: you may be interested in getting free Robux for Roblox using Fetch Rewards.
How To Get Free V-Bucks
The Fortnite game, developed by Epic Games, now has around 4 million daily active users, making it one of the most famous battle royale games globally. Although Epic Games made it free to play, there are some in-app customizations and quirks they encourage you to purchase. These customization items, which include skins, gliders, and pickaxes, enhance your gaming experience several times over.
You can't buy skins and other items with real-world money, though. You can only purchase these perks using the in-game currency, called "V-Bucks." Fetch Rewards allows you to earn Fortnite gift cards that you can use to get free V-Bucks in Fortnite. Below is a quick and easy step-by-step guide on getting free Fortnite V-Bucks with Fetch Rewards.
#1 Sign Up For Fetch Rewards
Before providing free benefits, Fetch Rewards requires you to create an account on their app. Here is an easy guide on how to do that:
Download the Fetch Rewards application on your Android or iOS device.
Click the 'Sign up with email' option (or link your social media).
Provide the information required, including your date of birth, gender, state of residence, and phone number.
Go to your email account and select the confirmation mail sent by the Fetch app.
Lastly, do not skip the referral code to gain Fetch Rewards V-Bucks. You can use ours (YOREOYSTER) to instantly get a $3 gift card.
#2 Upload Receipts To Earn Points
Once you have signed in, select the camera icon on the bottom right of the application. Pick up any receipt from the grocery store (or any of the partnered retailers) and scan it. On uploading each receipt, you will redeem a certain number of points. However, there are some things to keep in mind when uploading the receipts on Fetch Rewards:
The receipts should not be older than 14 days. The Fetch app won't accept any receipt after this timeline.
You can also use digital receipts in addition to physical receipts.
You will get around 25 points for receipts not from the partnered retailers.
Receipts from a partner brand can get you up to 10,000 points.
Note: Avoid using fake receipts, as it can get your account blocked. Furthermore, the system will remember you and permanently ban you.
Tip: Focus on special offers to earn maximum points from the Fetch app.
#3 Use A Referral Code
Without uploading any receipts on Fetch Rewards, you can earn thousands of points just by referring the Fetch app to your friends and family members. When the referred individual uploads their first receipt, both you and them will receive 2000 points.
Fetch Rewards does not have any limit on the number of people you can refer to the Fetch app. This referral system allows you to earn as many points as you like without spending a dime.
#4 Convert Your Points Into V-Bucks
After earning points on Fetch Rewards, you can use these rewards to buy Fortnite gift cards from the app. The cheapest gift card on the app gives you 1,000 V-Bucks. On Fetch Rewards, 1,000 Fetch points get you $1, so you have to earn at least 3,000 points to buy the low-cost Fortnite gift cards.
Once you have 3,000 points, you can browse through the rewards section and get your preferred Fortnite gift card. You can choose between Google play store gift cards, play station gift cards, and Xbox gift cards.
After getting your gift card, you can use it to get Fetch Rewards' minty axe or any other customizable skins.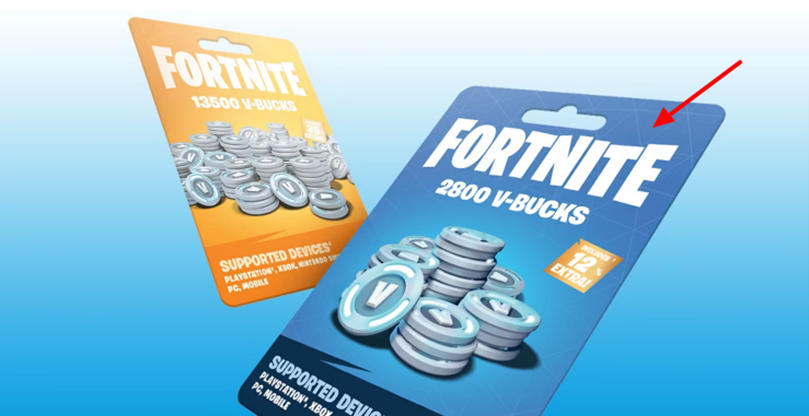 Is There Any Partnership Between Fetch Rewards and Fortnite?
There were several posts on Twitter saying that there is a Fortnite x Fetch Rewards partnership, and that's why the Fetch app is giving away free Fetch Rewards V-Bucks, but that's not true. According to the Fortnite Insider, all the claims about Fetch Rewards' and Epic Games' partnership are false. People posted about this on Twitter, so others can use their Fetch Rewards Fortnite code and earn free V-Bucks.
Fetch Rewards provides all the Fortnite Fetch Rewards codes on their own, Epic Games is not involved in it.
In Summary
Although there isn't a formal Fetch Rewards/Fortnite partnership you can redeem Fetch Rewards points for Fortnite V-Bucks directly within the app. This means you can use Fetch Rewards to earn free V-Bucks. It all comes down to earning enough Fetch Rewards points to buy a Fortnite gift card. There are several ways to get Fetch points quickly, some are common Fetch Rewards hacks, and others just imply using the app frequently, but the best way is through the platform's referral program and by using a signup link and code.
Your bonus is right here ⤵
---
Use my
Fetch Rewards signup link
and the code
YOREOYSTER
to get instant access to the best Fetch signup bonus available today.
Fetch Rewards FAQs
How can I get 1,000 V-Bucks for free from Fetch Rewards?
The only way to get 1,000 free V-Bucks from the Fetch Rewards app is to earn points by signing up using a referral code and referring the Fetch app to your friends and family members.
Why does Fetch Rewards take 3 days?
To prevent fraudulent activities on the Fetch app, Fetch Rewards takes around 3 days to verify everything, and then the rewards you redeemed will be added to your Fetch Rewards account.
Can you use fake receipts on Fetch?
No, you cannot use fake receipts on Fetch to earn points. Fetch Rewards has a team of cybersecurity experts that check every receipt you upload and only accept real receipts. You can also get your account permanently banned for uploading a fake receipt.
Do fetch points expire?
Yes, if you don't use your Fetch Rewards account for 90 days, all your earned points will expire.